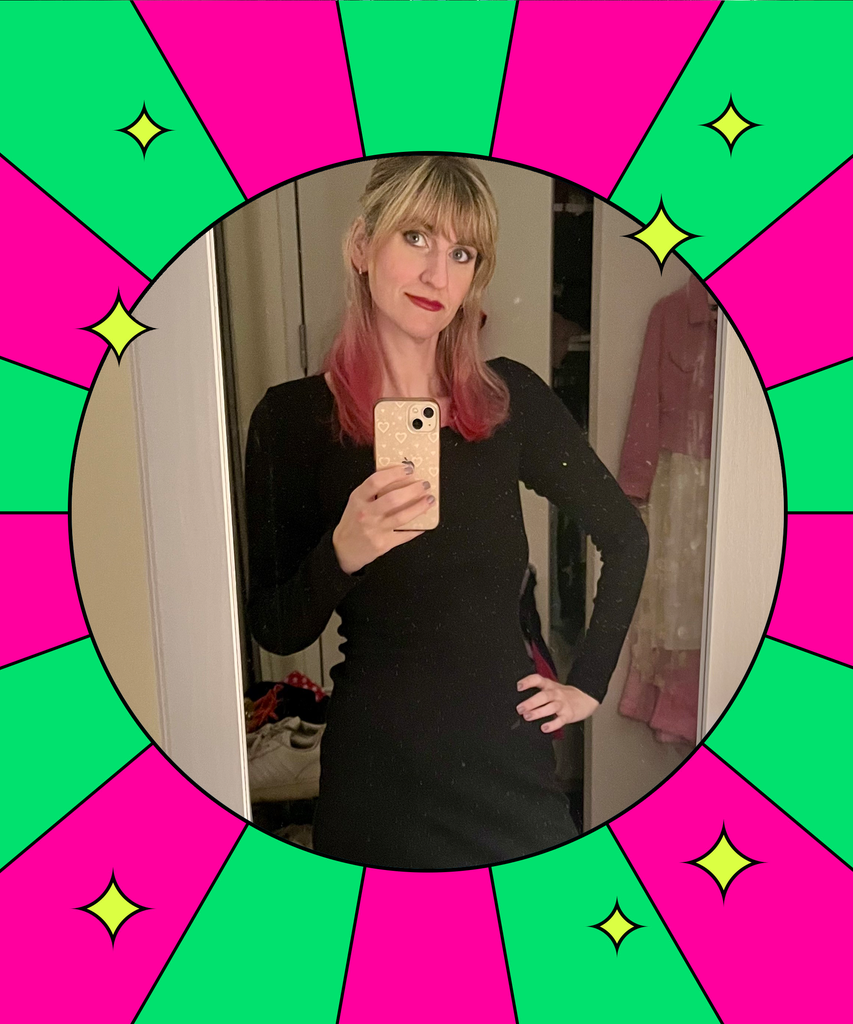 Super Sale Alert: Get 30% off sitewide & 50% off the annual membership at Wearwell using our promo code REFINERY29, now through October 23.
In the grand sea of fast fashion, warehouses, and overconsumption, it's hard to find brands that are truly ethical, sustainable, fashionable, and affordable — no greenwashing here! Wearwell — and its founders Erin Houston and Emily Kenney — saw this issue and committed to fix it by curating a collection of sustainable brands, from clothing to home goods to accessories. If you're into buying new stuff without worrying about its environmental footprint, we've given you an exclusive way to get started with an enviable discount — with the promo code REFINERY29, get 30% off sitewide and 50% off Wearwell's annual membership, which includes perks like 10% off all orders, free shipping and returns, a welcome gift, and other perks through the year.
As for what to expect, most of what you'll find in Wearwell's collection is all things boho-chic. While there are other styles in its virtual aisles (like casual loungewear or athleisure), most of its dresses, tops, skirts, accessories, and even home goods are perfect for those with an earthy, boho, and even granola vibe. Wearwell also has a wide variety of prices (from $10 all the way to $495) for any budget — which, for reference, other earth-conscious brands are always $100+ without fail.
So, how exactly do the folks behind Wearwell curate its brands? They make sure there's no green-washing happening — that's when a brand claims to be sustainable and ethical, but isn't really when you look at the fine print — by investigating the labels thoroughly and making sure they hold true to the ethical promises. Wearwell judges each brand on two important standards: workers' rights and environmental impact. Once these standards have been met, Wearwell prioritizes inclusivity, making a commitment to partner with BIPOC-owned and women-owned businesses. So when you're hitting that checkout button, your money actually going to small and intentional brands with real (and normal) people behind them — not some billionaire somewhere.
Still unsure about the actual quality of the products? Well, that's why we're here! A few of the R29 shopping editors decided to review pieces from Wearwell and below you'll find our honest thoughts. Spoiler alert: we all loved them. Keep on scrolling to read more about this earth-friendly brand and its limited-time deal.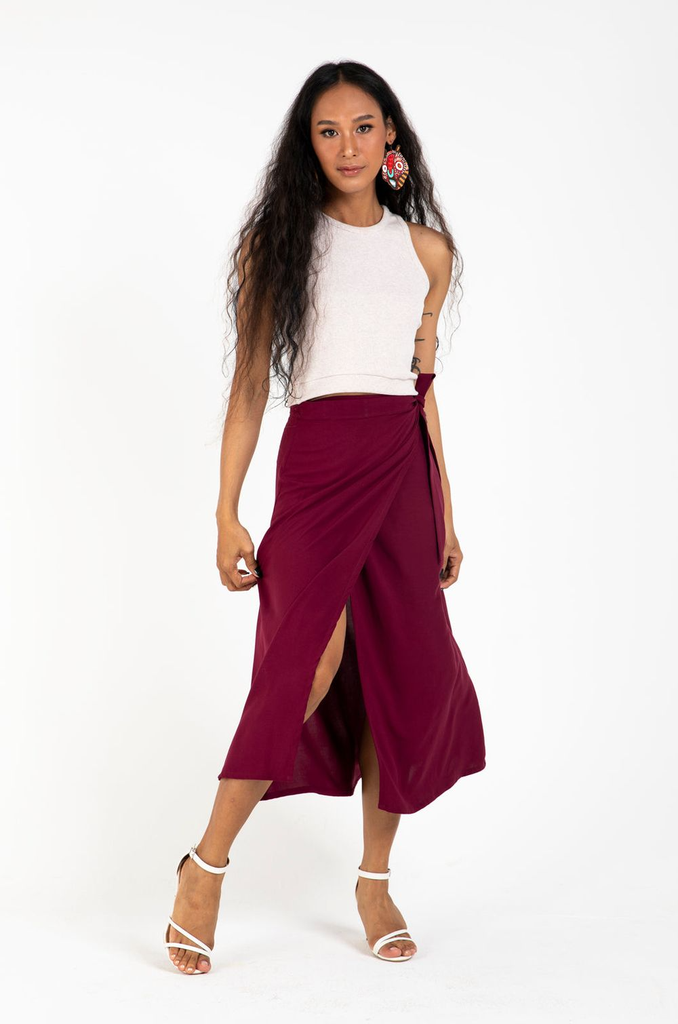 "The color is the first thing that attracted me to this skirt; I love the deep wine color, perfect for a sultry date night or a fun brunch with friends! The skirt itself is very silky on my skin and so fun to tie. Personally, I love wrap skirts because you can tie them in a number of ways depending on your outfit. I love the little slit that this wrap skirt provides so you can get some leg action in there! I'm normally a size large or 10 in pants and got this skirt in a size large – it's great, as the skirt hits perfectly at mid-calf so there's still plenty of room to showcase shoes. The skirt is a bit on the thinner side so I will be wearing it with shorts or those fur-lined leggings as the weather drops — but love that I can wear it for both cold and warm weather." — Becca Sax, Affiliate Coordinator
"This tank was a summer staple of mine. The airy linen fabric was so breathable — perfect for warm weather —and the cropped length hit right at my navel. I chose the washed black colorway, which paired perfectly with everything from a silk midi skirt to classic blue jorts. While it's just as comfy as an ordinary ribbed tank top, details like the square neckline and ruffled straps make it feel like an outfit hero piece. More colors, please!" — Karina Hoshikawa, Senior Affiliate Writer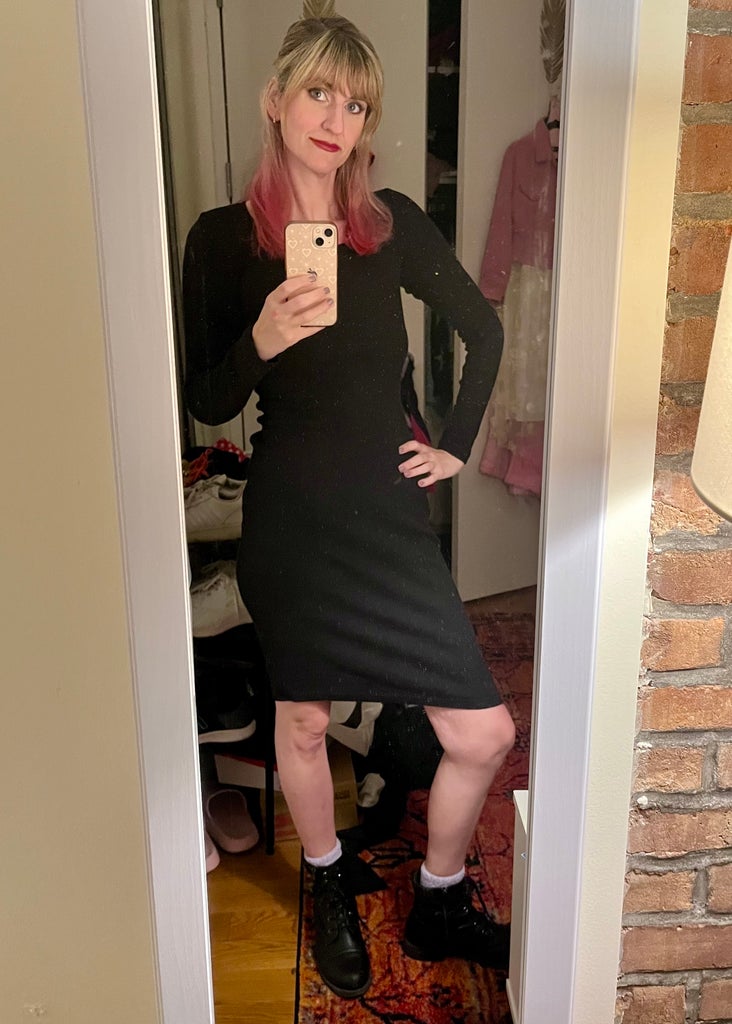 "This dress is everything to me. Not only is it SO comfy (like wearing your coziest long-sleeved t-shirt in dress form), but it is a perfect base layer for all kinds of vibes and outfits. I paired it with a combat boot and a bright lip for a night out here, but I could just as easily have worn it with a cozy cardigan and loafers for a work-appropriate look. I got it in a size small and probably could have gotten a medium if I wanted a looser fit, but I enjoy the body-hugging silhouette and genuinely can't wait to wear it all fall and winter long." — Charlotte Lewis, Sexual Health & Wellness Writer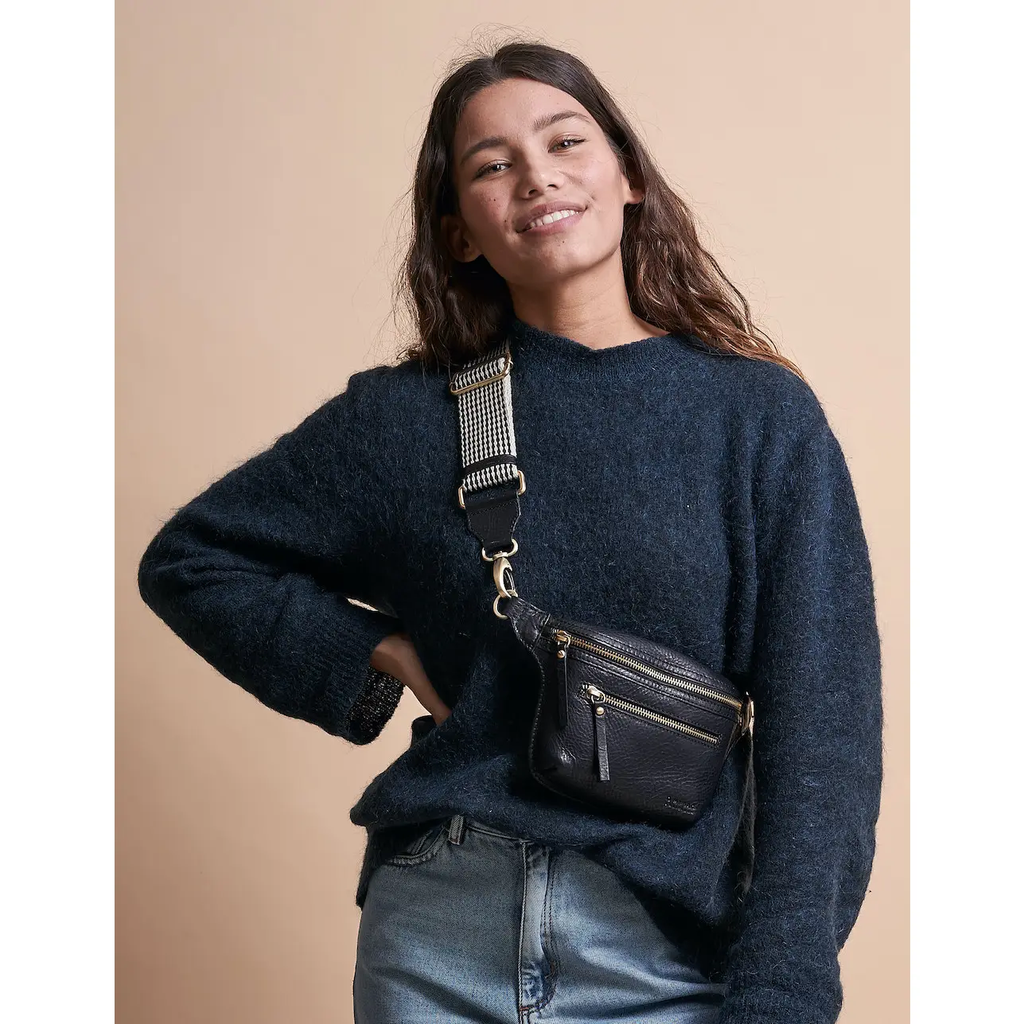 "This is one of my favorite new bags! I'm obsessed with how neutral this black leather cross-body looks while still having interesting elements that stand out — like the checkered strap and antique-looking gold details. It feels high-quality and sturdy, and I think it looks that way too! It's extremely versatile — I usually wear this bag with jeans and my favorite overalls but it also goes excellently with my favorite maxi dress. I highly, highly recommend it!" — Mercedes Viera, Associate Deals Writer
At Refinery29, we're here to help you navigate this overwhelming world of stuff. All of our market picks are independently selected and curated by the editorial team. All product details reflect the price and availability at the time of publication. If you buy or click on something we link to on our site, Refinery29 may earn commission.
Like what you see? How about some more R29 goodness, right here?
What To Buy During Vince Camuto's 25% Off Sale
This Weekend's Best Sales, According To Us