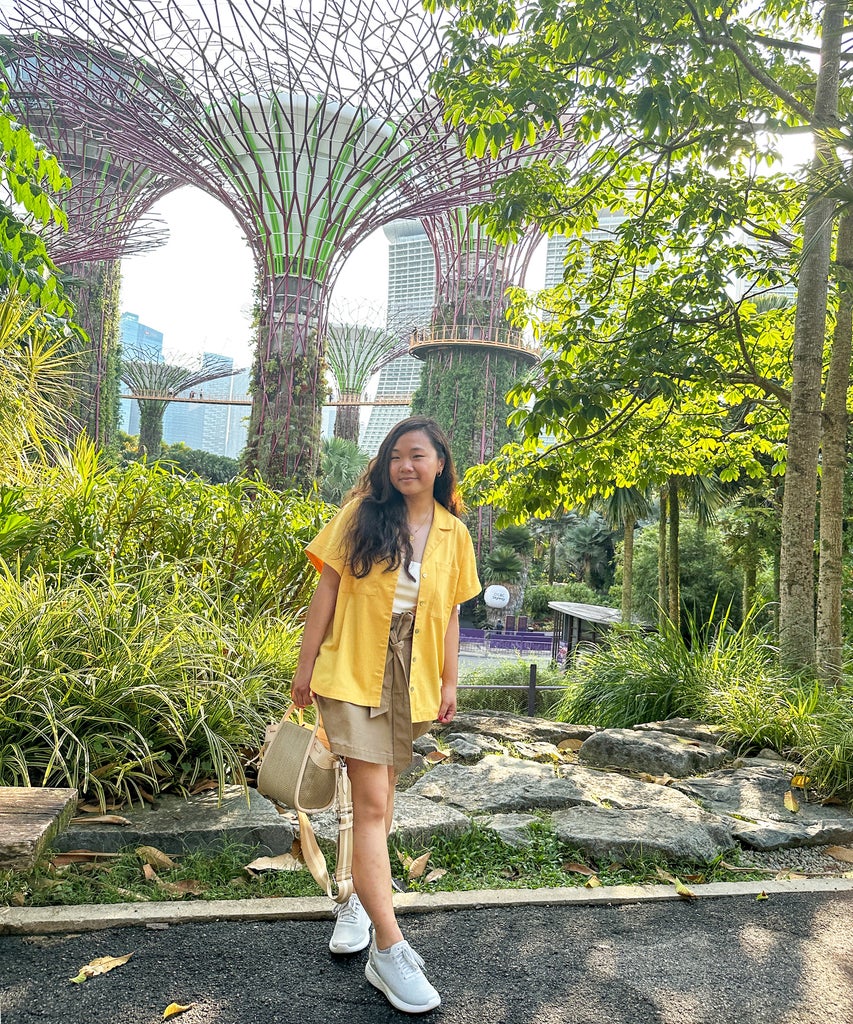 Serving cute 'fits while on vacation is always a top priority of mine — but as we all know, it's much harder to pull this off when you're going somewhere very hot and humid. As a shopping writer who grew up in a subtropical climate, I know that the ultimate test of a travel outfit's potential is whether or not it can keep you breezy and chic in soaring temperatures. So when Love, Bonito invited me on a trip to Singapore to put its wares to the test with a packed itinerary planned by Visit Singapore, I was all too eager to RSVP "yes".
You may not have heard of Love, Bonito, but the female-founded company is a household name in Southeast Asia and is popular for its trendy, vacation-ready pieces at wallet-friendly price points (most items retail for under $100). The brand is available online to U.S. customers and has just opened a pop-up store in NYC's SoHo.
Singapore, on the other hand, needs no introduction. If Crazy Rich Asians happens to be your comfort movie (I mean, same), you probably have this destination on your bucket list. While the blockbuster movie certainly gave the world a glimpse into life on the island nation, casual viewers might not realize that the tropical paradise in the film exists practically year-round. The average temperature in Singapore hovers between 76°F to 89°F 365 days a year, with a humidity index that soars up to 100%. In other words, it's the perfect testing ground for Love, Bonito's summery designs. I hit the ground running alongside six other content creators — all fellow Asian-American women I admire and adore.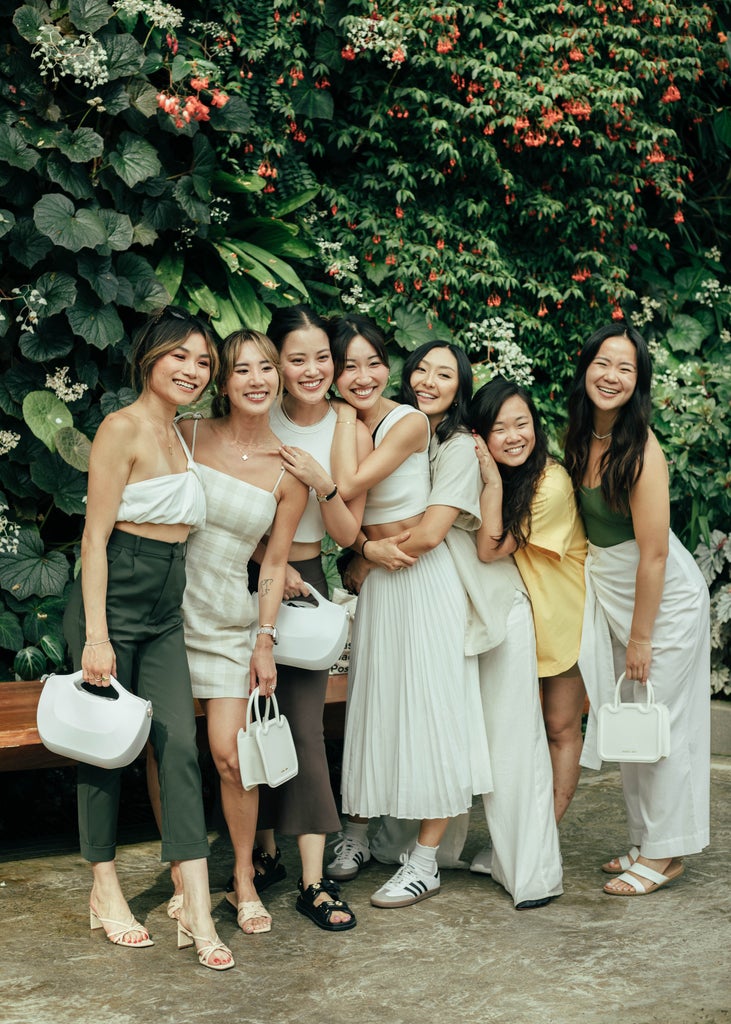 I was asked by the trip organizers to come without any luggage, in order to road test Love, Bonito's best-selling styles, as well as products from several of Singapore's emerging designers. Keep reading to find out my top-recommended affordable outfits for adventuring in high heat, with lots of Singaporean travel highlights thrown in for good measure.
Affordable Vacation Dresses for All-Day Exploring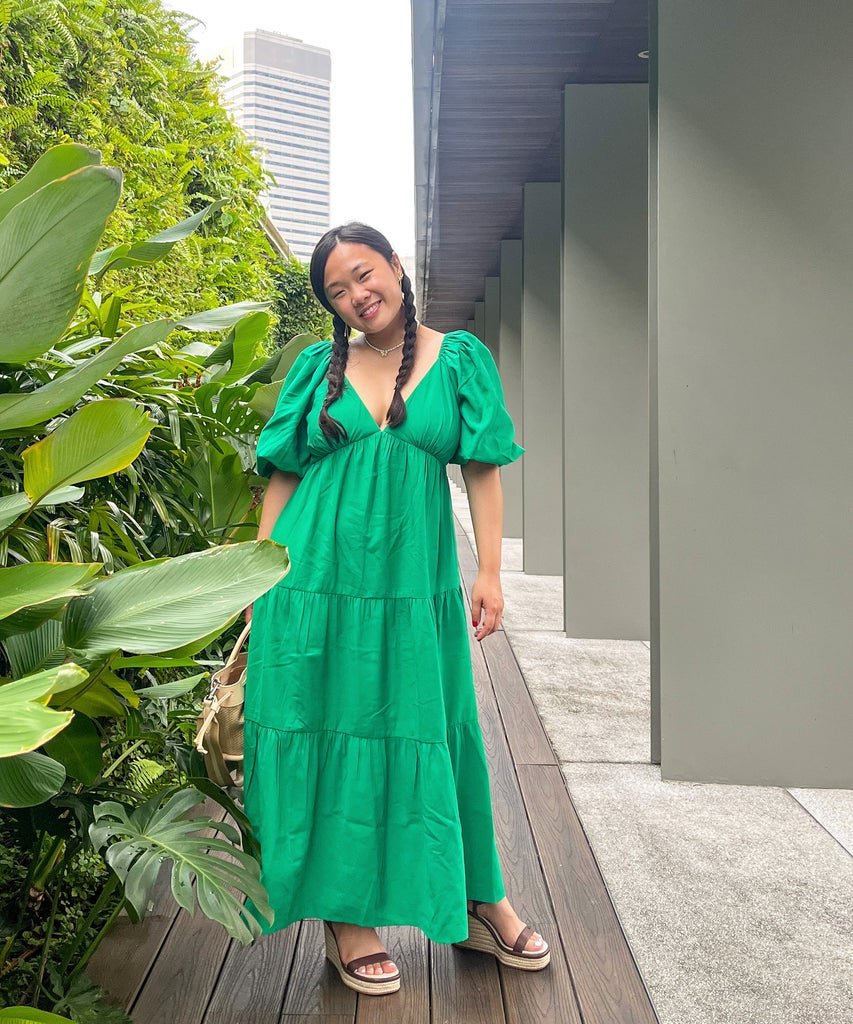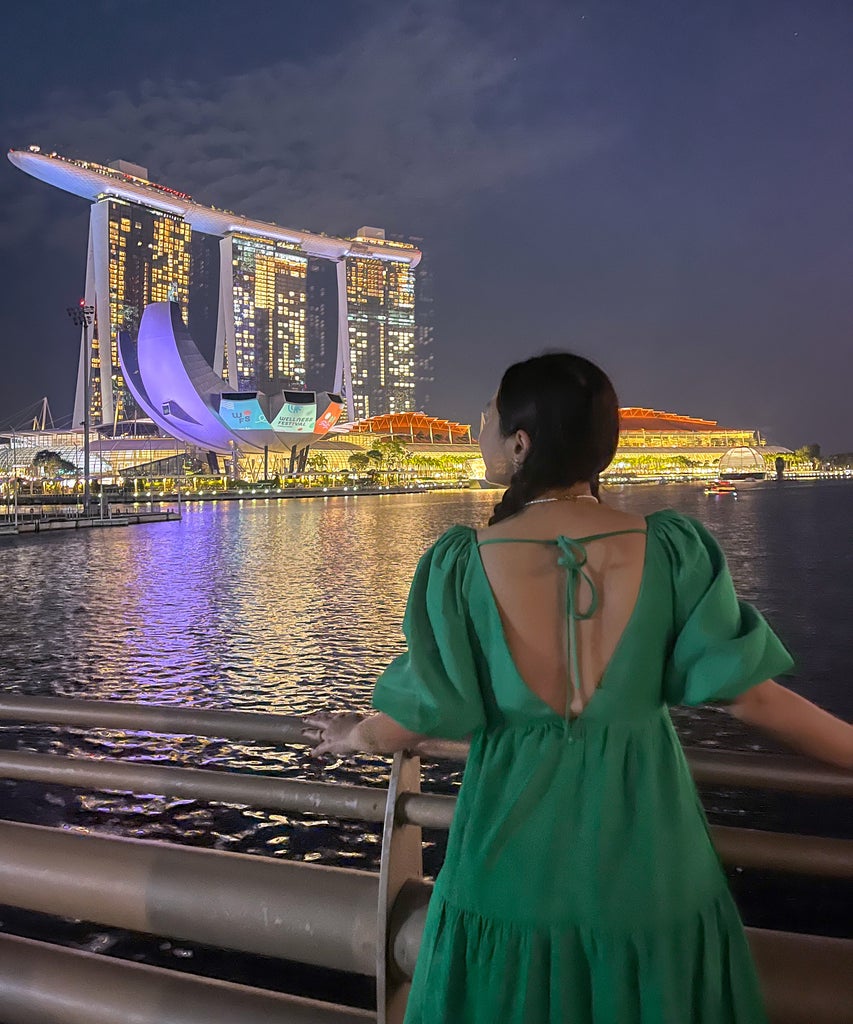 I was personally thrilled to set foot in Singapore again: it was the first international country I ever visited as a kid, but my memories of the country were contained to its mega-malls and hawker centers (similar to food courts you find in America, but with much better and cheaper street food). Thankfully, I experienced much more of the cultural offerings this time. We hit up the impressive National Gallery Of Singapore for a tour of Southeast Asian paintings, followed by art-inspired cocktails on the rooftop bar, Smoke & Mirrors. We then found ourselves in the sidecar of a vintage Vespa, Bond villain style, and cruised through some of the city's most iconic landmarks.
Temperatures were hitting the low 90s when we were doing all this sightseeing, but I felt cool as a cucumber in my Katrine Padded Tiered Maxi Dress. The low neckline and exposed back gave my body plenty of space to air out, but the V-neck hit just the right point on my sternum that it didn't feel too risqué. The tiered, frilly bottom made it very easy to move around on a Vespa sidecar, and the dramatic puff sleeves drew me so much attention. And the side pockets? You gotta love them. If you're looking for a dress that pulls double shifts from day to night and keeps you airy and cozy throughout, this is the one.
More affordable vacation dresses from Love, Bonito:
Summer Dresses For The Most Killer Vacation Outfit Check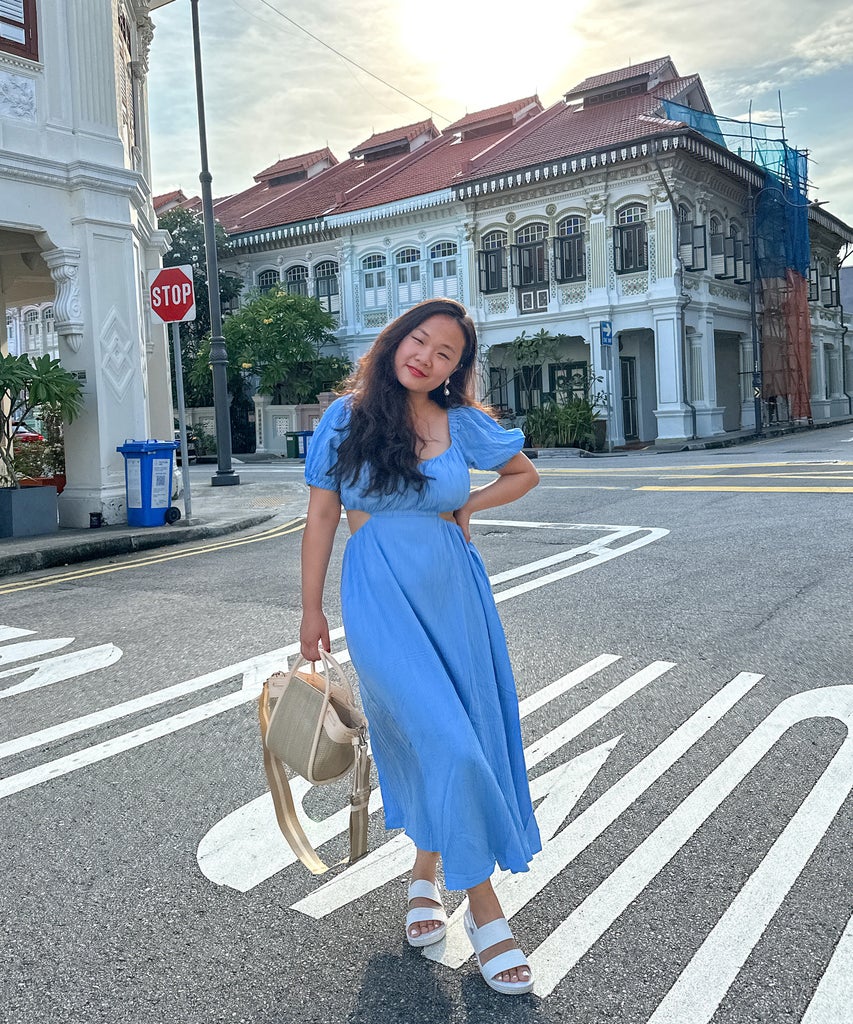 The next dress I tried was perfect for an afternoon exploring the local boutiques in Katong and Joo Chiat. These streets are fronted with eclectic pastel buildings, and are literally made for Accidentally Wes Anderson TikToks. Not gonna lie: I felt like hot stuff in this little cornflower blue number. I matched perfectly with the colorful Peranakan shophouses (a blend between Chinese and Malay/Indonesian architecture) in the background.
This dress was also the perfect balance of sexy while still feeling daytime appropriate. As someone who has a heavier bust but likes to dress on the modest side, I'm often self-conscious about the amount of cleavage I am showing. There's also a whole category of strapless, spaghetti things I stay away from, since I often need to wear a proper wired bra underneath to support my girls. This cut-out dress was such a nice way to go braless, though. The bust was padded, and the wraparound elastic design felt supportive around my boobs without digging into my skin. The side cut-outs showed a little bit of skin, but in a way that was comfortable.
More padded colorful summer dresses from Love, Bonito:
Looks For Outdoor Adventures In The Heat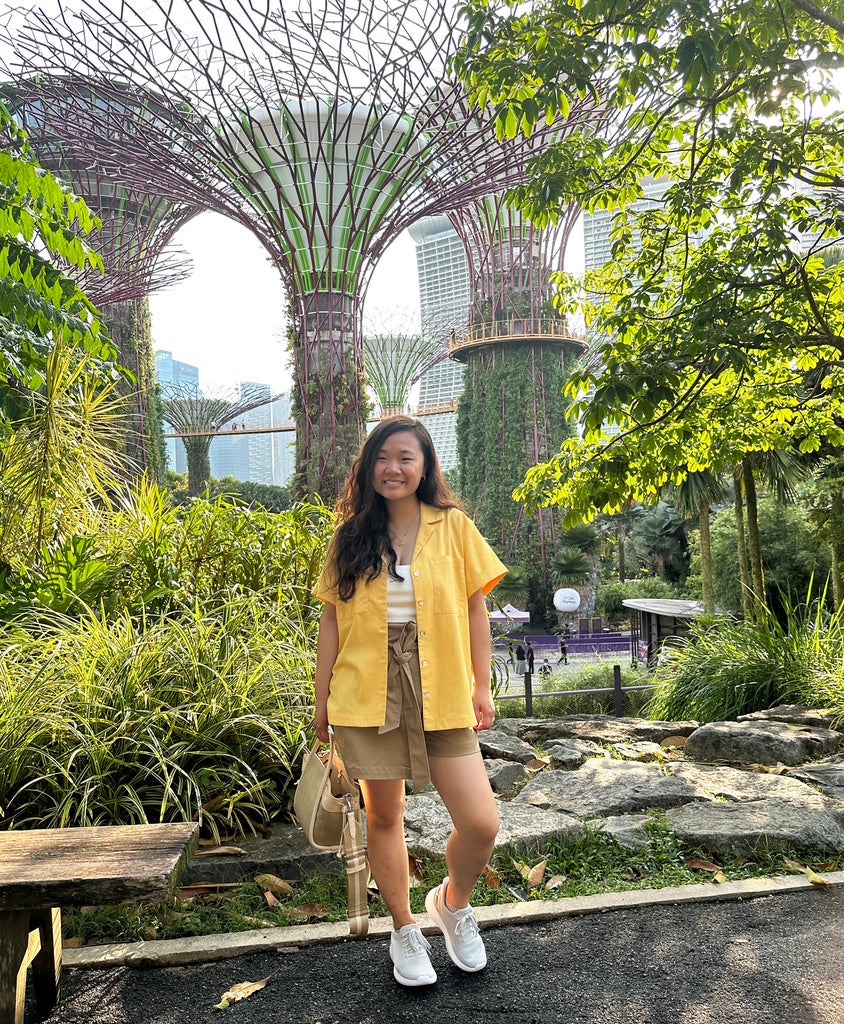 Even if Singapore's climate makes it dress weather nearly 24/7, there are inevitably days in a tourist itinerary where you need something a bit more on the outdoorsy side. While Love, Bonito has plenty of gorgeous dresses, its shorts and tops don't disappoint either. If you can walk two hours under the scorching sun without wanting to rip all your clothes off in anger, your outfit truly deserves the summer fashion MVP status. The outfit I had on while exploring Gardens By The Bay, Singapore's awe-inspiring futuristic forest, passed that test with flying colors.
It was the middle of the afternoon, aka the hottest time of the day, as we walked through the fairy-tale-like Cloud Forest — a man-made attraction with vertiginous waterfalls that looked straight out of Avatar — and gawked at the futuristic "supertrees". It was boiling hot, but my ensemble was working overtime to keep me from fainting. My fitted Jaelia Crop Camisole Top had boning on the sides, which really managed to hold me in despite the scarce amount of fabric and thin straps.
I've been leaning into styling sports bra-like tops with a button-down shirt — a combo that maximizes the amount of breeze passing through your body — so the yellow linen shirt was right up my alley. I loved the dopamine-inducing hue and the mother-of-pearl effect buttons. Meanwhile, the tie-waisted paperbag skorts made it possible to climb up and down the stairs without flashing everyone. While this wouldn't be something you would wear on a proper hike, this would be a great look for days you're hitting up a higher step count.
More summer tops from Love, Bonito:
Evening Looks That Don't Make You Break A Sweat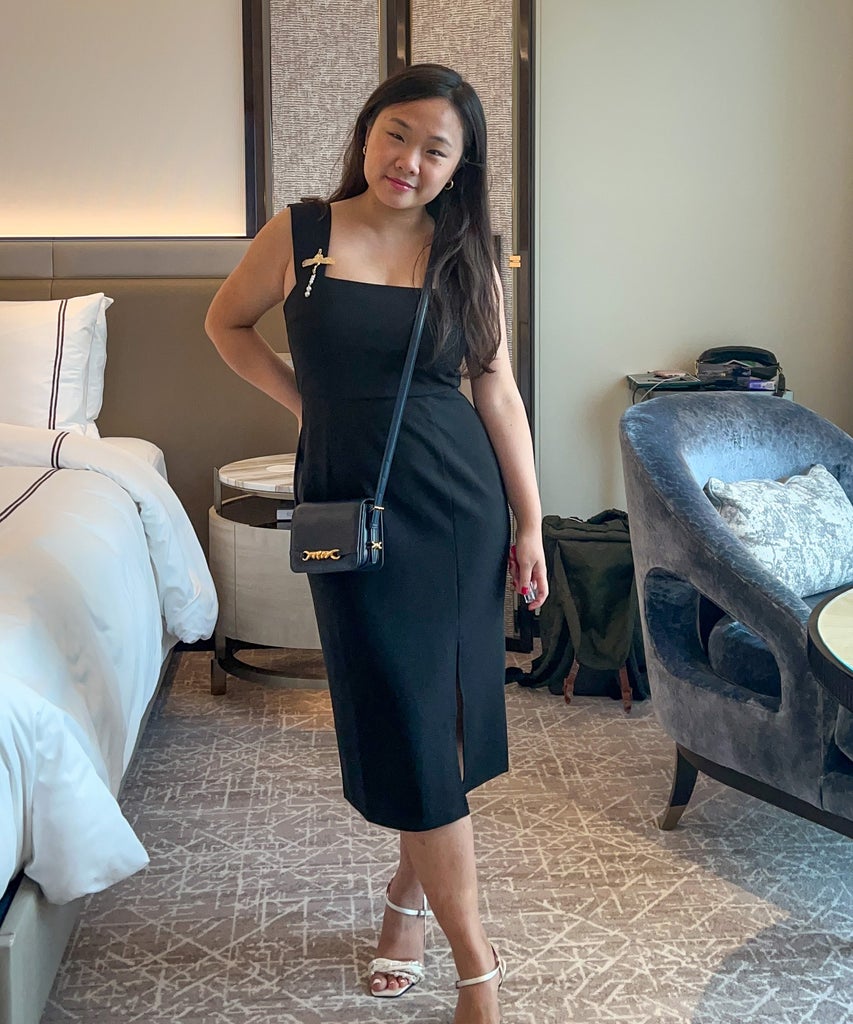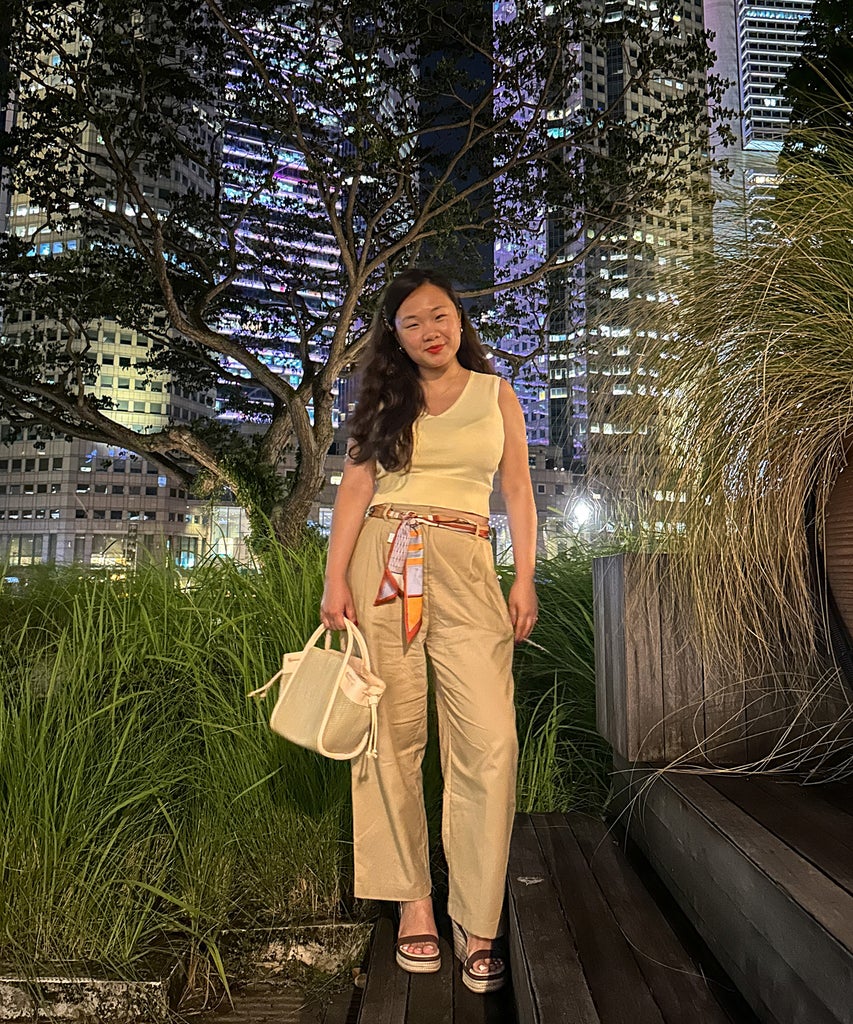 I've waxed poetic about Love, Bonito's more casual styles that won't break the bank, but don't get me wrong: the brand absolutely delivered more formal looks, too. My favorite was the Arwen Square Neck Column Dress. The dress was figure-hugging, but I loved how the front slit was balanced out by the wide straps. I amped up the quiet luxury vibe with a vintage gold crane brooch, pearl-accented heeled sandals, and a micro-purse from Charles & Keith. Feeling like Astrid Leong-Teo, I wore this outfit to drinks at Marina Bay Sands, the 57-story architectural landmark of a hotel (side note: getting to stay at MBS, as the locals call it, the very hotel featured in that ending scene from Crazy Rich Asians? A total dream-come-true). This is the kind of LBD that looks cute on warm nights out on vacay, but also transition easily into your office wardrobe.
The brand's evening looks are also easy to accessorize and switch up if you're on a longer trip and want to repeat outfits. One of my favorite vacation styling tricks is to pack a variety of skinny silk scarves with me: they add a pop of color and pattern intrigue, and instantly elevate the whole look. I like braiding them into my hair, knotting them into bows to accessorize messy top buns, or tying them across the waist as scarf belts. When I went out to dinner at Clarke Quay, a buzzy neighborhood for restaurants and nightlife, I jazzed up my yellow sleeveless top and khaki linen shorts with a thrifted orange scarf. This little detail instantly snatched the whole getup.
As a bonus, I found Love, Bonito's clothes to be super petite-friendly. The midi dresses hit me at a flattering calf length, and none of the pants I tried on overwhelmed me in terms of shape and length; the proportions all hit right.
More nighttime looks from Love, Bonito:
More Singaporean fashion brands you should know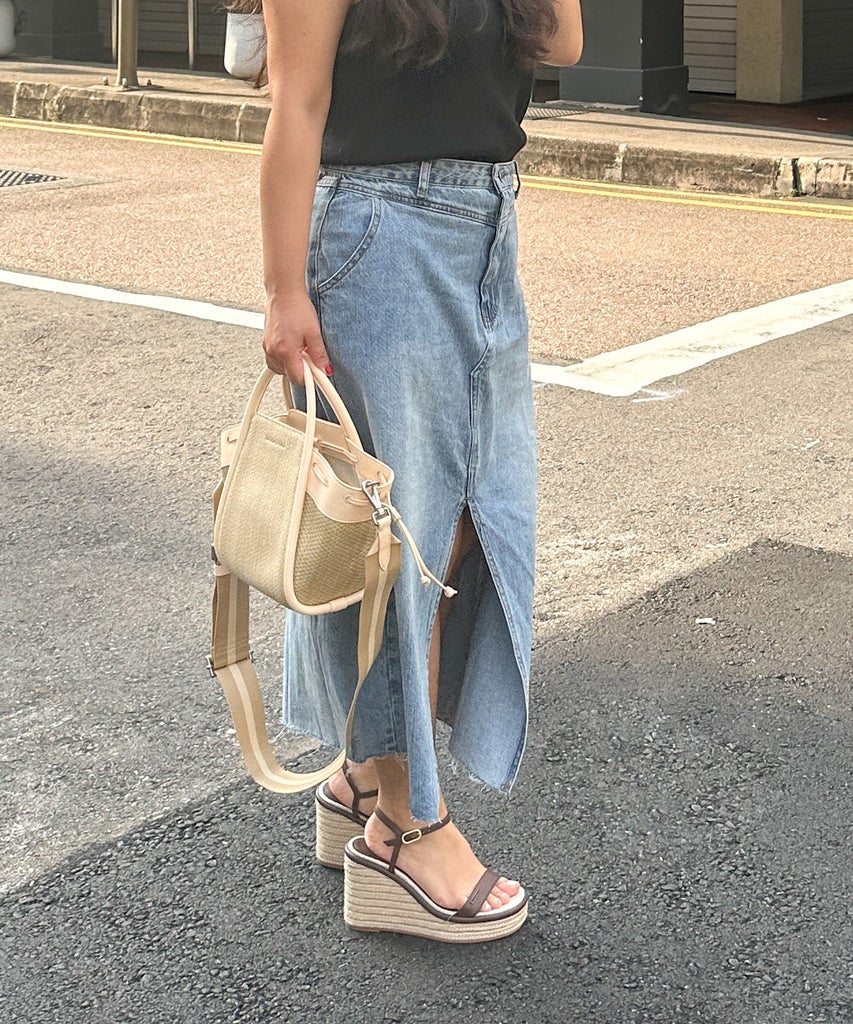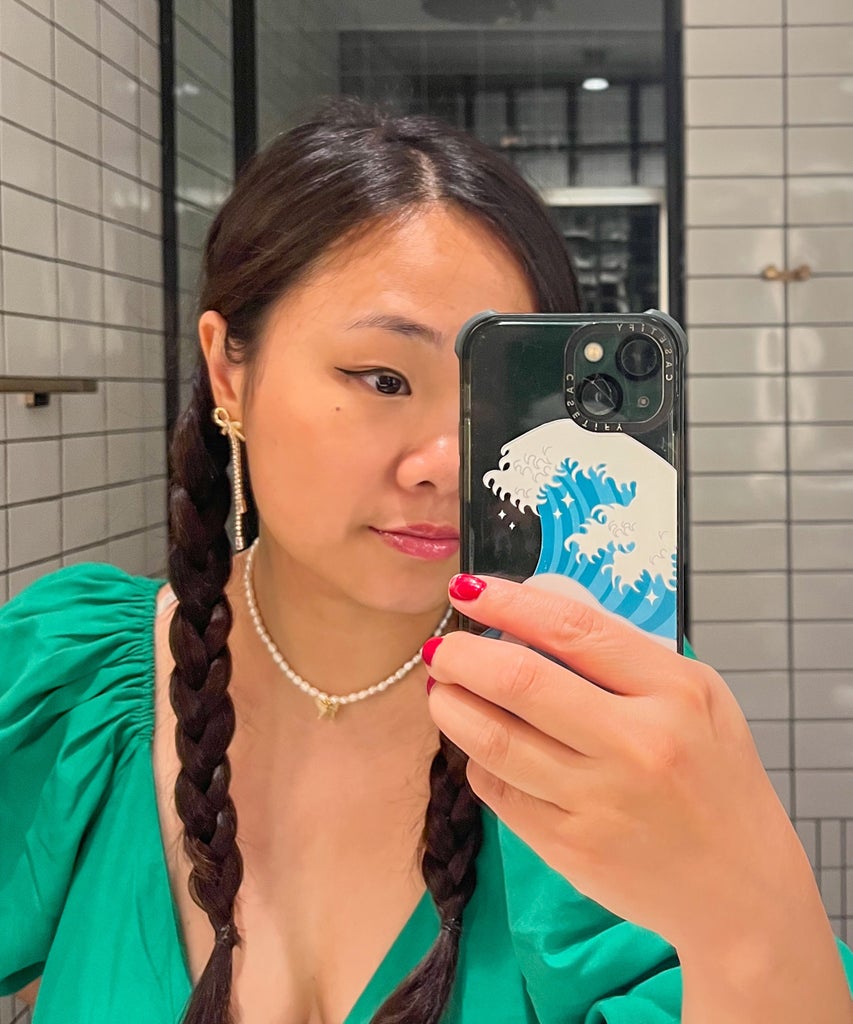 I knew I'd come back from Singapore with my belly happy and suitcases full, but what really took me by surprise was the country's highly underrated fashion scene. Besides Love, Bonito, there are tons of other great homegrown designers worth checking out.
I got to test drive several cute seasonal pieces from Charles & Keith, a fashion and accessories brand with a sizable international footprint. Raffia has been tipped by our fashion team as this summer's standout trend, so I know I'll be wearing my Espadrille Wedges and Ashby Raffia Tote Bag to the ground.
Another Singaporean discovery I wouldn't shut up about? The indie jewelry brand Hey Maeve, which just opened its highly aesthetic flagship in the city (if you can't make it to SG anytime soon, the brand also offers free shipping to the U.S. on orders over $75). I was utterly charmed by the bestselling, ribbon-shaped My Gift Is You Earrings and California Poppy Choker, both of which are 18K yellow gold-plated. They are the kind of eye-catching yet highly wearable jewelry that get people chasing you down the street, asking where you got it.
Our top picks from Charles & Keith:
Our top picks from Hey Maeve:
Why You Should Visit Singapore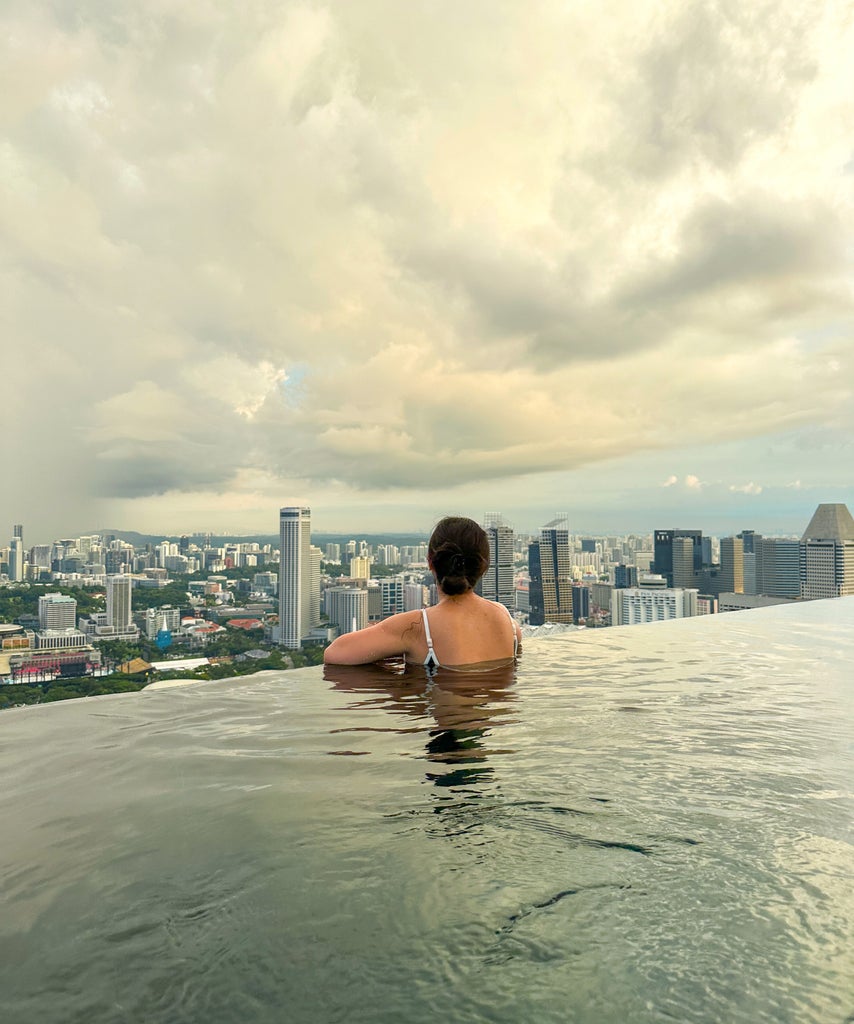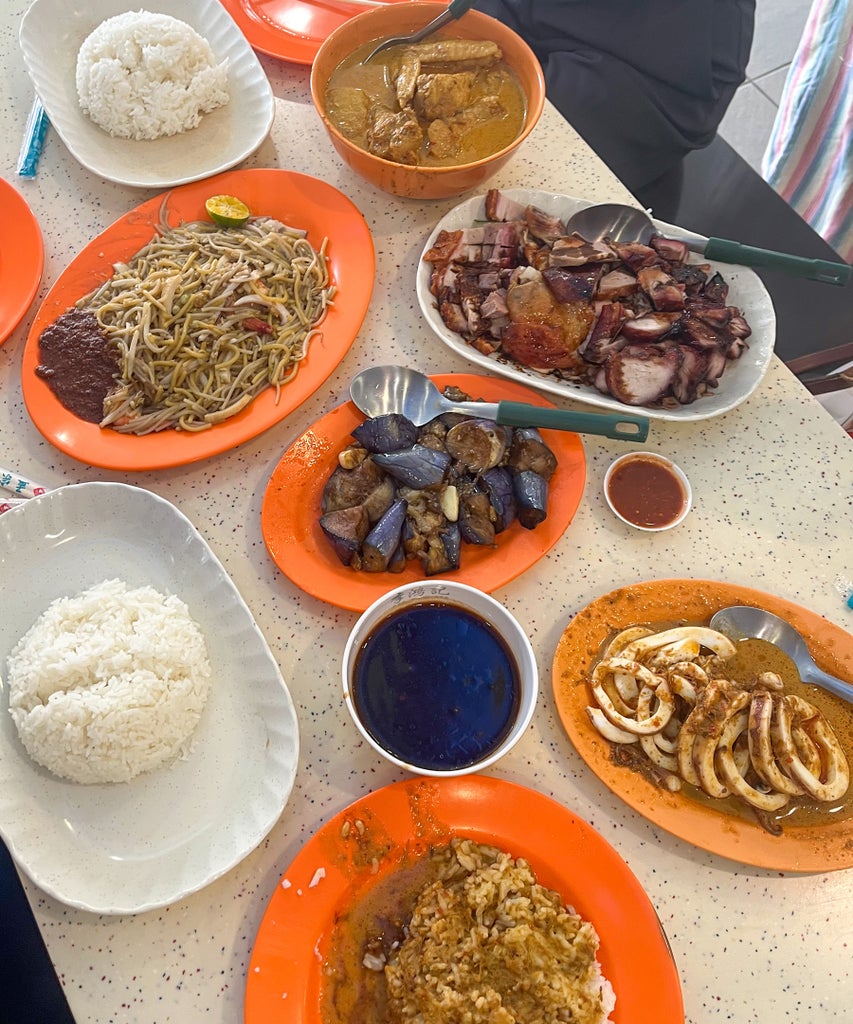 While much of this story was dedicated to Singaporean fashion, it wasn't the only thing that seriously impressed me. I can't recommend Singapore enough as a long-haul destination — especially if you are traveling solo or with your best friends. It offers the bustling pace of a world city juxtaposed with lush tropical greenery, plus sunshine and warmth practically every day. You can conveniently hop between experiences on the opposite spectrums of old and new in a matter of hours, from having cocktails in the highest infinity pool in the world to exploring heritage buildings and hidden alleyways at Kampong Glam.
And if you're a foodie, Singapore is pure heaven. I can confidently say that you can close your eyes, stroll into any hawker center, and taste incredible food that will cost you less than a matcha latte stateside. Some of my favorite cheap delicacies include kaya toast (a scrumptious coconut butter toast locals like to eat with soft-boiled egg for breakfast), Hainanese chicken rice, and prawn mee (stir-fried thick noodles with prawn). And of course, pandan: any dessert that contains this fragrant tropical leaf will blow your mind. You can find all this tastiness at Tiong Bahru Food Center.
It goes without saying, but the hotel scene here is just incredible: you've got big legacy names like The Raffles and Fullerton Hotel, but there is always a new opening around the corner, and you get a lot of bang for your buck in terms of amenities and the level of service. We checked into the recently opened Pullman Singapore Orchard, a skyscraper hotel within walking distance of some of the city's most famous shopping malls. The average nightly price is around $250 — very decent, considering it's a five-star hotel in a top location. You get to lounge at an Instagrammable outdoor swimming pool, while the highly attentive staff will serve you delicious Singapore Sling (a refreshing national cocktail).
Even if you don't have a Crazy Rich Asians travel budget, Singapore has so much to offer. And with these affordable Love, Bonito bestsellers, you can channel main character energy without breaking the bank.
At Refinery29, we're here to help you navigate this overwhelming world of stuff. All of our market picks are independently selected and curated by the editorial team. If you buy something we link to on our site, Refinery29 may earn commission.
Like what you see? How about some more R29 goodness, right here?
5 Tried-&-Tested Travel Outfits From R29 Editors
The Best Shoes For Traveling, According To Experts