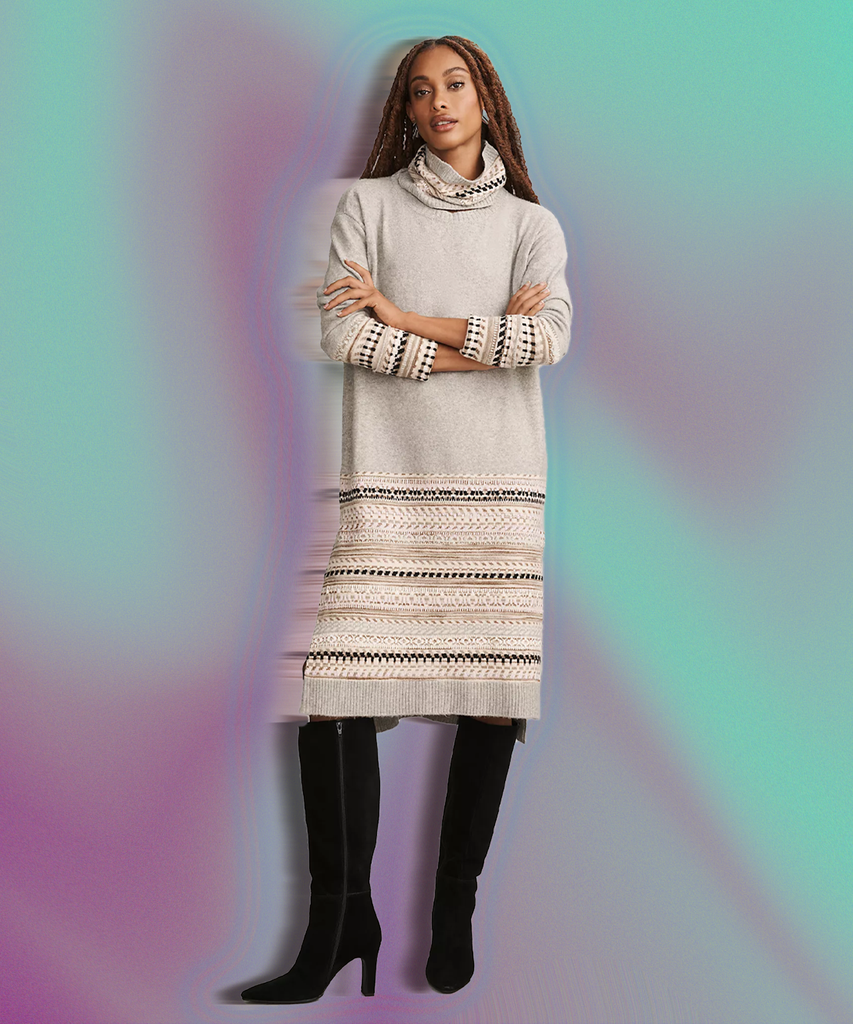 Spooky season is almost over, and Thanksgiving is on the horizon. In wardrobe speak, this means that winter isn't just coming. It's pretty much here. Temperatures are dropping fast, and we're layering up even faster, starting with the winter dress. The winter dress is not that much different from the fall dress; just add some extra weight and/or fabric, so it'll stand the test of snow, sleet, or whatever else the season throws at you. Think sweater-like materials and yuletide prints, long sleeves, and high necks. 
But how do you know which frock fits you as you enter the chilliest period of the year, keeping you covered for office wear, holiday parties, and everything in between? To answer this question, we turned to shoppers for their star ratings and reviews on dresses from all our reliable retail faves, including Free People, Anthropologie, J.Crew, and more. Scroll onward to see which dresses are earning customers' approval this winter.
Welcome to Hype Machine, our hit-list of the top reviewed products across the web — according to a crowd of die-hard shoppers. Call this your 4-star-and-up club, with entry granted by our devoted-to-the-goods shop editors.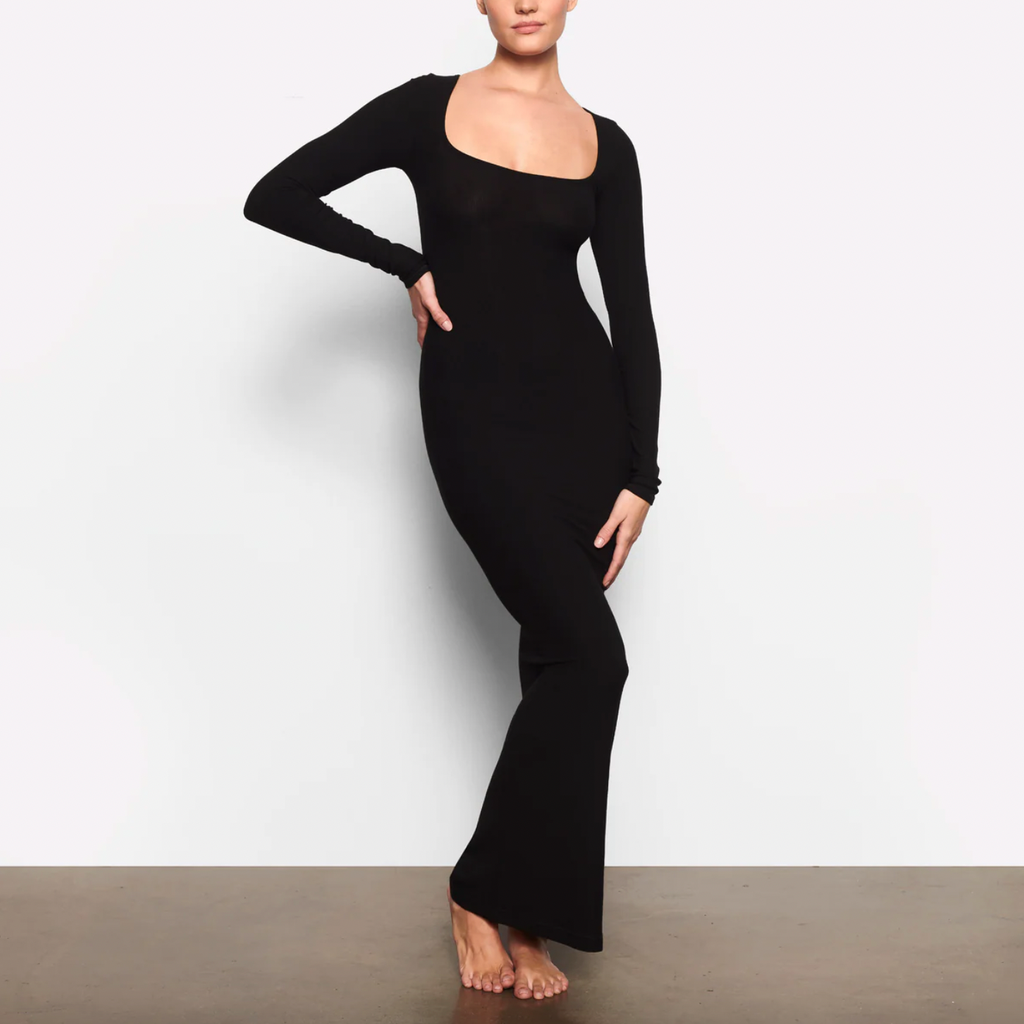 The Best Winter Lounge Dress
The Hype: 4.7 out of 5 stars; 1,434 reviews on Skims
Live out your most luxurious holiday dreams at home in Skims' best-selling lounge dress. Imagine resting on your couch in the drapey slip with a nice mug of hot cocoa and "Chestnuts Roasting On An Open Fire" cooing in the background. Sounds too good to be true, right? Well, now you can bring it to life by prepping with the best winter lounge dress.
"I've been obsessed with Soft Lounge dresses for the past few months. The long-sleeved version of the slip dress is perfect for colder weather coming up. It can easily be dressed up or down and is just as comfortable as the spaghetti strap version. There are plenty of shades, and I chose Onyx, which is less sheer than the lighter colors," writes a reviewer. "The only con I can think of is that it's a bit challenging to wear a bra or bralette with this dress, so it may be too revealing. However, I don't mind them and I wear them often. If you're on the fence whether it's worth it I wholeheartedly recommend buying it."
Shop Skims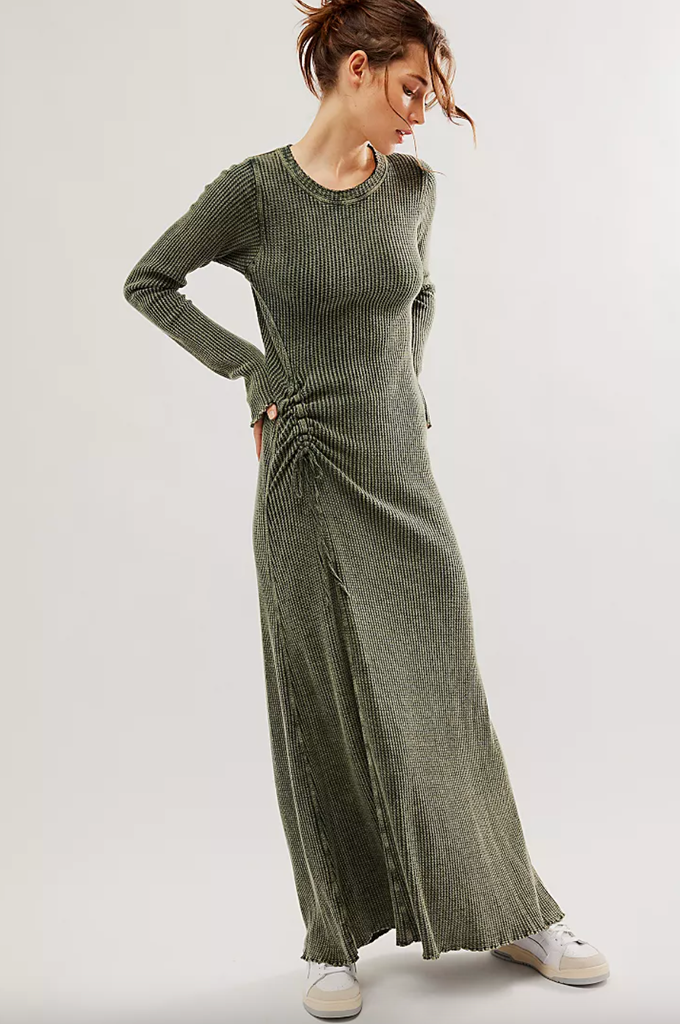 The Best Versatile Winter Dress
The Hype: 4.3 out of 5 stars; 97 reviews on FreePeople
This effortless maxi dress is laidback and cozy — the perfect blend for a lazy-day winter frock. You can run outside with a puffer coat and your UGG slippers, or style it with black pointy ankle booties, a thick black belt cinched at the waist, and a leather jacket to top it off. The side ruching and lettuce trim hem add subtle detail to the one-piece, allowing you to fashion it however you please.
"I can't believe how many compliments I got the [first] day I wore it. Three different women came up to me to say they loved it! The fabric is much softer than it looks," raves a reviewer. "The length was perfect for me, and it has a small string detail in the front if you want to raise it a tiny bit. It's super-warm and very comfy. Also, I'm getting this in different colors for sure."
Shop Free People
The Best Winter Dress For A Deal
The Hype: 4.5 of 5 stars; 17 reviews on NordstromRack.com
What could be better than a deep burgundy stretch-knit dress that effortlessly molds to your body? Maybe being more than 65% off and coming in three other colors? Yes, you're looking at the best discounted winter dress from Nordstrom Rack.
"On the hanger, this dress does not seem like much. However, once you put it on, it hugs and ruches in all the right places without being revealed. It is lined and well-made [and] suitable for the cooler autumn and the winter months," says a reviewer.
Shop Alexia Admor At Nordstrom Rack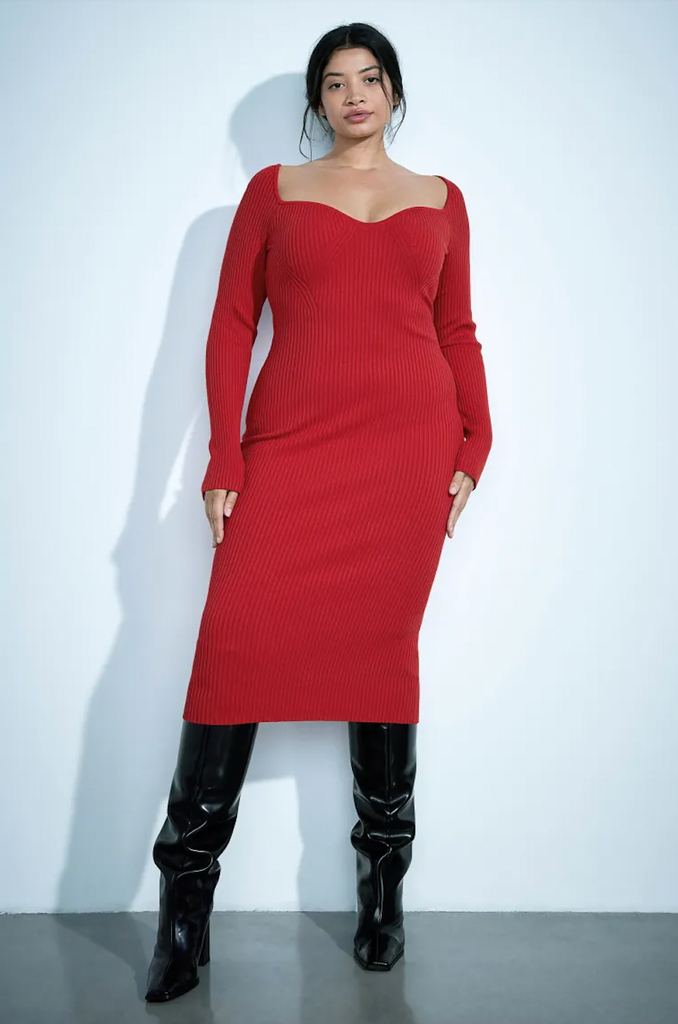 The Best Winter Date-Night Dress
The Hype: 4.7 out of 5 stars; 98 reviews on HM
From H&M, consider this bold, flirty rib-knit dress your winter date-night attire. The statement cherry red is enchanting, and the sweetheart neckline and lightly flared long sleeves exude femininity.
"I like this dress. The red shade is beautiful and rich, and the dress is lightweight. It stretches well and has nice bodice detailing, too. One thing, though, is that it does run very small, so you might want to size up. I had to return my usual extra small and get a small," explains a reviewer.
Shop H&M
The Best Winter Sweater Dress
The Hype: 4.5 out of 5 stars; 22 reviews on Anthropologie
Oversized sweater dresses are the epitome of winter dressing, and if you add a turtleneck with a quirky yuletide print to it, you have it all. Reviewers have noted that the dress runs large and appears to be more of a warm light oatmeal rather than gray.
"Sweater dresses are typically not a good look on me. They tend to be too bulky for my frame. However, this dress is different. It's incredible! The sweater dress is so warm and fits very loosely without swallowing you up," exclaims a reviewer. "I noticed a temperature difference when I took it off after trying it on. I never have to crank my heat up when I wear this dress — no joke, I'm saving money from this thing. I'm writing this review to beg Anthropologie to make this an annual seller and to make it in more colors."
Shop Daily Practice By Anthropologie At Anthropologie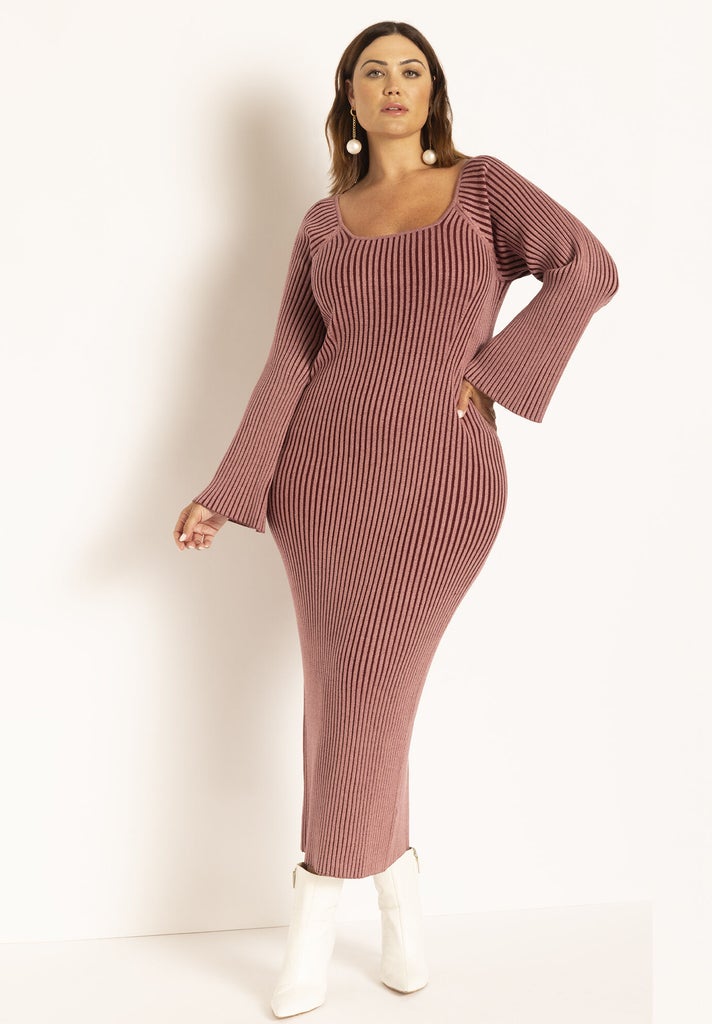 The Best Pretty In Pink Winter Dress
The Hype: 4.6 out of 5 stars; 10 reviews on Eloquii
Just because it's wintertime doesn't mean figure-hugging dresses get tossed out the window and into the snow. Stay cute and adorable in this mid-weight dusty pink ribbed midi sweater dress that clings to your curves. The bell sleeves add the perfect amount of dainty flair.
"Omg, I love sweater dresses and maxis, and this is about as perfect as it can get. The dress feels so good on. It's not lightweight, but not dramatically heavy, either," raves a reviewer. "The scoop neck is kind of sexy. The dress hugs curves and the bell sleeves add much fun and drama. And this mauve-y color is really rich and wonderful."
Shop Eloquii
The Best Classy Winter Mini Dress
The Hype: 4.7 out of 5 stars; 9 reviews on J.Crew
This sophisticated, black-and-white mini dress says it all with its posh collar, contrasting trim, and black statement buttons. It's the most chic work dress, and you'll adore coordinating it with your knee-high boots and an oversized wool coat.
"This dress is a new closet staple for me. The fit is perfect, and the style will stand the test of time. I was worried that the length might be too short, but no worries. I plan to rock this dress with snakeskin knee-high boots. I chose the medium for a sleek look. For reference, I'm 5'6 and a 34G. More colors would be great, please," shares a reviewer.
Shop J.Crew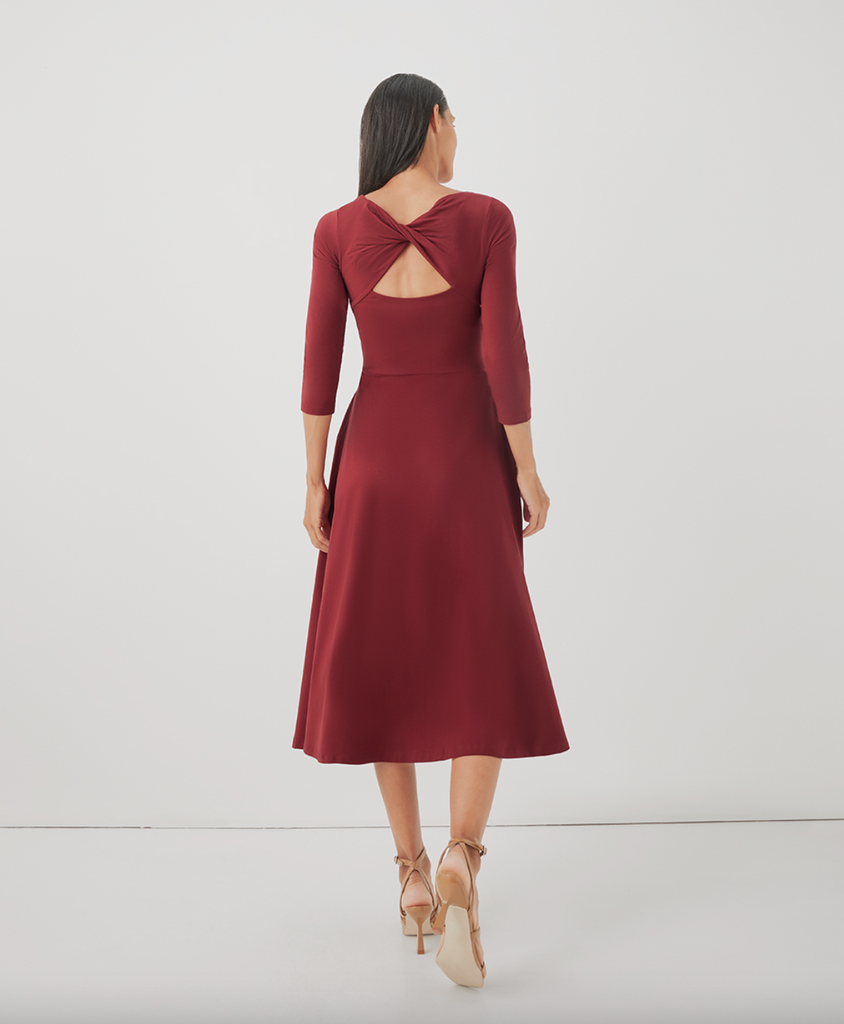 The Best Winter Party Dress
The Hype: 4.5 out of 5 stars; 28 reviews on Pact
Keep it modest in the front with a boat neck and have a little party in the back with a peekaboo opening. Despite its minimal details, the stretchy jersey knit dress has a beautiful flare that is elevated enough for a dinner party or soirée. For a bit of sparkle, accessorize with a chunky cuff bangle. 
"I have broad shoulders and wide hips, and this dress is flattering and fitted in all the right places. It's snug without being too tight and easy to move around in," writes a reviewer. "I love that the top is fitted and the bottom is flared, which is a good balance. The cutout on the back spices it up just the right amount. And I love the pockets!"
Shop Pact
At Refinery29, we're here to help you navigate this overwhelming world of stuff. All of our market picks are independently selected and curated by the editorial team. If you buy something we link to on our site, Refinery29 may earn commission.
Like what you see? How about some more R29 goodness, right here?
12 Long-Sleeve Midi Dresses For Your Winter Closet
25 Holiday Dresses To Bring Out The Festive Cheer