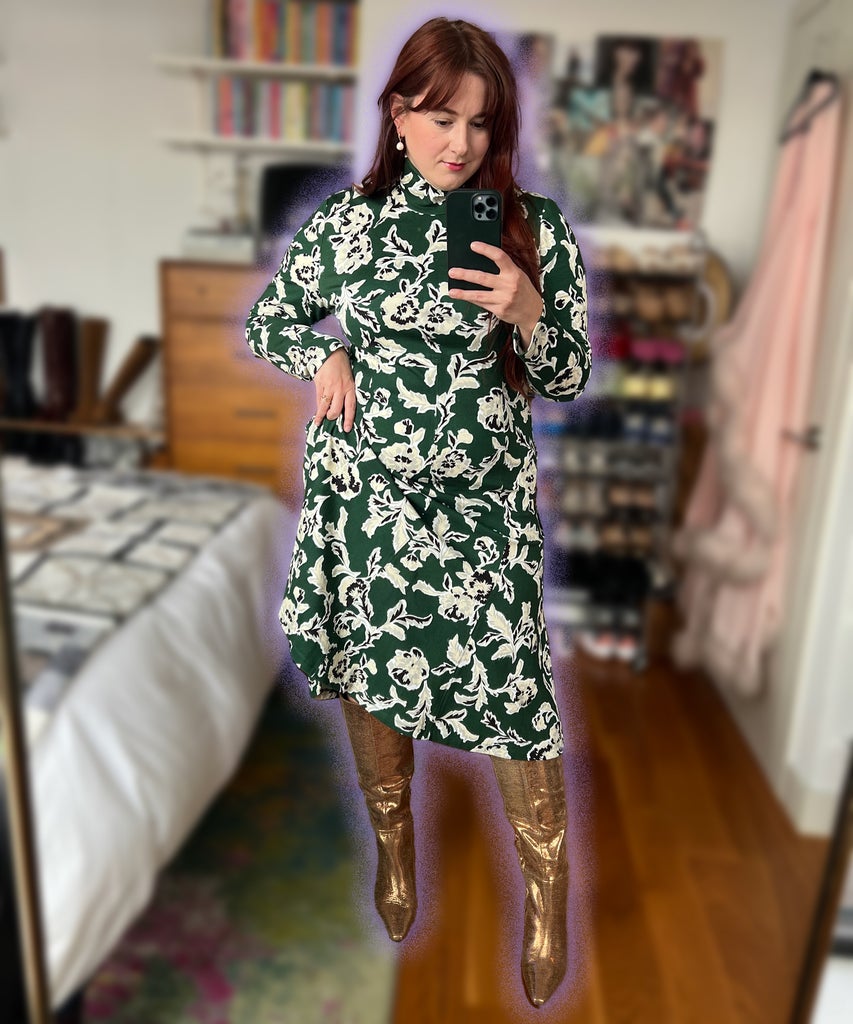 The calf circumference on a pair of knee-high boots found in most retailers averages somewhere between 14 and 15 inches. I know this because, at approximately 16.5 inches, my calves are too big to fit in anything readily available on the footwear market. 
If my memory serves, the last time I could easily slip on knee-highs was when I was a child, playing dress-up in a pair from my grandmother's closet. I've been chasing after those perfect boots ever since: in soft black leather, with a pointed toe and a not-too-high stiletto heel. (My grandmother was incredibly chic and had several closets stuffed with clothing, so my interest in fashion came naturally.) Every autumn, I take a chance on a pair of boots hoping they'll fit, and every autumn, I find myself bitterly standing in the returns line. 
I'm hardly alone. For three falls running, creator Laura Hoden has been posting about her hunt for stylish wide-calf boots to her TikTok account @imlauranotlauren, videos which regularly rack up hundreds of thousands of views from shoppers who have likewise searched the market high and low. Because, while there wide-calf options exist on the market, very few are fashion-forward.
"There was absolutely nothing that would even fit that I even remotely liked," Hoden says of the first season she tried to find wide-calf boots that aligned with her aesthetic. "The styles were very, very outdated or they were really cheap materials, not something I want to be spending my money on."
I can relate. Exactly once in my extensive fashion career have I found a pair of knee-high boots that hit the style benchmark I was searching for. They were a slouchy pair from Tamara Mellon, gifted to me in 2019 when the brand announced it would be launching an expansion of calf sizing. (Four years later, while the landing page is still live, the products are no longer available, and there are no other wide-calf styles listed on their site.)
In year two, Hoden says, she was introduced to Duo Boots. She was impressed by the quality and size range — the brand offers nine different calf sizes — but still wanted something more than the basic styles the brand had to offer. "They have great, classic styles," says Hoden. "[However] I am looking for the more high fashion styles that you would find at [brands like] Khaite, Tôteme, Anine Bing, Staud." 
Now, in year three, Hoden is feeling more optimistic. She says Vince Camuto (with whom she has partnered in the past) is leading the charge, offering trend-forward styles in wide-calf and extra wide-calf, allowing them to serve even more of the overlooked market. Sam Edelman also offers wide-calf shoe options. "I can finally say I'm seeing some change, and that feels so good," she says.
While Hoden likely played a role in that, based on how many people sent me her TikTok account when I posted to social media that I was looking for great wide-calf brands alone, she knows the work is far from over: "Brands that do shoes [as] their focus — I don't think they have any excuse in the world to not cater to different leg sizes."
I didn't just take Hoden's word for it, though. I put some of her favorite brands to the test, as well as a few other recommendations from my DMs and brands I follow on social media. Before we get to my reviews, a note: My calves are at the top end of what's considered "extended calf sizing." For reviews on extra-wide-calf styles, I suggest following fashion influencer and Refinery29 contributor Sarah Chiwaya for recommendations.
All featured boots were gifted for review.
Calf circumference for a size 8.5: 18 inches
Hoden was right: When combing through the market, Vince Camuto offered the best variety of fashion-forward boots in wide-calf sizing. I liked the Quacia style for its practical-yet-stylish low heel, which is slightly curved in a comma style. The nutmeg suede seemed like the safest bet for my winter wardrobe, but now I'm regretting not getting the patent Petit Syrah color, which is a very on-trend shade of black cherry. 
The full-side zip made getting into the boots super easy. (In my experience, there needs to be at least a half-inch difference between the boot calf circumference and actual calf size for a boot to slide on comfortably.) I also loved the Herscha wide-calf boot in a snakeskin pattern, though it's slightly tighter at 17.5 inches.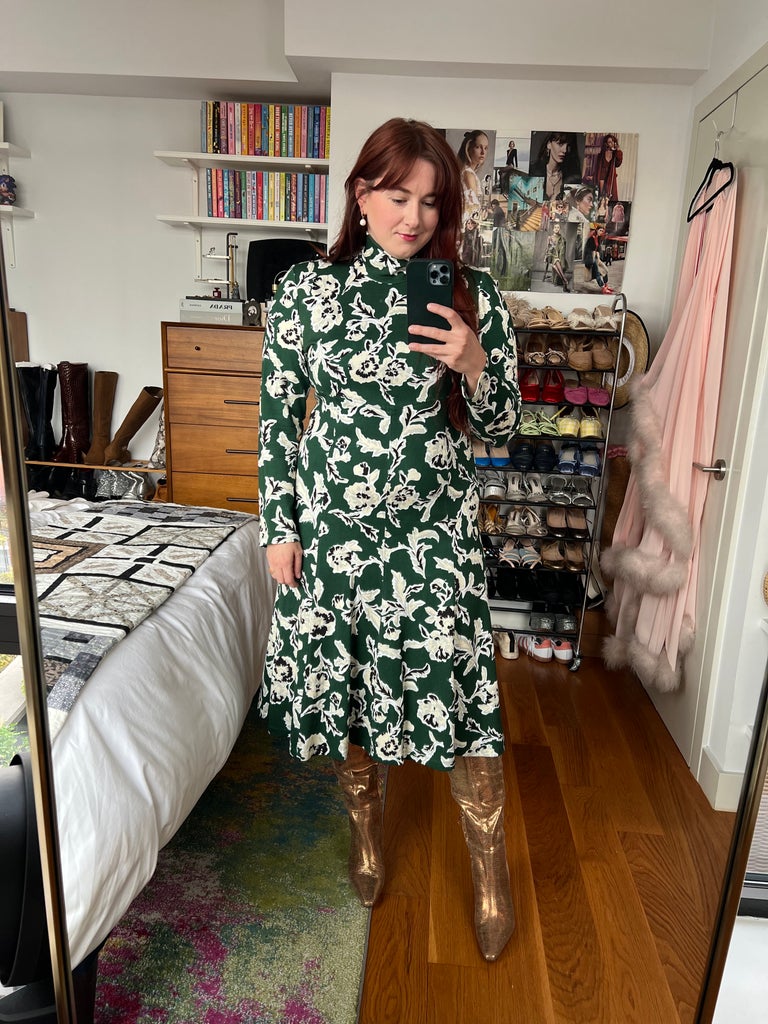 Calf circumference for a size 8.5: 17.5 inches
Sam Edelman didn't have quite as many options (and no extra-wide sizing), but what they did have was very good. I went with the Sylvia in a deep gold (which looks more rose gold in person) because metallic shoes are often a go-to neutral in my wardrobe. The squared-off toe adds a polished, fashion-forward finish to what might otherwise be a more basic style.
I also tried the Cesar riding boot, as I've been longing after a flat boot style for years, but they didn't quite work — there was far too much room in the ankle, making them look baggy and bulky.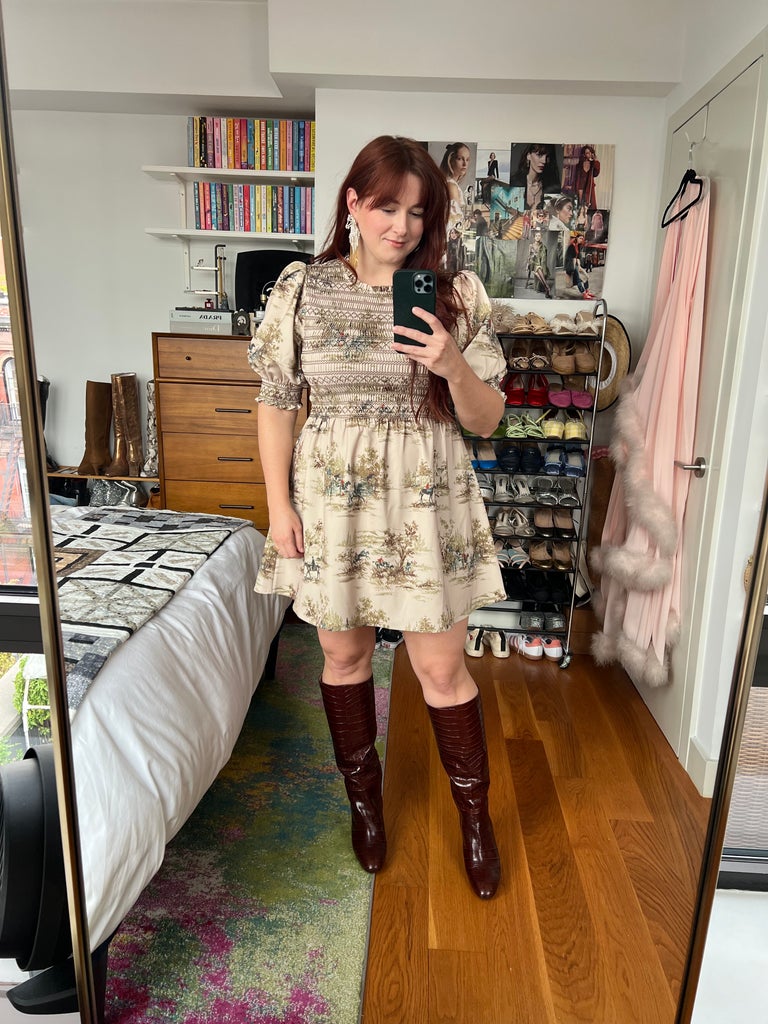 Calf circumference for a size 8.5: 17 inches
One of my ideal knee-high boots is a '70s-vibe, stacked-heel style, and these from Inez fit the bill. They're extremely sophisticated, especially in this faux croc pattern. These fit slightly tight — no pairing over jeans for these, kind of a bummer — and I wish there was an elastic tab at the top to give them a little extra wiggle room. I'm hoping they will stretch over time; in the meantime, I plan to wear them with dresses and skirts through the winter.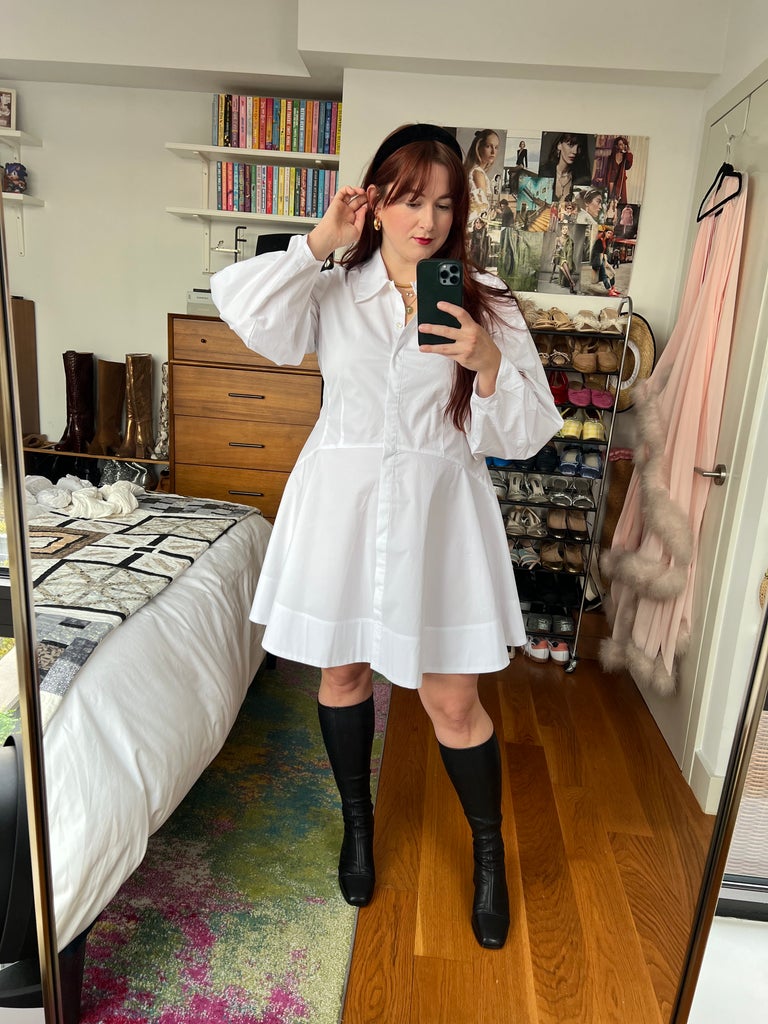 Calf circumference for a size 39: 14 inches
Okay, you're reading the calf circumference on these and thinking, "…really?!" But I own and love a pair of Nomasei's Whisper thigh-high boots, which zip up over my calves and thighs thanks to the stretch cotton and leather fabric, so I had a feeling the knee-high Twist would do the same. 
The brand doesn't advertise these as wide-calf because the fabrication is slightly different from the Whisper, but I wanted to try anyway. I'm so glad I took the risk, because I'm obsessed with the '60s-mod style these boots bring to my wardrobe. Just note that, while I can zip them up, I would guess there's maybe another half inch of wiggle room, tops, so they're not truly adaptable for all calves.
The Near-Misses
Madewell The Antoine Tall Boot with Extended Calf: I could get these over my calves, but then it felt like I was cutting off the circulation to my lower legs. It goes without saying, it is pretty uncomfortable. Close but no cigar. (Calf circumference for a size 8.5: 16.5 inches.)
J.Crew Sadie Knee-High Boots: J.Crew doesn't advertise these as being wide-calf, but they were suggested to me as being such. I had the familiar experience of getting them about two-thirds of the way up my calf before they came to a stop, so they were a no-go. (Calf circumference for a size 8.5: 16 inches.)
Frankie4 Lyric Boot: These were also suggested to me as a wide-calf pick, but no dice. I couldn't get them to zip fully up the calf. (Calf circumference for a size 8.5: 16 inches.)
The Untested Options
While I didn't test out pairs from Stuart Weitzman and Tory Burch, both of the brands currently offer wide-calf options. They're not necessarily the most exciting styles from their lineups but might be worth trying, especially if you're on the lower end of extended sizing.
At Refinery29, we're here to help you navigate this overwhelming world of stuff. All of our market picks are independently selected and curated by the editorial team. All product details reflect the price and availability at the time of publication. If you buy or click on something we link to on our site, Refinery29 may earn commission.
Like what you see? How about some more R29 goodness, right here?
Furry Footwear Is Fall's Biggest "Ugly Shoe" Trend
7 Shoe Trends That Are Dominating 2023