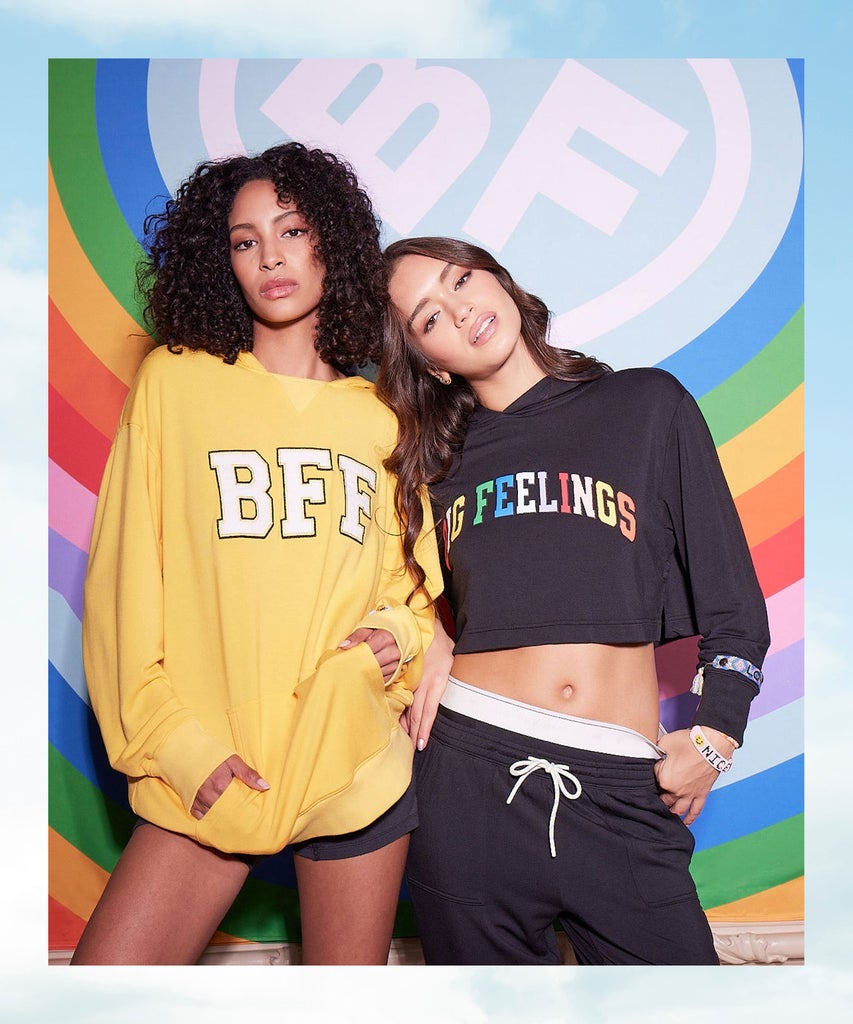 When R29 editors got an email pitch with a press release and lookbook for Stacey Bendet's latest venture, Big Feelings, it sent us into a veritable tizzy. Not only were many of us longtime fans of Bendet's career at Alice + Olivia, the womenswear label she founded in 2002, but the plush, candy-colored sweats immediately jumped off our work-issued laptop monitors. Whatever Big Feelings was, we were immediately very here for it — and eager to learn more. (Luckily, reporting is a large part of our job, as you'll see in the interview below.)
The brand, which launches today at bigfeelings.com and at Saks Fifth Avenue, is hoping to combine an increased awareness of the importance of mental health with Bendet's signature style POV. (1% of all Big Feelings proceeds will be donated to various charitable organizations.) Below, read along as Refinery29 speaks with her on all things Big Feelings.
Refinery29: Tell us about Big Feelings' origin story. 
Stacey Bendet: "I met [Big Feelings General Manager] Michelle Tai Smyth, who came from a pajama background. I was so impressed with her, and wanted to get into designing for the PJ space — this concept of 'sleepwear meets streetwear.' Pajamas that were cute and comfortable but weren't meant to be worn just to bed: A sweatshirt with boxer shorts, or pajama pants paired with a little tank top. 
What was more important to me was to start a brand that was just as much about clothing as it was about community, and how we could use clothing to create community and positive messaging to bring women together."
From the name to the cozy, comfortable pieces, the brand is rooted in self-care and encouraging conversations around mental health. Can you share more about that?
"The idea really became based around these sweatshirts with friendship bracelets that were meant to be worn, shared, used as a way to lift others up. Whether you're wearing it and showing it off to someone, or you give it to someone else, it was meant to be a tool to use clothing as messaging. My ethos around that started when we would work on things for charity, and I'd say, 'I could write you a check, or I can make you a T-shirt,'; and that T-shirt could be used to do something really powerful in the world. Every time someone wears it or shares it, they're sharing that message. 
Years ago, we did a project for the Global Fund For Women and made these shirts that raised so much money, but also started sharing these really powerful conversations among women."
Our readers know and love Alice + Olivia, and this brand feels so unexpected and fresh. Was there anything from the A+O ethos or POV that you applied to Big Feelings?
"I don't think many people know this, but I still fit every piece at Alice + Olivia. And that was really important to me for Big Feelings: The fit, the fabric, the colors, that everything had this feeling of luxury and meant just for you. This is the more casual version of [Alice + Olivia], for days where you're not wearing a suit, a beautiful dress, or a great pair of jeans. But honestly, I'll wear the Big Feelings sweats with a gorgeous blazer."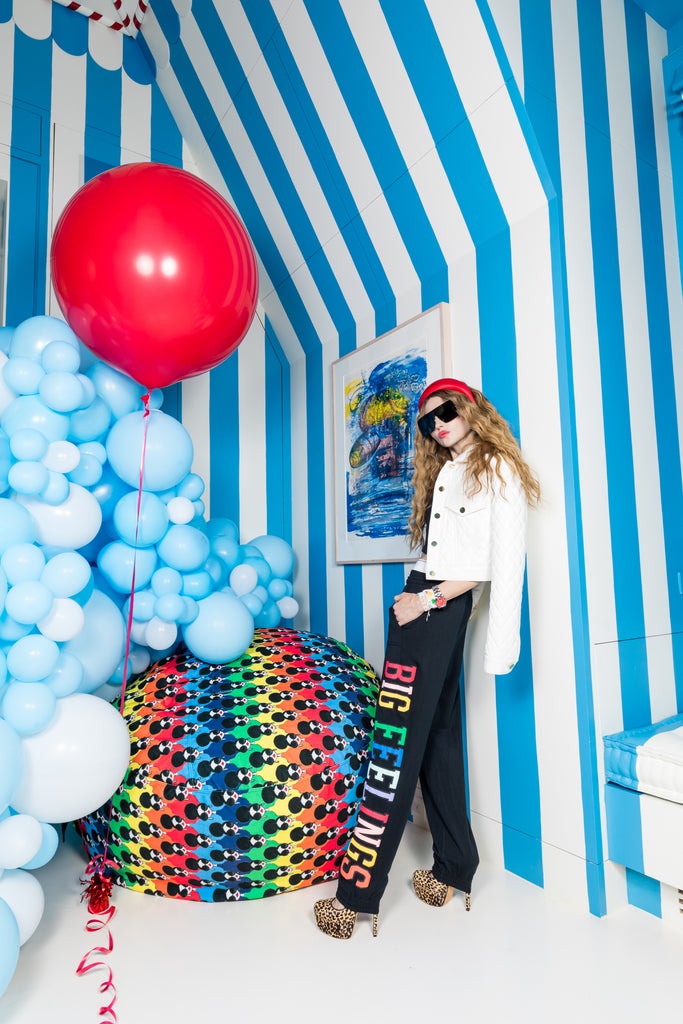 Walk us through Big Feelings' inaugural collection. What were some core elements, motifs, color palettes, silhouettes — anything! — that you wanted to feature this season?
"In the first drop, the idea was to bring the brand to life. What was most important to us were the fabrics; everything from Big Feelings is meant to feel like a hug. All the fabrics have cute names that are representative of how you want to feel: Cozy Feels, Dreamy Feels, Cool Feels, Peace Feels, and Calm Feels. The fabrics are so soft and yummy, and the whimsy and quirkiness are there too. All the sweatshirts have little messages embroidered into the hood, and friendship bracelets attached to the sleeve of the sweatshirt so you can trade them. And the colors range from a soft palette with our Love set that's more soothing to a bright palette that feels more playful and energetic, like our BF red sweatshirt."
The brand is rooted in championing mental health in a meaningful and authentic way. Why was this so important for you to have as a brand core?
"[Mental health] is something that's affected many people in my life, and also raising three young women during the era of social media, there are mental health challenges at every turn. I think so often, people hide or talk around those challenges instead of being really open around those challenges, and I want to change that. I want to change the way we, as a brand, and as women, are providing resources that allow people to get the help they need.
With our Togetherness Fund partnership with Project Healthy Minds, we're trying to not just the word out about mental health struggles, but to provide resources when you're having a hard time. I know that I'm very lucky in my life to have access and resources from the top doctors in the world — not everyone has that."
Are there any specific pieces that you're especially obsessed with or think people will really gravitate towards?
"I honestly love everything in the first drop, but the sweatpants with the built-in boxer shorts, every time I've worn those, people stop me on the street and are like, I need those. I think it's because the fit is so cute, but it's meant to be our talking piece: You're wearing these sweatpants that say 'BIG FEELINGS" on the leg; it's funny, it's meant to make you smile, it's a conversation starter.
I believe in the power of clothing to uplift and change your mood. That's been one of my beliefs with Alice + Olivia from the beginning, and I wanted to provide the same thing with cozy clothes: Let's make comfy clothes that aren't like, 'I'm sloppy at home,' but rather 'I feel so cute and so happy when I put these on.'"
What's in a name, right? Tell us how you came up with "Big Feelings." 
"It's a phrase that we use in my house all the time. I have three girls, and there are so many mornings where I'm like, 'Wow you have a lot of big feelings today!' And it's kind of something that makes us laugh, but it's also really true. I try to have a little humor with everything I do in life, so even when those big feelings seem really dark, scary, or bad, I'm like, 'Those are big feelings, and I have them, too.' We also loved that 'Big Feelings' — the initials 'BF' — could also be, 'Best Friend,' because everyone needs a best friend to share those feelings with."
I love that.
"I wanted these sweats to be something that mothers and daughters could share together. I'm wearing these sweatpants but so is my twelve-year-old. I think it's so important for moms and daughters to share this message together and share a shopping experience together. And that's kind of the mission behind the brand, just as much as it's about cute clothes, it's about community and bringing women together."
At Refinery29, we're here to help you navigate this overwhelming world of stuff. All of our market picks are independently selected and curated by the editorial team. All product details reflect the price and availability at the time of publication. If you buy or click on something we link to on our site, Refinery29 may earn commission.
Like what you see? How about some more R29 goodness, right here?