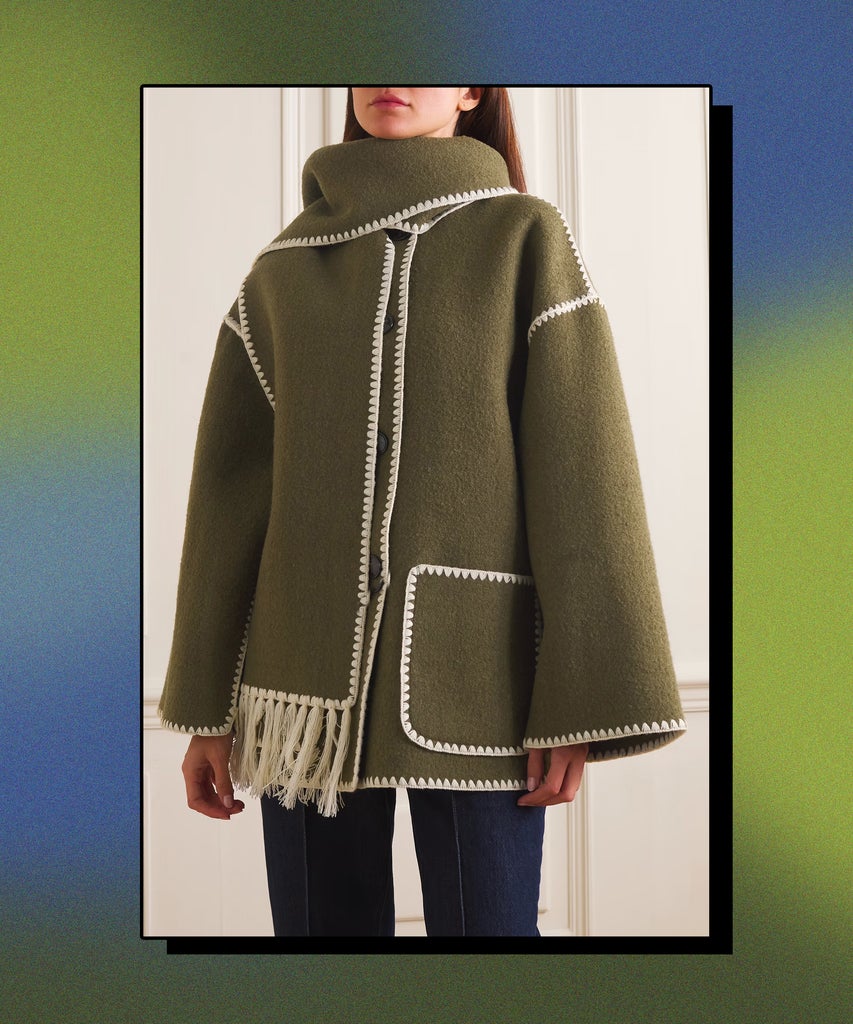 HeatTech leggings, turtleneck, North Face jacket, scarf, beanie. That's the winter essentials lineup I return to again and again when bundling up for the cold-weather season. But, last fall, a new coat trend entered the picture, throwing my go-to puffer into question: Totême's scarf jacket. Another cold-weather season later, it's still here.
The cropped wool coat featuring a built-in scarf and contrasting embroidery, from the trendy Stockholm-based label, firmly took over social media feeds everywhere. But I also kept coming across the design in the wild in New York, too. Walking the streets of Soho, or at a dinner in Williamsburg, I'd catch the scarf coat out of the side of my eye.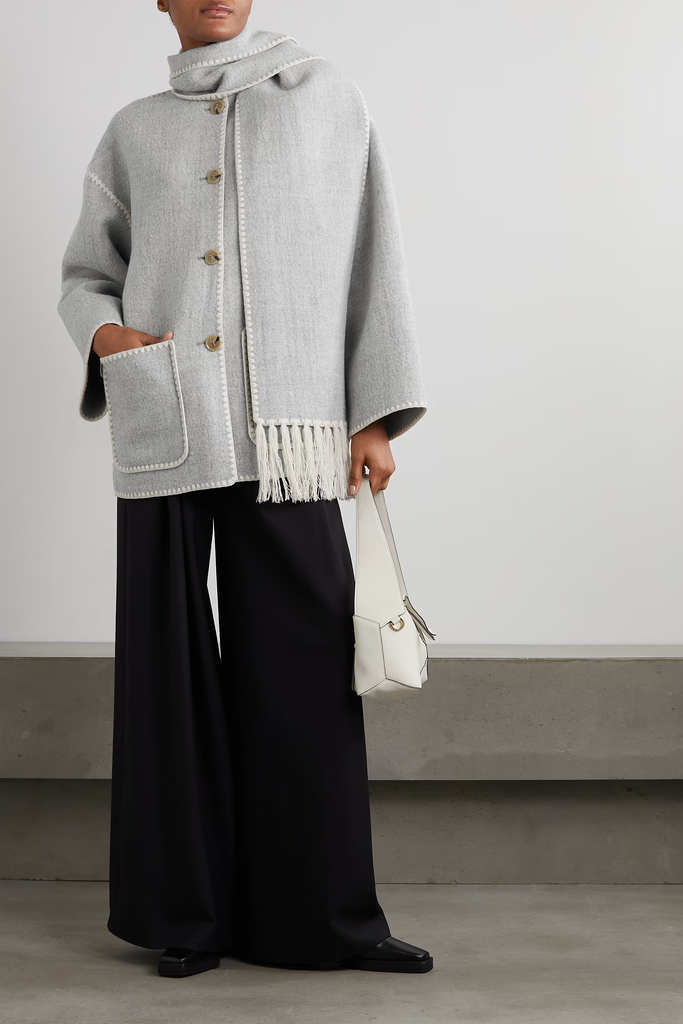 On Tiktok, the hashtag #totemescarfjacket has over 15.5 million views, with videos ranging from styling tutorials and in-store try-ons to roundups of cheaper alternatives to the over-$1,000 coat from the brand that has gained a loyal following thanks to its classic-with-a-twist pieces like balloon jeans and slouchy striped sweaters. 
Lauren Mazzarisi, a luxury digital media planner, first saw Totême's scarf jacket on the Instagram Story of @somewherelately. "I was instantly drawn to it and saved a screenshot in my phone," she says. "I realized [then] that coats can be equally as chic as the outfit underneath!"
While Totême's piece may have become the most ubiquitous version of the statement outerwear trend, it's not the only coat with a built-in scarf on the market causing a stir. "When we saw the scarf coat trend creeping in, we felt it was a trend that we wanted to jump on," says Anthony Cuthbertson, creative director at Ted Baker. "We curated our own unique iteration, Solanna and Jilliya, which quickly became a cult item of the year." 
Cuthbertson attributes the piece's popularity to its versatility and ease. "At this time of year, the 'should I wear a scarf?' debate every morning is real, so these built-in versions make the decision easy," he explains. Indeed, wearers have the option to leave the scarf detail draped over the shoulders, like the traditional winter accessory, or wear it down the front, like extended collars. 
This versatility is key. With winter jackets on the pricier end of items in one's closet, many shoppers approach the purchase as an investment piece — something that's meant to be worn for years instead of just a single season. It helps that the scarf jacket also has all the markings of a classic style like a peacoat or trench. Generally, the coloring is neutral (gray, olive green, black, etc.); materials range from luxe wool and cashmere to more casual down filling; and the silhouettes are clean and simple.
"In the last [few] years, there's been a massive emphasis on buying purposefully and curating a capsule wardrobe. With that, there's been a shift from purchasing trendy pieces to classic, more timeless pieces — and I feel that this coat fits the bill," says Mazzarisi. "I saw the creator @oliviamarcus post a video recently in a scarf coat that her mom bought in Germany 30 years ago. If I have a daughter one day, I hope I can pass this coat on to her in 30 years!" 
We'll take one now.
This piece was first published on January 4, 2023. At Refinery29, we're here to help you navigate this overwhelming world of stuff. All of our market picks are independently selected and curated by the editorial team. If you buy something we link to on our site, Refinery29 may earn commission.
Like what you see? How about some more R29 goodness, right here?
6 Coat Trends That Will Define 2022
Must-Have Winter Essentials, According To Insiders