Last summer, we noticed an unassuming Free People puffer that was selling out like hotcakes (we repeat, over the summer). The quilted nylon layer in question is The Pippa Packable Puffer Jacket, now available in a whopping 20 colors and in sizes XS to XL. As the name suggests, it's designed to pack inside itself (into a large inner-zippered left pocket, to be exact). This pillowy jacket — the first-ever performance outerwear from FP Movement, Free People's activewear line — has struck an expected chord with wearers, so we decided to take a closer look.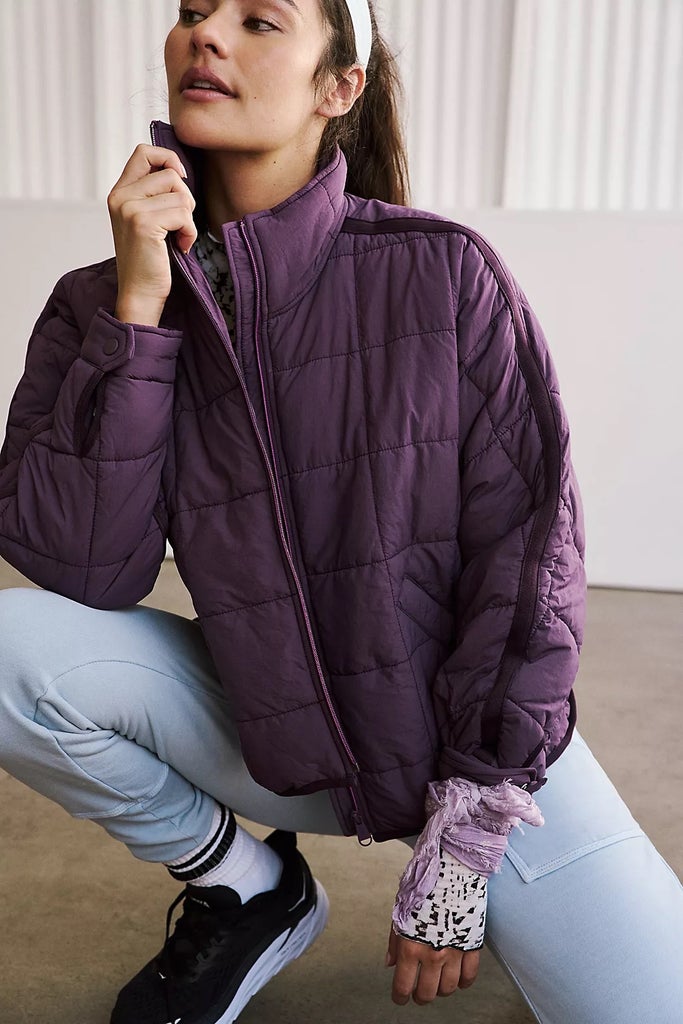 Made to satisfy transitional nippy, athleisure-friendly temps, the Pippa is stuffed with insulating fluff called PrimaLoft, making it ideal for all sorts of outdoorsy activities like day hikes or sidewalk brunches. The outer reflective shell is made from a water-resistant and non-wrinkle material, and its boxy and swingy silhouette is purposefully oversized for layering. "Absolutely love it. After 25 years of living in Montana, I'm an expert on cold weather clothing," writes one reviewer. "The jacket is extremely warm and cozy, despite being loose-fitting. Just allows for layering. Maybe when it gets below zero I might go for one of my heavier, more close-fitting coats, but for fall and early winter, this is perfect."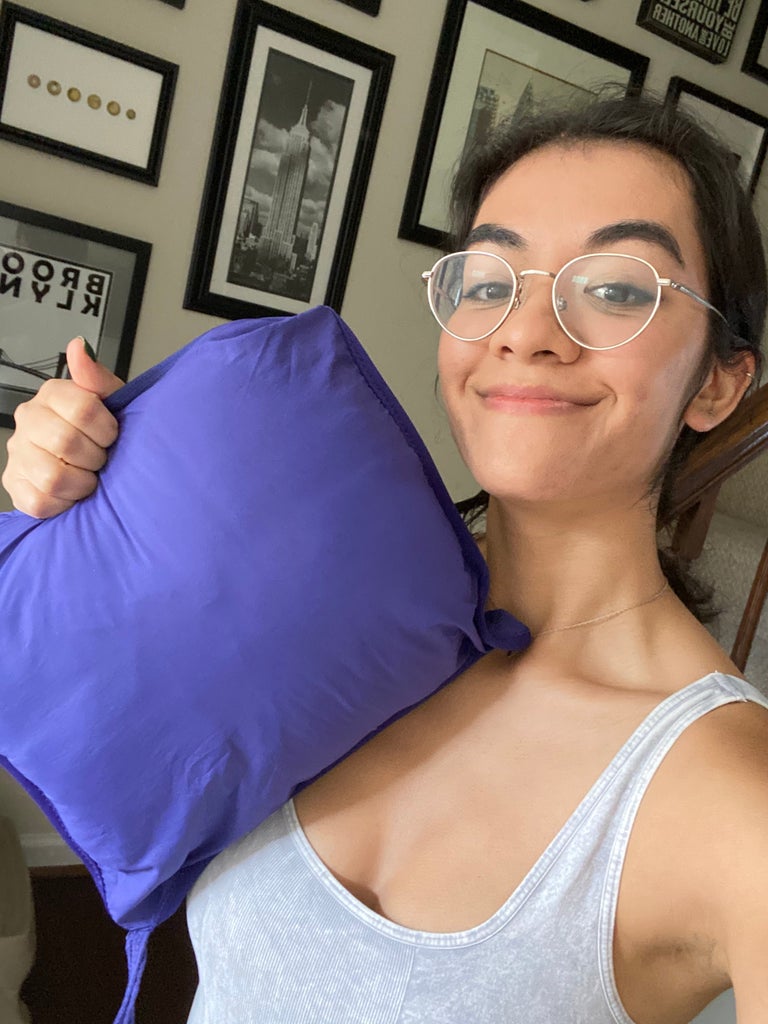 And, the hype factor doesn't stop there. A Free People rep tells us that the Pippa has sold out three times last fall and winter, with two of the sellouts happening in less than a week's time. The Pippa also currently has a rating of 4.6 out of 5 stars, a customer recommendation of 94% (out of 363 reviews), and the product has been favorited 19.2K times on the site. This original Pippa has been so popular that it has spawned three more iterations: a printed version, an above-the-belly-button cropped silhouette, and a pullover style. With such crucial stats in tow, the Refinery29 Shopping team obviously had to test-drive the Pippa. (Plus, puffer weather is right around the corner, so the timing was apt.) Ahead, we see if the Pippa Packable Puffer Jacket is as buzz-worthy as everyone says it is.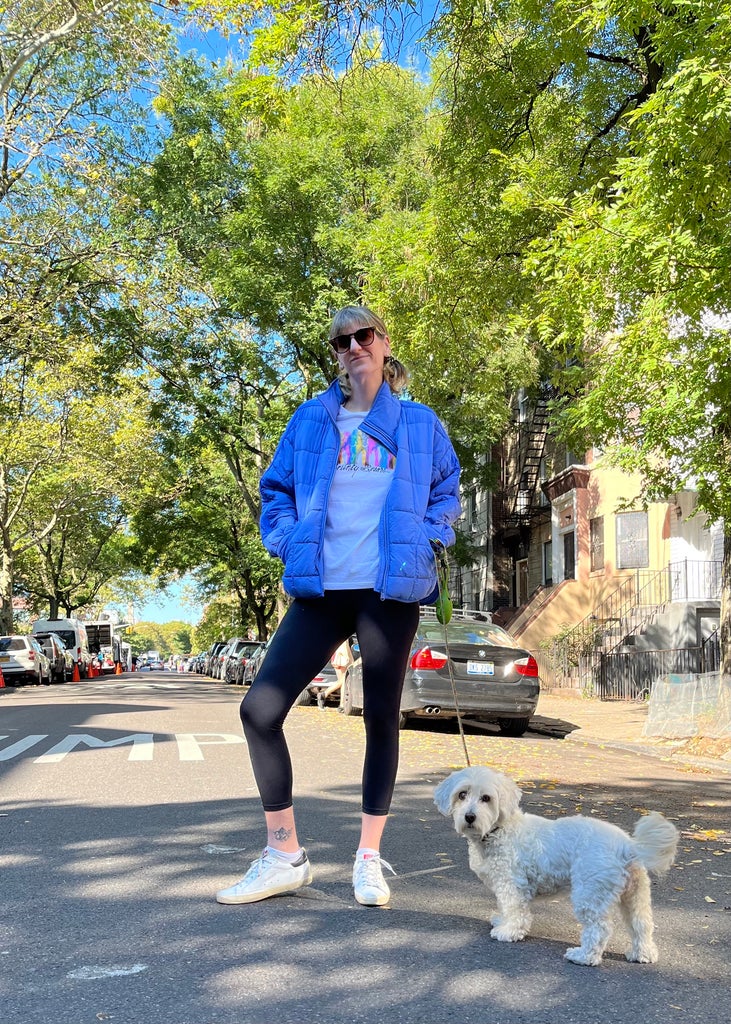 "I jumped at the chance to try out this highly desired jacket from FP Movement because being a year out from a gastric bypass, I've had to replace my entire wardrobe from the ground up (from panties to puffers). I opted for Forget Me Not in Medium, a cornflower blue that felt like a fun transition color to take me into autumn. But, even though it says right there in the fit description that it's oversized, my inability to gauge my new body shape led me to order wrong (and that's on me!). But still — this medium is… large. When I first put it on, I felt like I was drowning in swaths of fabric.
"However, after taking the jacket out of the house for an early morning dog walk, I was quickly won over. The boxy shape made me feel like I was wrapped up in a cozy quilt. It was so easy to throw on, and compared to previous puffers I've owned, it didn't feel bulky. It provided the exact perfect amount of warmth for a chilly morning. And, in fact, because it's so oversized, I can continue to layer up with a hoodie or thick sweater under it as the weather gets even colder, allowing me to wear it all winter long. Plus, I have to admit, when I saw a photo of myself in the jacket, it didn't look that big at all. It actually looked as chic as I'd been promised." —Charlotte Lewis, Sexual Health & Wellness Writer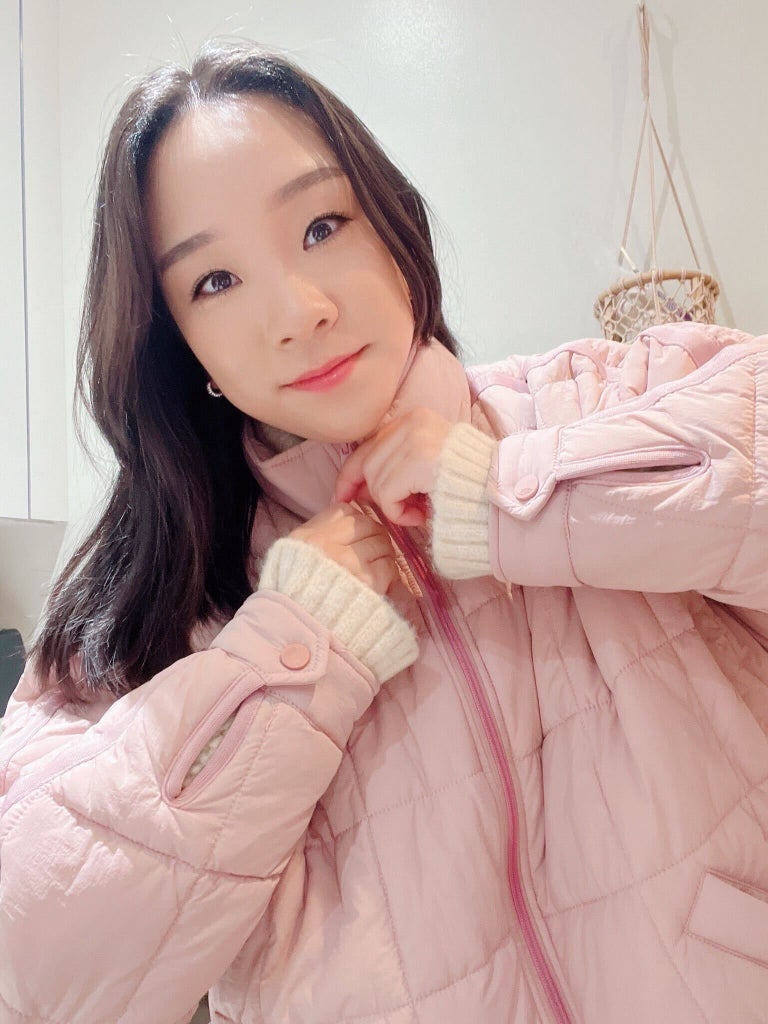 "I love throwing on a cozy puffer when the weather gets brisk. There's nothing better than layering a thick cable-knit sweater underneath with a cup of tea in hand. Hence, I was beyond excited to try FP Movement's Pippa Packable Puffers.
"The color I chose was the Mauve Swoon in a medium. I could have gone for a small, which would have still given me the slightly oversized look I love, but this opens more room if I want to throw on one of my thick hoodies underneath or layer even more.
"Based on the site's photo, I was unsure if it would be more purple or pink, and when it arrived, I discovered that it was the perfect combination of both. I find myself drawn to pastel hues rather than pigmented tones, and I instantly fell in love with the soft shade. The puffer is definitely more purple when you're not in the light, and the pink tinge is more apparent under the light. Overall, it's a great lightweight piece in your transitional wardrobe to pair with jeans or joggers. I can already tell I'll reach for it often." —Vivien Lee, Affiliate Fashion Writer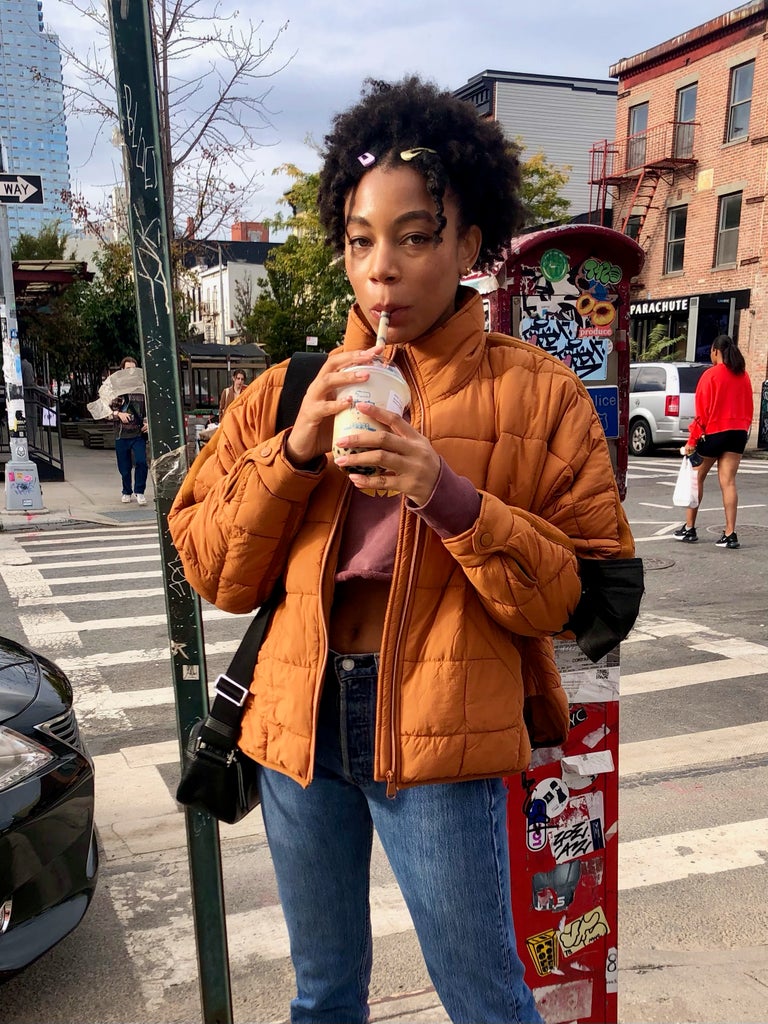 "I live in oversized clothes out of sheer laziness, and this transitional weather jacket is perfect for my wardrobe. I picked my normal size, a medium, and it is the perfect amount of oversized without hanging off my shoulders or swallowing my body. I wore a cropped crewneck under it and felt no restrictions. When it gets colder, you will find me wearing a comfy hoodie with this lightweight puffer cascaded over it for sure. I wore it on a high-50s/low-60s-degree weather day and was pleasantly surprised at how easy it is to layer. When the windchill was running rampant, I zipped it all the way up and got warm; when it got hot, I took it off and stashed it in my bag because it deflates so nicely.
"I don't invest in puffers because they are often expensive, not colorful, and just unappealing. I like this one because wearing it is much less of a commitment — I don't have to think about if I'll get overheated because I can just stash it away (I am always carrying a tote bag). It also has cute design elements and I love the color. Although I won't be squishing this jacket into its pouch too often (mostly because I don't do too many outdoor activities that require quick packing), I think this is an extremely handy feature. One of the worst things about traveling somewhere cold is figuring out how to pack bulky warm clothes. With this, you could even just pop it into your carry-on or wear it on the plane worry-free." —Alexandra Polk, Associate Writer, Lifestyle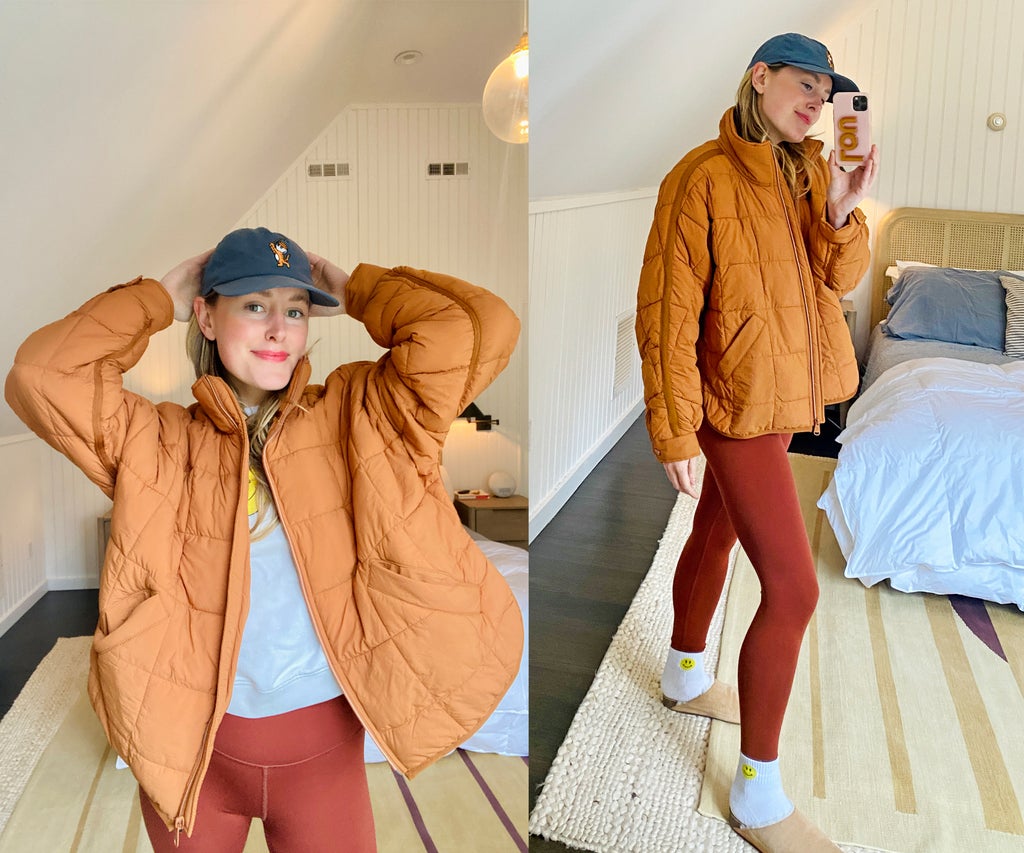 "I'm a size small in most jackets, but I tend to size up for a looser, more layer-friendly fit. After opting for a medium, I will say this puffer is true to its oversized/boxy style description. I could have gone with small. That being said, I am not mad about the extra roominess it provides because the overall tailoring/cut of the jacket still has a streamlined shape. I styled it over a sweatshirt which worked well. It wasn't overly snug and didn't give off an extra-bulky look. Although, if I go the athleisure route, I could also see myself wearing this jacket over a cashmere crewneck sweater or maybe a turtleneck tee with high-waisted jeans and chunky boots. Worn without heavier layers underneath, it's lightweight enough to use as a mild fall-weather shacket. It's honestly a very easily transitional piece! Can be both a cool fall staple and a cozy snow-day savior. A lot of my other puffers are pretty sporty, so I love how this one is truly a transitional piece that can be dressed up or down depending upon the look you're going for.
"I have a lot of lightweight puffers that I adore BUT none are as buttery soft and stylishly tailored as this one. I love the jacket's split hem that's slightly longer in the back, the unique exposed seam detailing on the sleeves, and how ACTUALLY packable it is. Packable jackets seem to be an oxymoron — except where this puffer's concerned. I am still shook from my discovery that this thing literally folds up into itself and can be worn around your wrist. It's a huge plus considering the ability to maximize outfit potential during cold-weather travel." —Elizabeth Buxton, Former Deputy Director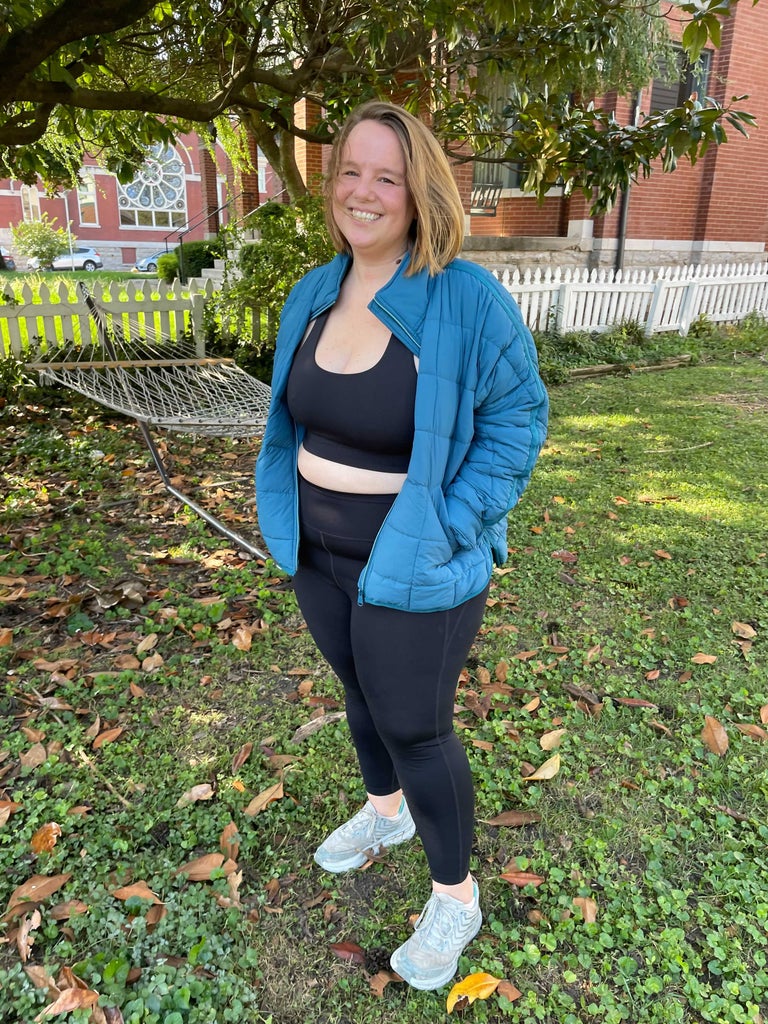 "I was actually surprised that it felt true to size (I'm typically an XL in tops) because I feel like Free People runs pretty small. My first reaction when I looked at it, though, was 'Oh, that's it?' It had a very basic, boxy look and just looked like a regular piece of outerwear. The color also didn't feel super fashion-forward to me in person: Just a basic blue. But then I put it on, and I have to admit, it started to win me over fast. It was super warm and soft while still being light. I grew up in a pretty outdoorsy corner of Tennessee, so outdoor apparel like North Face and Patagonia has LONG been in style for just wearing around town before the advent of athleisure made it okay to rock on the streets of more fashion-forward cities.
"Normcore style has been great for my chunky, clunky shoe collection and approaching-vintage Nalgene bottle, but at first blush, this didn't feel like a fashion-forward athleisure pick. But as I wore the jacket around the house, I realized something. A few Christmases ago, my dad, who wears hiking shoes and fly fishing pants to the office, gifted all of us a super-fancy, down alternative outer layer very similar to the one from Free People. Thin, lightweight, crazy warm. But it was ABSOLUTELY designed for performance in real outdoor adventures like hiking or skiing. For serious outdoor activity, it makes total sense: You want to be able to layer it, pack it tightly, and not have loose-fitting layers in subzero conditions. But I've never wanted to don that jacket to, say, run to the store or the gym. It's just SO sleek and form-fitting it's kind of a pain to put over bulky, everyday shirts or sweaters and it makes me feel like I should be heading to Everest, not CVS.
"The FP Movement jacket, on the other hand, has that everyday ease to it: I can toss it on comfortably zipped or unzipped. It may not be my personal style choice, either, but it feels basic enough that it will 'go' with almost everything I own. It's still occasionally in the 80s here in Tennessee, so it hasn't gotten much wear, but in the winter, I can totally see it being my go-to outer layer for errands, especially because it will allow me to avoid wearing my bulky but cute wool coat for all of the 30 seconds it usually takes me to walk from my car into the grocery store or post office. I can also see it being a handy thing to keep around for trips since it's so light and easy to pack." — Marshall Bright, Affiliate Editor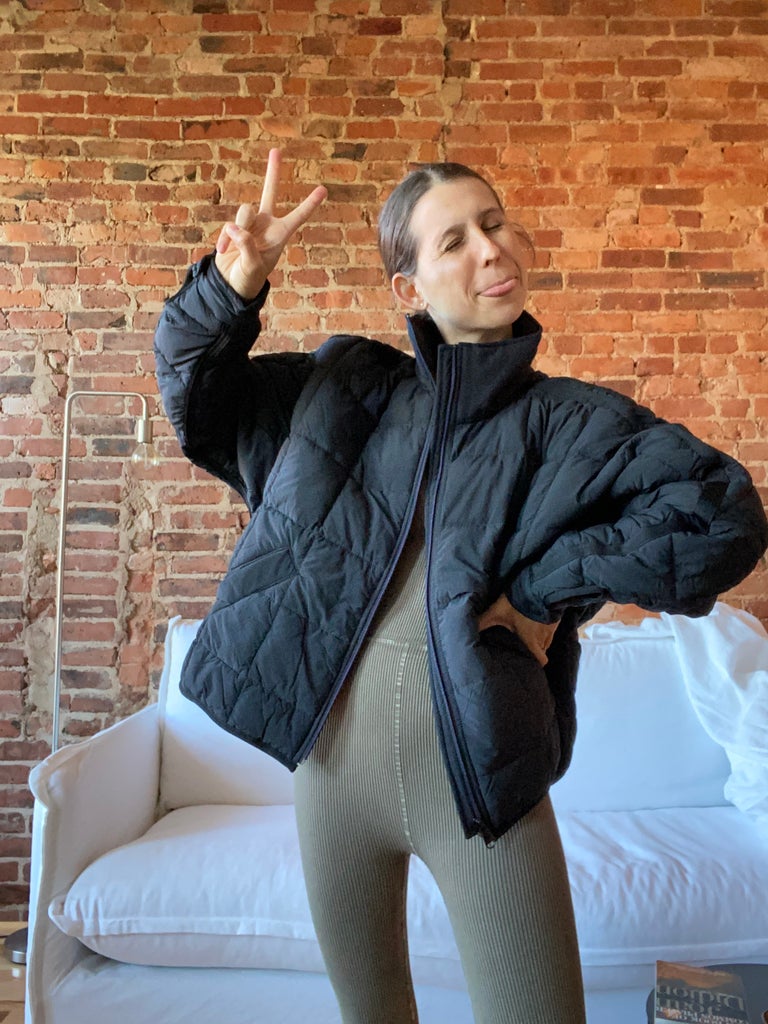 "This jacket is definitely boxy and oversized but not too extreme where it looks like it's swallowing you whole. I'd say it isn't super-thick, but it would work really well for the fall-to-winter transition. Plus, you could definitely get away with wearing it on colder winter days if you're smart about layering with Heattech or wool.
"I see myself wearing this so many ways. You'll absolutely find me wearing this while running to my corner coffee shop in sweatpants and sneakers, but it would also look great with trousers and a T-shirt. I think the shape of the jacket is really universal and would look great on almost anyone, and it comes in SO many colors for all types of style preferences, but I do wish it came in a larger size range.
"I have a lightweight puffer by Uniqlo and I think I actually prefer this one by Free People for everyday wear. The cut is a bit more unique, and I like the side vents and the sleeve details. The packable design could potentially be handy when traveling, but it was difficult for me to efficiently pack it in the attached pouch. I couldn't really get it to lay flat, so it ended up looking like a bumpy travel pillow. I could use clearer directions!" — Kate Spencer, Senior Affiliate Partnerships Manager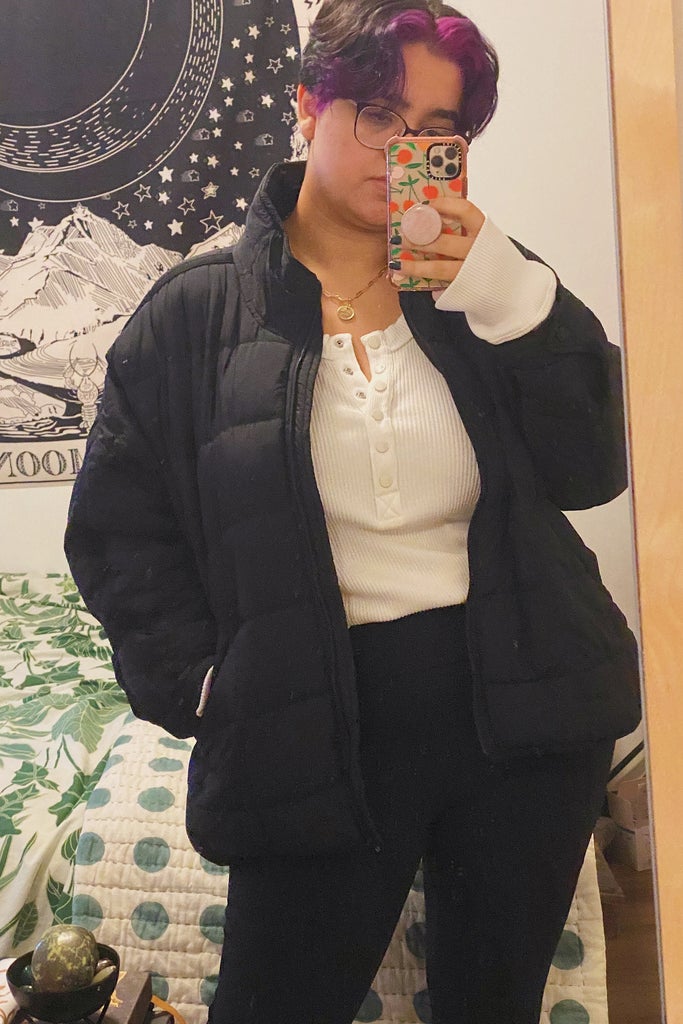 "This puffer is perfect for layering — thin enough to style a thick sweater underneath without being too bulky. I think it stops at a very good length on me, and it's not too tight or too oversized. I would wear it for everything really, but mostly I think it would look really good with some jeans or leggings. I think this is ideal for when the weather is down to the 50s and 40s. It keeps a lot of heat in even if it feels really thin. If I wore it during 60- or 70-degree weather in NYC, I would be sweating in under 10 minutes. 
"I've never owned a puffer before (I'm very new to winter and fall weather), so I didn't know what to expect. I thought it was going to be bulky and strange-fitting, hitting my hips at a weird length or impossible to layer anything underneath without feeling tight and uncomfortable. This puffer is none of that. It's the exact opposite, actually. Soft and thin but effective and stylish. And, the packability definitely piques my interest. Unfortunately, I couldn't figure out the whole pouch-inside-the-jacket thing so I don't think I folded it in the way I was supposed to. I think compared to other puffers, though, even without having figured out the magic of folding it correctly, it still doesn't take up that much space in my closet." — Mercedes Viera, Associate Deals Writer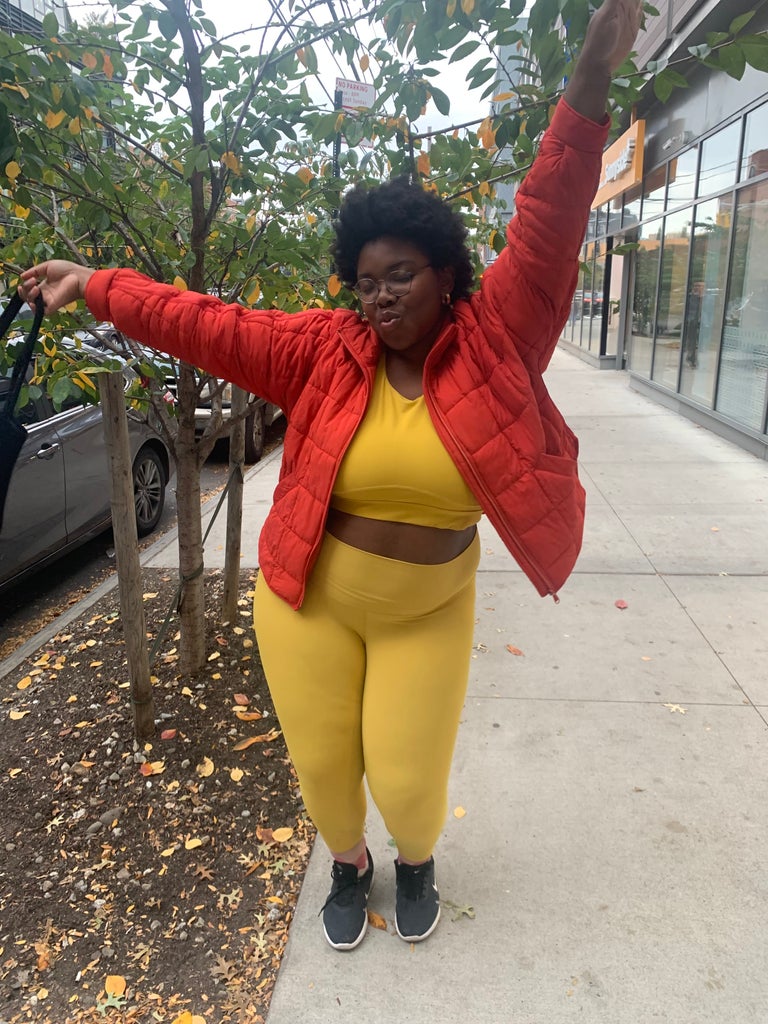 "I definitely should start by saying that I'm a plus-size girl. I'm between a 2X-3X (20-22) in most clothing, so I didn't expect this to fit at all. However, it's definitely oversized because it went on and zipped up just fine, and I'm a couple sizes bigger than Free People's largest size. I'd love to see more sizing options for Free people, though. It'd definitely be nice to have a true oversized fit on my plus frame. I will definitely wear this with a turtleneck sweater as the weather drops! I can't do any super-thick layers because it's a little more fitted on me, but I do like how it feels and how it falls on my body. I'd love to do a red monochromatic moment with this puffer sometime this winter.
"This puffer is perfect for throwing on after a workout. It's great for outdoor activities where you don't want to feel super weighed down like hiking and camping. I think it's great for moderate fall and spring weather, but it's also capable of handling warmer winter days too, especially with a light layer on. I don't have any other lightweight puffers, so this one is a nice alternative for keeping me warm on slightly chillier days. 
"The Pippa is also cool because it folds down smaller than you think, making it really easy to take along for trips — the packability is definitely such a perk. I often travel between New York and Georgia. I don't always need outerwear in Georgia, but I do need something to protect me when I'm in NY, so the packable puffer is an easy fix for all of that." — Chichi Offor, Former Affiliate Associate Writer
"Gosh, I didn't even realize I'm such a puffer phreak — this one from FP Movement is my sixth puffer, which is ridiculous. But, what I love about the Pippa is that it's far more unique than the others in my closet. I ordered my usual size of medium and found it more than roomy enough for D-cup bust. First, the shape is swingy and almost tent-like, which makes it easy to throw on, no matter what I'm wearing underneath. Secondly, the water-resistant material rules — I not only wore this in drizzly weather, but I also literally splashed water on the Pippa in my bathroom — and I'm pleased to report that the droplets patiently sat there, eventually rolling off when I swiped them with my arm. Third, this Maraschino is a real joy to wear. The photos on the site make the puffer look orange — and I initially picked Maraschino because it reminded me of Garbage's iconic Version 2.0 album cover — but it's more of a poppy red IRL, which I find to be an equally powerful color so it was no biggie.
"As for the packable portion of this puffer, as a few of my fellow reviewers have mentioned, there's no elegant way to do this — you literally have to stuff it in, and disrespectfully so. What results is a lumpy sack, which is actually fine considering that the material is wrinkle-proof. Though, personally, I don't see a world where I'd actually need to stuff my puffer into itself. I think the jacket will be just fine resting peacefully on a hanger or draped over me like a blanket when I have to travel. But I always appreciate an intentional design detail that's purposeful and functional, even if it's more useful for someone else." — Jinnie Lee, Freelance Fashion Market Writer
At Refinery29, we're here to help you navigate this overwhelming world of stuff. All of our market picks are independently selected and curated by the editorial team. All product details reflect the price and availability at the time of publication. If you buy something we link to on our site, Refinery29 may earn commission.
Like what you see? How about some more R29 goodness, right here?
14 Free People Pieces R29 Editors Want For Fall
Top Off Fall 'Fits With These Free People Hats