While the fashion trend pendulum swings back and forth from season to season, going from dopamine dressing to businesscore in a single year, you can always count on the return of knee-high boots come autumn. More comfortable than their thigh-high counterparts (which tend to slide down and only work with slim-fitting pants and mini dresses) and more versatile than the ankle booties, the knee cap-grazing footwear is a fall wardrobe staple that pulls even the most casual of looks together effortlessly. 
Personally, while I've long loved seeing people wear knee-high boots with mini skirt sets and dresses, the minute I would try a pair on, I would mysteriously hate how the footwear style looked and lament how it just might not be the one for me. This year though, as I read Tibi creative director Amy Smilovic's book The Creative Pragmatist, I realized that I didn't have an issue with the style but the "skin sandwich" — "that slice of skin peeking out between the edge of my pant or slim skirt and the top of my boot" — that it created. 
"Sandwiches make me feel chopped off. For me, they ruin the flow of my style," Smilovic explains in the book. "For many, it is the thing that bugs you that you were never quite able to put your finger on. Now you know." 
Armed with this knowledge and excited to give the style another try, I set out to test-drive Larroude's Kate boots in sleek croc-embossed leather. For a week, I wore these boots every day to see if they were as versatile as street style made them out to be. With no sandwich in sight, not only did I like the look on myself for the first time but I didn't want to take the shoes off come the following week. 
From styling the heels with non-skinny jeans to wearing them with suits and dresses, ahead, knee-high boot outfit ideas for every occasion.
How To Style Knee-High Boots With A Skirt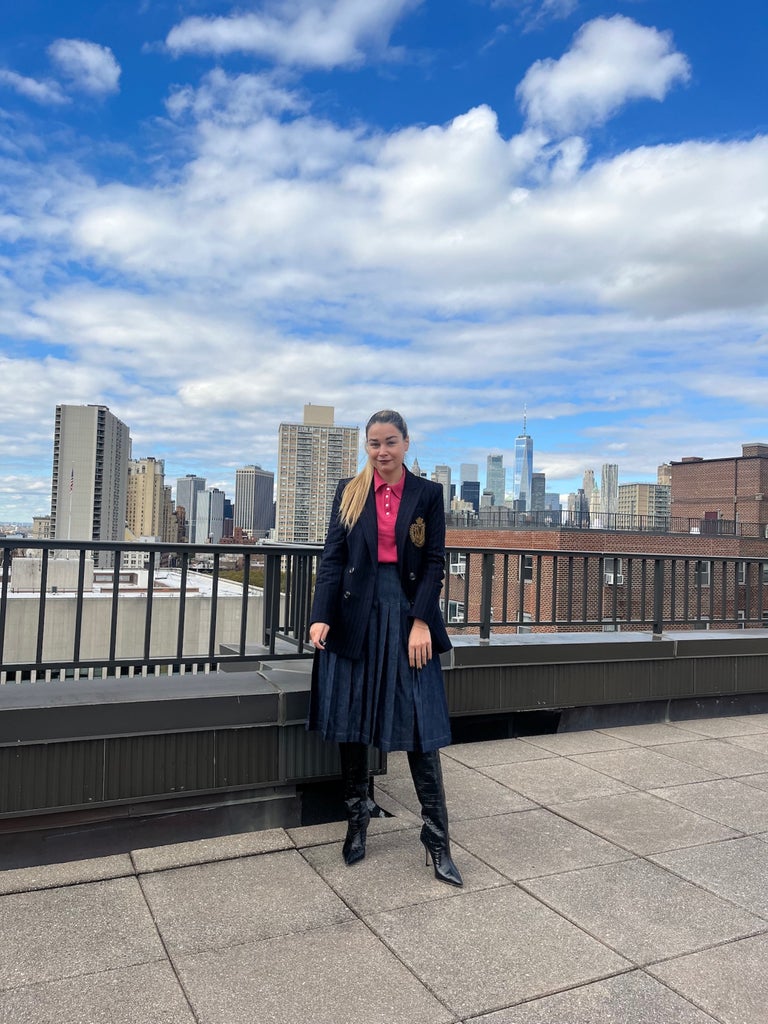 The easiest way to wear a knee-high is with a midi hemline, whether that's an A-line skirt or a bodycon sweater dress (like this Reformation number). Preppy fashion is back (yet again), which has me reaching for knitted polo shirts and collegiate-esque blazers. To avoid looking like I just literally got back from school, I contrasted the look with a pleated skirt in a modern denim fabric, rather than traditional wool, and opted for a pop of Barbiecore pink.
How To Wear Knee-High Boots With Pants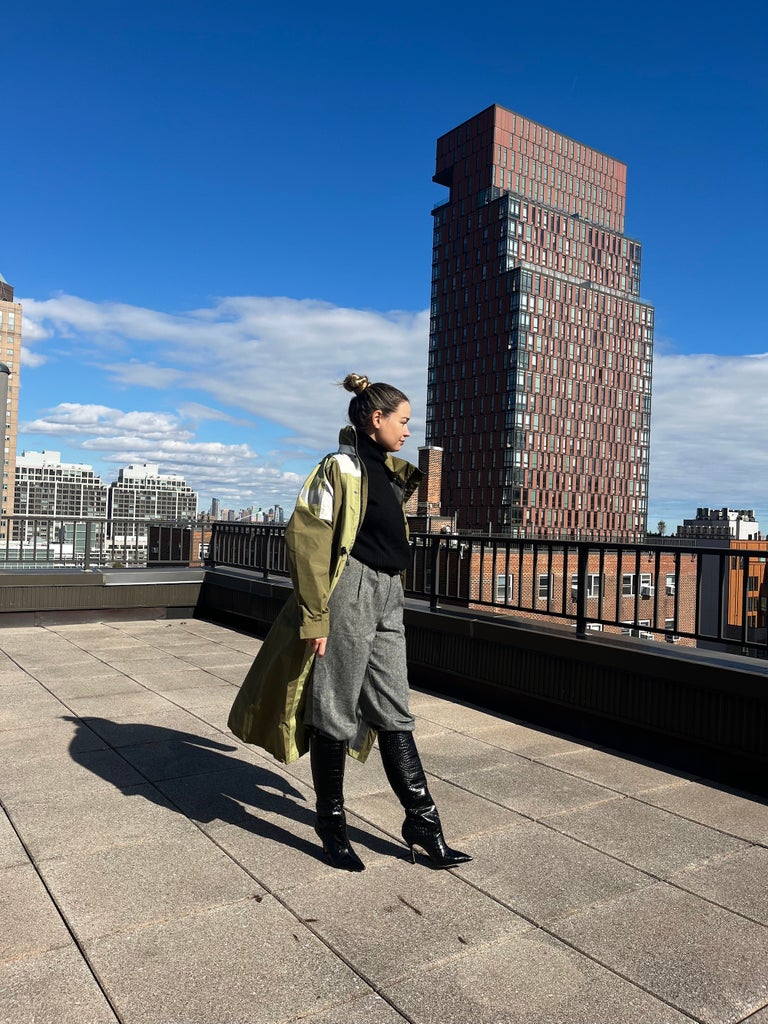 For a more casual look, tuck your favorite pair of pants into the knee-high boots and let the fabric pool around the knees. Next, pair the combo with a cozy knit (a cashmere turtleneck in my case) and a light jacket. While a trench or a pea coat would make this look appear more classic, I love the juxtaposition of a modern, sporty windbreaker (from my new favorite collaboration between Ganni and 66°North!) with tailored, vintage-looking pants.
How To Style Knee-High Boots With A Suit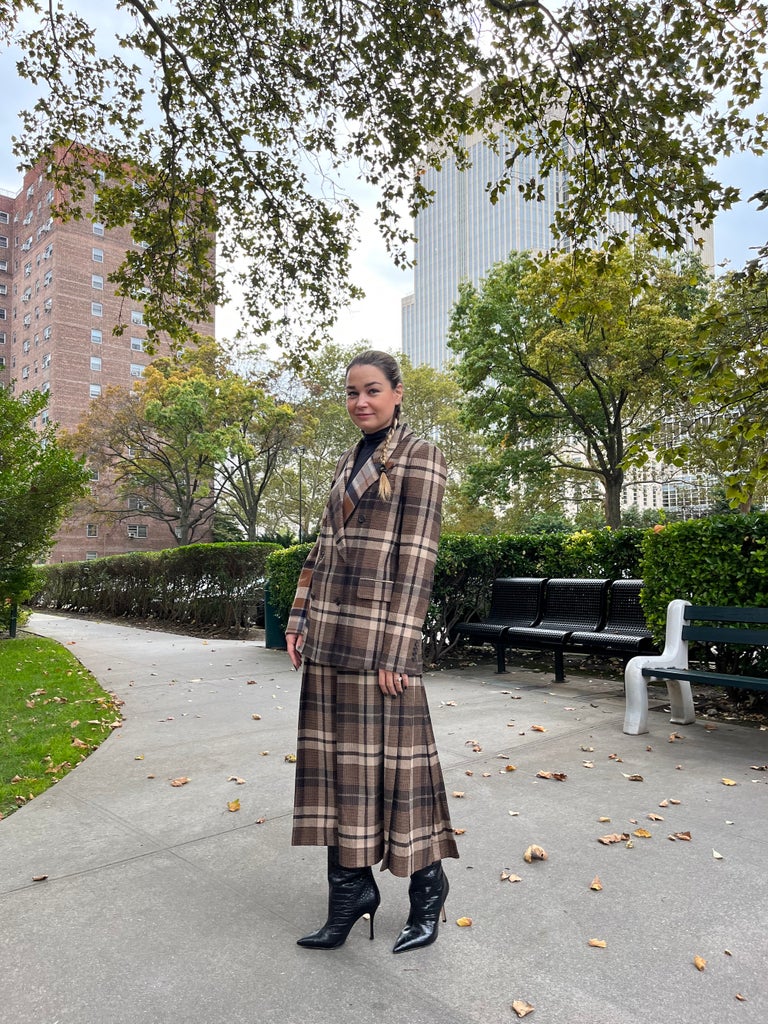 Another midi hemline option for more modest dressers (like me), a business core-approved skirt suit paired with a knee-length stiletto feels appropriate for the office without looking too corporate at a post-work happy hour. While you lose more of the shoe when wearing with a pantsuit, a pointy toe and heel add a feminine touch to the traditionally masculine silhouette.
How To Wear Knee-High Boots With Jeans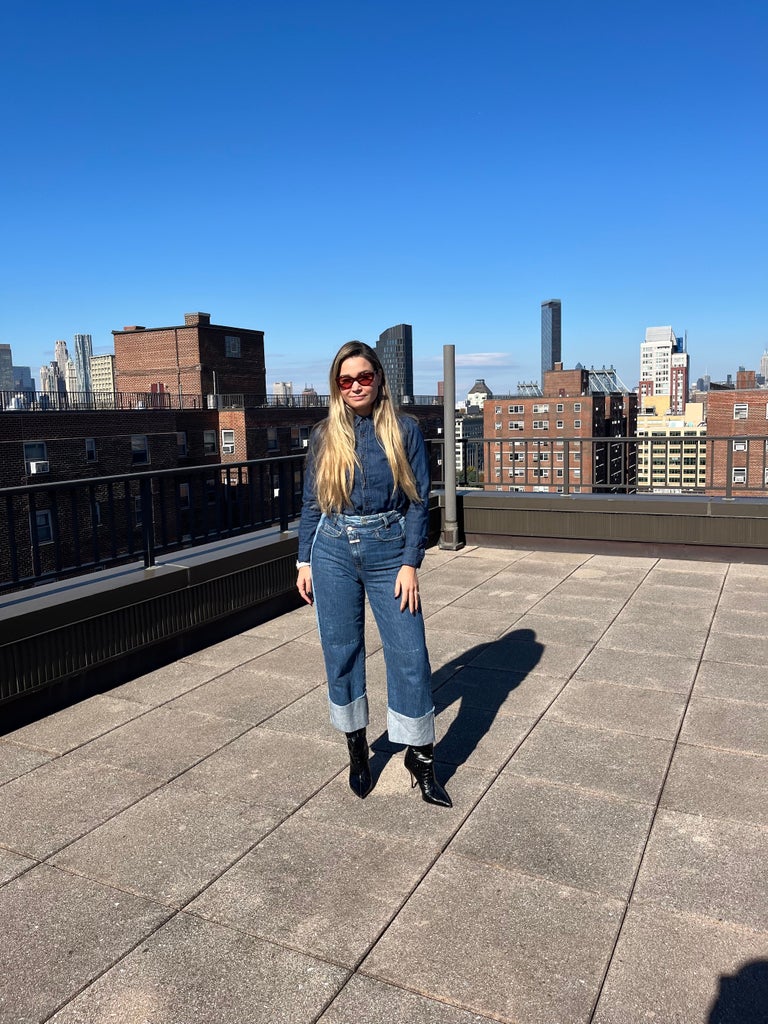 While most people tend to wear knee-high boots over skinny jeans, ever since I started wearing baggy jeans again last year, I've had a hard time forcing myself into tight-fitting denim. It's a good thing then, that this boot style looks equally well when paired with wide-leg styles. Just opt for a shorter crop and/or an interesting cuff to bring attention to the boot. If you're not into the denim-on-denim look, you can substitute the jean button-down for a tee and a bomber jacket.
How To Style Knee-High Boots With A Dress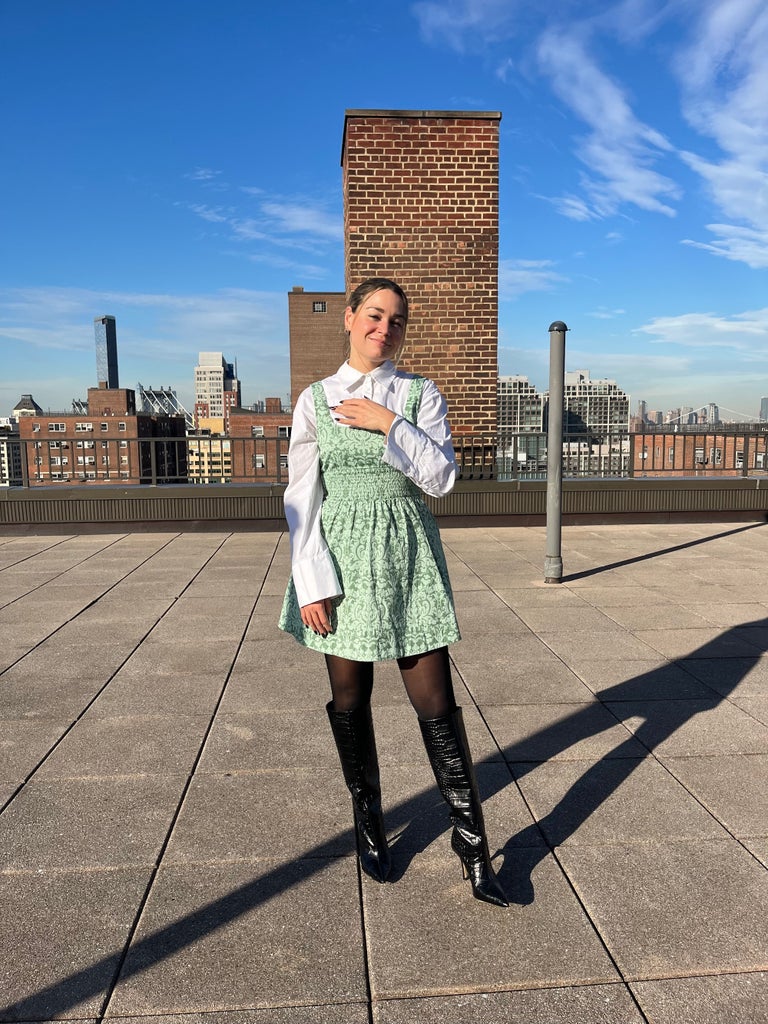 Even though I am not big on mini skirts and dresses or anything too revealing, I can't deny how good knee-high boots look with a shorter hemline. To avoid showing more skin than I am comfortable with, I opted to wear this Hill House Home mini (which has since sold out in this colorway but is on Rent The Runway) over an oversized shirt and tights. For a more athletic look, borrow from Taylor Swift and pair the shoes with an oversized polo shirt (and no pants). For a more nighttime look, go with a tuxedo-style blazer dress with a lacy bodysuit or bra underneath.
At Refinery29, we're here to help you navigate this overwhelming world of stuff. All of our market picks are independently selected and curated by us. All product details reflect the price and availability at the time of publication. If you buy or click on something we link to on our site, we may earn a commission.
Like what you see? How about some more R29 goodness, right here?
How To Style Wide-Leg Jeans This Fall
1 Skirt, 5 Looks: How To Style A Denim Maxi