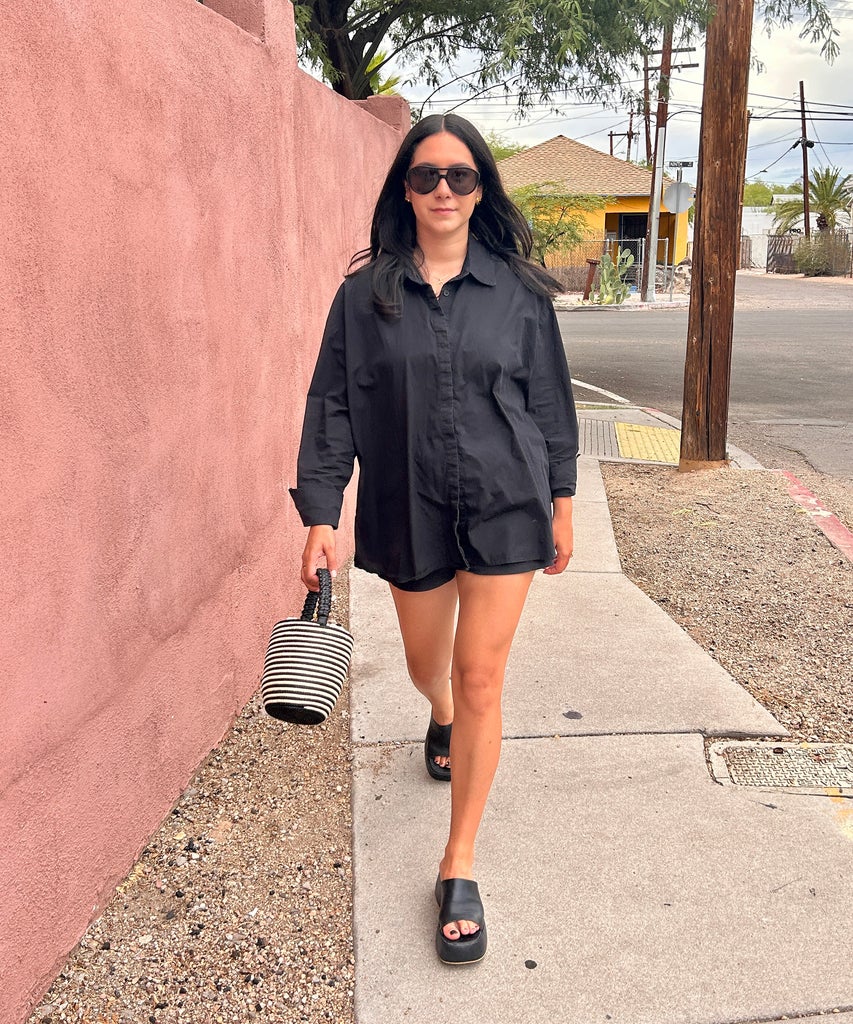 In July 2020, when I arrived in Tucson, Arizona, for the first time, I instantly fell in love — the arid desert landscapes and mountain views, combined with the unique adobe-style houses, were unlike anything I had seen before. Though less appealing, the dry heat and triple-digit temperatures this time of year were also unlike anything I've ever experienced. Despite being born and raised in the Caribbean, I soon realized that I didn't know how to dress for a summer in the desert. The tank tops I packed left my arms and shoulders unbearably exposed to the sun, while the long-sleeve shirts were too heavy to wear for afternoon cocktails. 
Since that first trip, I've found myself going back to Arizona during the summertime (I know!) four years in a row, spending whole seasons there in 2021 and 2022. To learn how to dress for the elements, I had to rethink everything I knew about hot-weather styling, taking into account my summer-resistant style, as well as my heat-tolerance and sun-exposure levels. I've learned that the dry heat surprisingly merits heavier and more durable fabrics and materials, including denim and canvas, to cover up from the sun. Also, while it may be tempting to go for less covering styles, it's better to protect some more exposed areas, like your head and shoulders, with long sleeves and hats in lightweight and moisture-wicking materials. 
Here are the outfits that got me through my most recent summertime trip to Arizona. 
What To Wear To A Desert Hike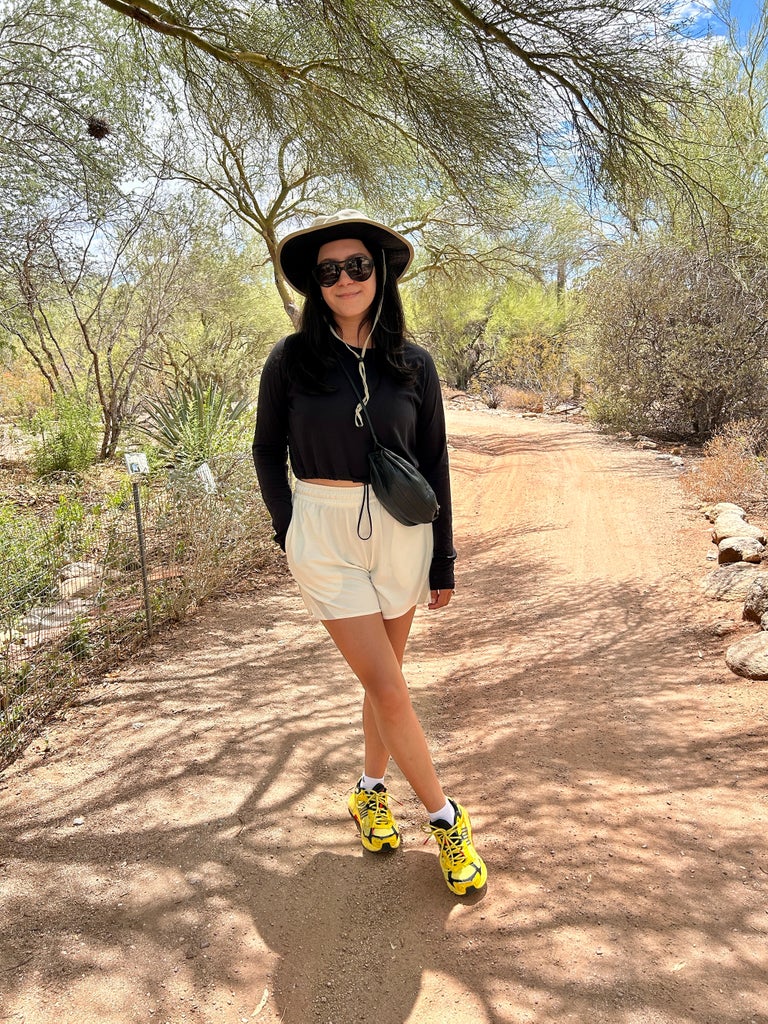 During my first few hikes in Arizona, I'd mostly wear tank tops and leggings. Now, I do the opposite and wear a long-sleeve top and comfortable shorts. The reality is that most of the sun exposure I receive on hikes hits my shoulders and back, which means that I need to protect those areas as much as possible, with more fabric, moisture-wicking materials, and a UPF brimmer hat. For the bottoms, I tend to wear loose shorts (and tons of sunscreen), leaving my legs mobile for the long walk.
What To Wear To A Desert Outdoor Activity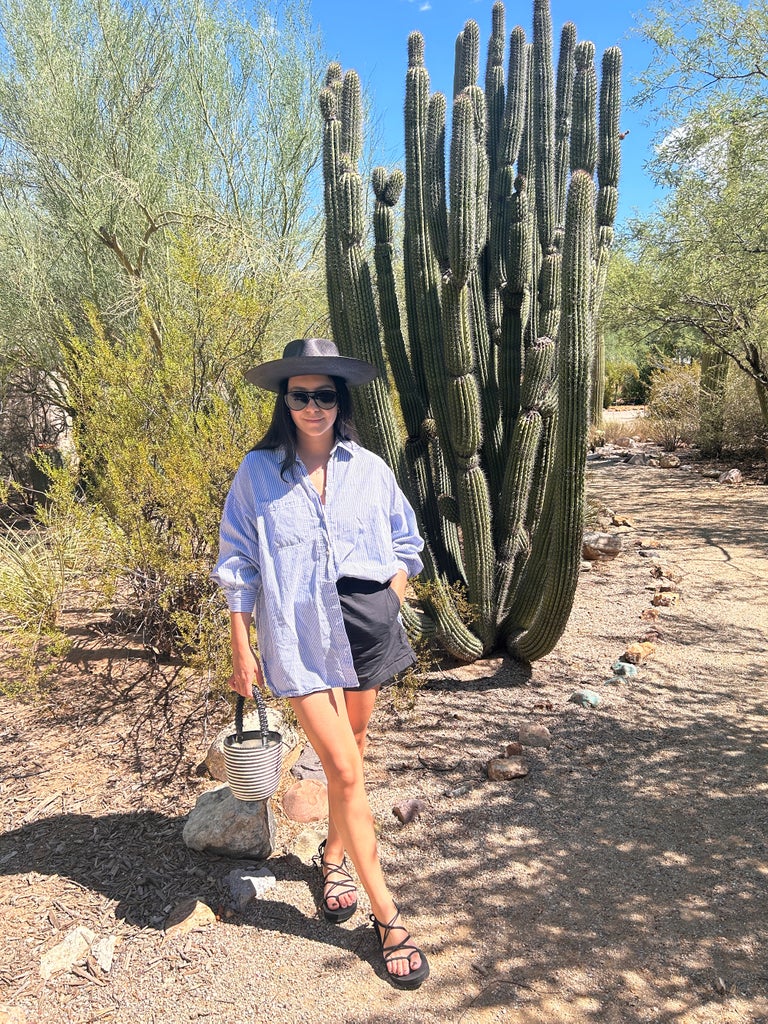 There are not many opportunities to take a summertime walk in Arizona, but locations like the Tucson Botanical Gardens offer a nice combination of sun and shade with beautiful nature. For this outing, I wore an oversized shirt with rolled-up sleeves While a button-down may seem counterintuitive in the summer, the loose silhouette actually helps the body stay cool in the dry heat. To keep it from looking too business casual, I paired the look with cotton shorts, a wide-brim hat, a raffia bag, and gladiator-style Teva sandals.
What To Wear To A Vineyard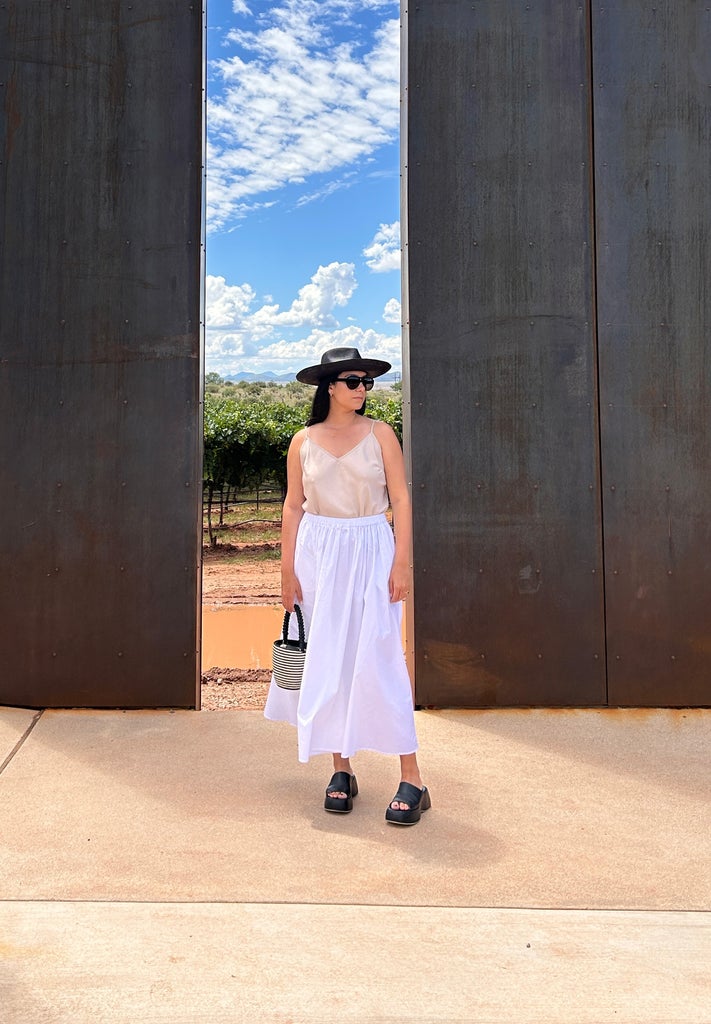 The vineyards near Tucson — in Sonoita, Elgin, and Wilcox — are some of my favorite places to visit in the state thanks to their Mediterranean-like landscapes. Most of the wineries have cozy (and air-conditioned!) tasting rooms, which may call for an extra layer if you get cold easily. This time around, we headed to Los Milics, one of the newest vineyards in the area. Taking the vineyard as inspiration, I wore neutral colors, keeping the outfit fresh with a silky cami and poplin skirt. Although I was not out in the sun (thus the tank top), what's a wine tasting without a straw hat involved? 
What To Wear For A Casual Summer Dinner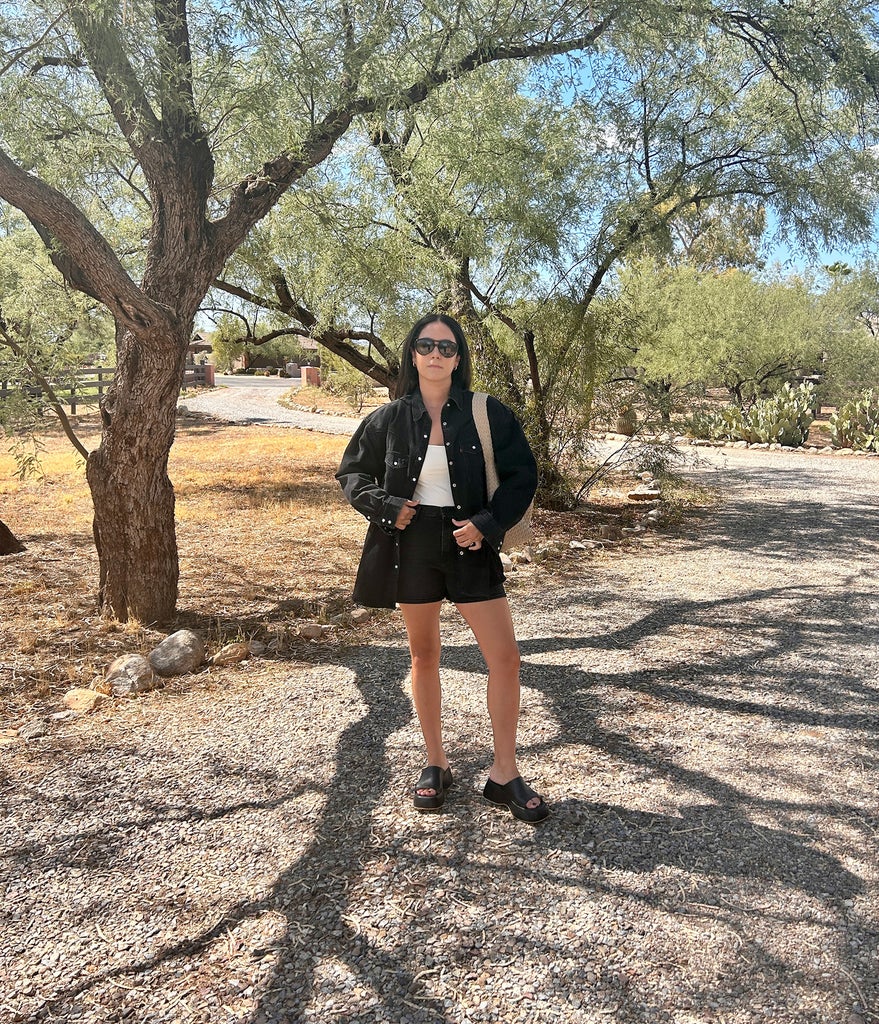 Whenever I'm in Arizona, I like to draw inspiration from Americana. This means that denim on denim is definitely a must. For this outfit, I opted to do a black Canadian tuxedo, splitting the denim with a cream bodysuit. For footwear, I like to wear shoes that will keep my feet far from the sweltering sidewalk heat, so I opted for platform sandals. 
What To Wear For Summertime Cocktails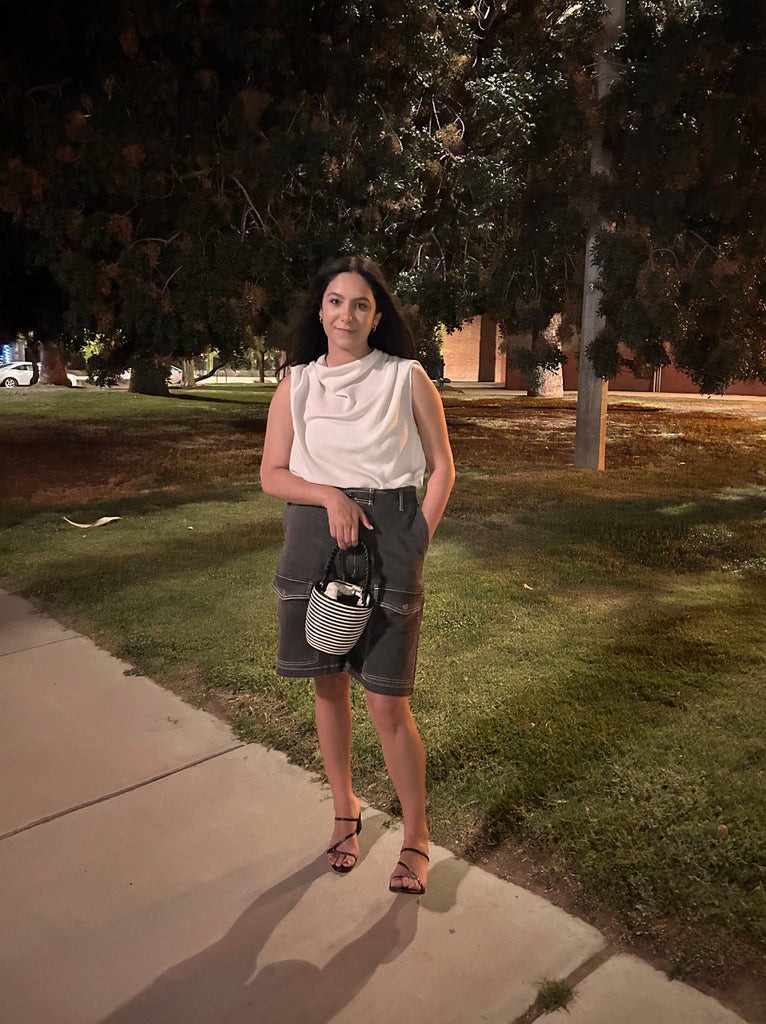 For a town that relies heavily on a college crowd, Tucson has incredibly sophisticated cocktail bars. And getting dressed to go to them is one of my favorite pastimes there. For a night out at Owls Club, a former morgue-turned-cocktail bar, I chose to draw from the morbid moody aesthetic in the bar wearing a pair of denim cargo shorts with heeled sandals. 
At Refinery29, we're here to help you navigate this overwhelming world of stuff. All of our market picks are independently selected and curated by the editorial team. If you buy something we link to on our site, Refinery29 may earn commission.
Like what you see? How about some more R29 goodness, right here?
These Pieces Got Me Through A Winter Getaway
8 Summer 2023 Fashion Trends To Buy Now