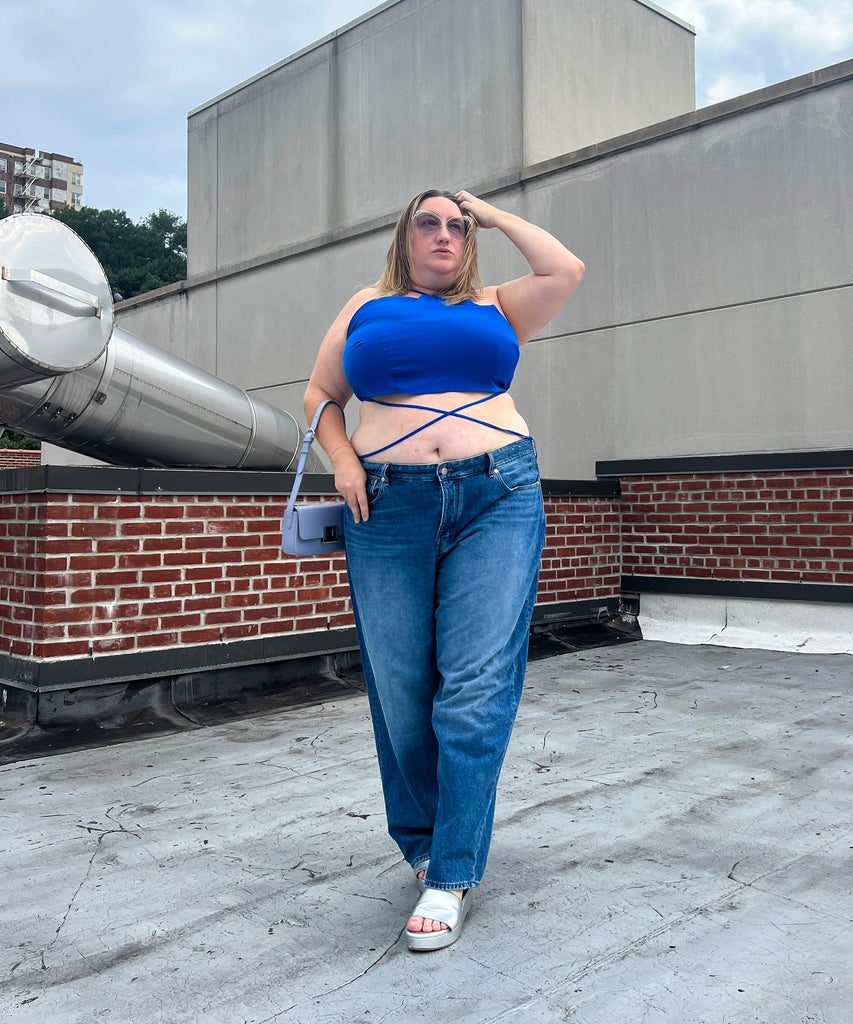 The approach of fall always inspires back-to-school spirit in me, even though it's been a while since I've been a student. This manifests in me wanting to start the "new year" with fresh wardrobe picks, including a new pair of jeans (or three). With that in mind, I've been eyeing all my plus-size go-to brands to see what denim styles they are bringing for autumn.
Since extending its sizes in 2018, Madewell has lived up to its name when it comes to plus-size denim. With sizes up to 26W and quality fabrics that hold up to years of wear, the brand has been a top jeans recommendation of mine since before skinny jeans fell out of favor and were still the silhouette du jour. So when Madewell's fall 2023 denim collection dropped, I immediately started making a wishlist of my favorites. Ahead, my fit feedback and review of my top fall picks.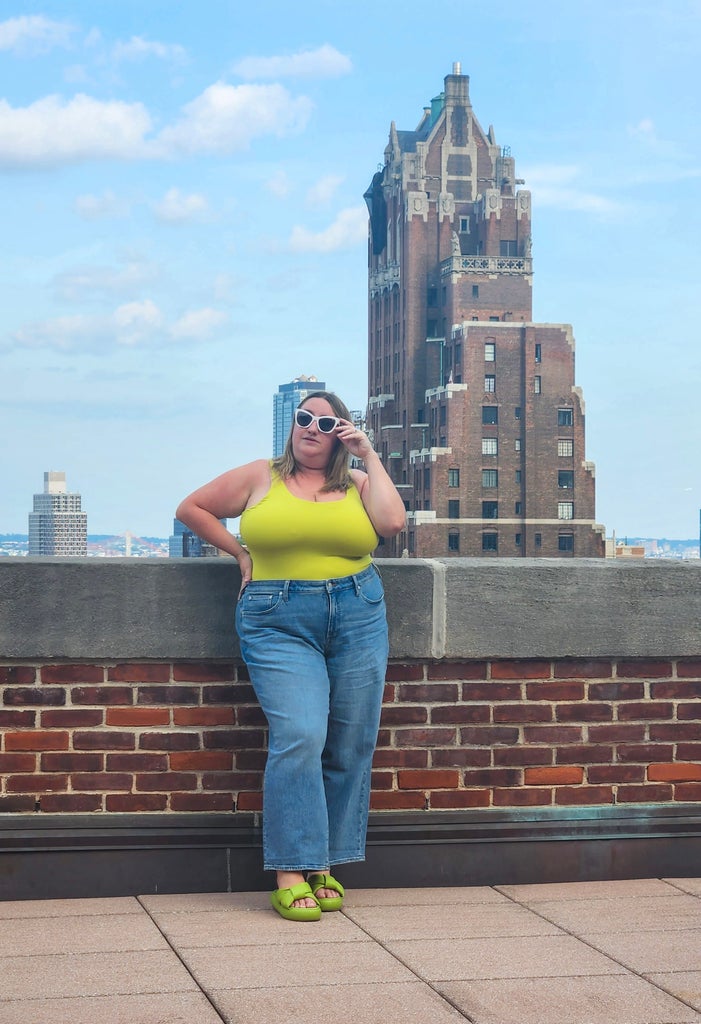 This wide-leg style was probably my favorite of the pairs I tried. The fit was spot-on in my usual Madewell jeans size, 20W, and the fabric had just enough stretch to make the jeans comfortable from the moment I put them on, but not so much that they lost shape over time with wear. I didn't have any waist gapping or uncomfortable stomach squishing with this pair, and the baggy style feels very of the moment without being overly faddish. The lightly faded blue wash is super versatile, too; you can wear this pair all four seasons with the right styling.
My only note for this style is that it's on the shorter side, with a 29½" inseam that hit right at my ankle. This is great if you want a clean line for the wide-leg hem but go for a different style if you want something floor-sweeping.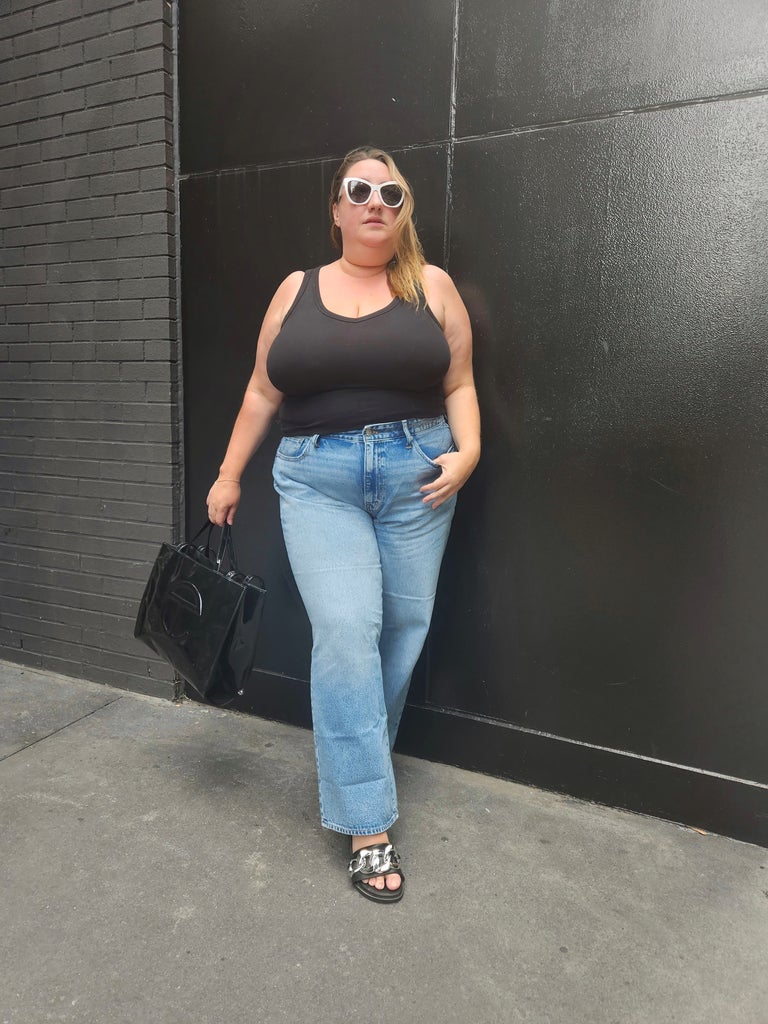 Baggy jeans have had street style in a chokehold for the past year, so I'm constantly on the lookout for cute options available in plus sizes. Somewhat ironically, fit is particularly important in this looser silhouette — you want the bagginess to look purposeful, not like you're wearing a pair of jeans in the wrong size. This pair is 100% cotton with no stretch at all, so I tried my usual 20W in Madewell jeans, hoping to strike that sweet spot of baggy but well-fitting.
I put this pair on and immediately noticed that there was a substantial waist gap in the back. Meanwhile, the front of the jeans was too snug through my lower belly area. I think Madewell's Curvy fit, made for customers with a waist narrower than their hips, would have fit better on me in this style. That said, I wore this pair for a full 12-hour day, which went from work meetings around New York City to a date night happy hour. Throughout the day, I felt the beginnings of the breaking-in process starting to occur: The stiff denim became a smidge more pliable; the tight areas started squeezing a little bit less. Since these are a stiffer denim with no stretch, I'd estimate it would take at least two to three more wears until they are fully comfortable and broken in.
My other note about this style is that it is also short. I'm 5'4" and a half on a good day, so I'm used to jeans being a little long on me. But the 30" inseam on this pair hit right at the top of my foot, even in flat sandals, so I didn't get the full puddling-leg effect I prefer with baggy styles.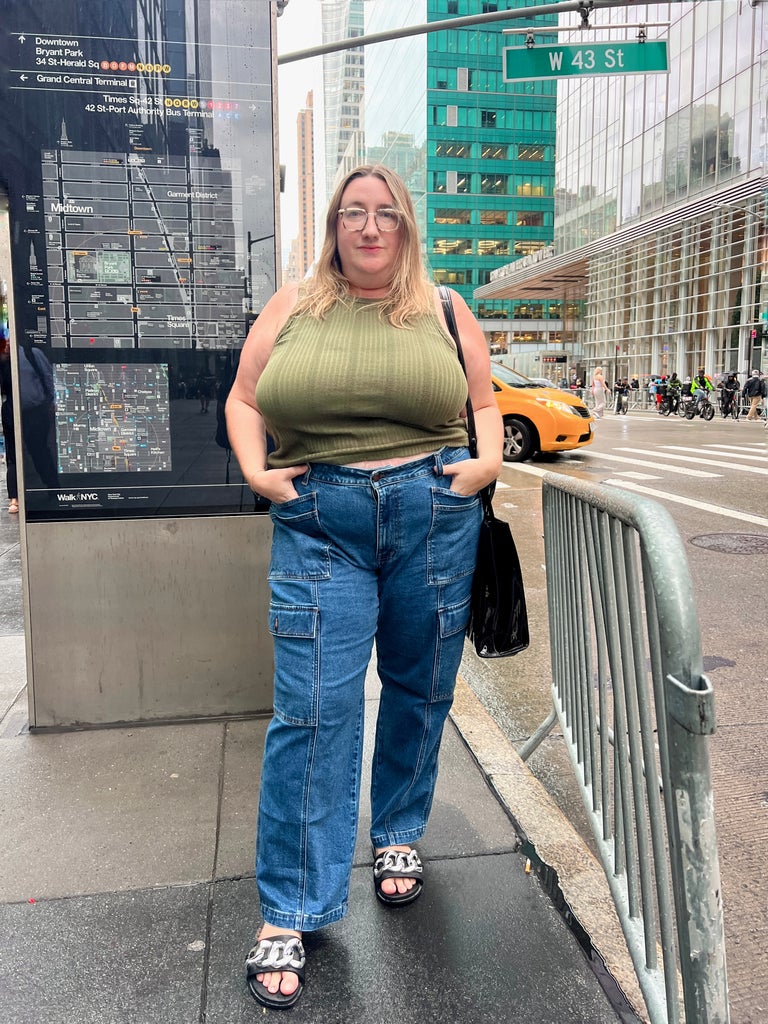 Cargo jeans are having a moment, so this is another style I've been sourcing in extended sizes. Many plus-size brands shy away from making their cargo pockets a statement feature (probably out of some unfounded concern about adding bulk), but that is this style's main appeal. I love the size of the pockets and visible seams on this Madewell pair, and the dark blue denim makes them a great option for transitioning into fall. The length was great on these, too, and I'm already envisioning wearing them with cowboy boots to amp up the retro vibes. 
I sized up to 22W on these jeans because, when it comes to cargo pants, I always prefer to err on the side of oversized. There was also a fit note on the website saying that these run small and suggesting to size up one for your usual fit or two for a baggier fit. I thus assumed that these might be a stiffer denim pair like the baggy style, but I was wrong. While the fabric is nice and substantial in weight, these actually have a significant amount of stretch. The 22W felt roomy when I put them on, and they definitely stretched more with wear. By the end of a full day, these were sitting more like a low-slung rise than the "designed to fit high and tight in the waist" noted in the product description.
I think my usual 20W would fit better, but the style is already sold out in a bunch of sizes. (If your size is likewise unavailable, Madewell's newest collab with stylist Molly Dickson features cargo jeans in a similar wash and straight-leg silhouette, with some cool added detailing like a functional front buckle closure.)
Finding a relaxed low-rise plus-size jean that fits comfortably, looks modern, and is one that I actually want to wear is rare. Because low-rise jeans are notoriously ill-fitting, I ordered this pair in two sizes, 20W and 22W. The former fit on my body comfortably; if I was looking for a mid-rise pair, this is the size I would get. But given that I wanted the true low-rise effect, size 22W ended up working better for me stylistically. 
Once I figured out the sizing, I fell in love with this pair. Finding a low-slung style that sits on my soft hips without squishing them is always a challenge, but these jeans were cut with plus bodies in mind and laid where I wanted them to. It should be noted that this is a Curvy fit, and I think that made all the difference in how well these fit me. I styled them with a strappy crop top, silver slides, a baguette bag, and butterfly sunglasses for a little Y2K moment, and I already have a bunch of other outfit ideas for this style in my head, too. 
Wear-testing these new styles reaffirmed my love for Madewell denim. But, while the quality is apparent in how they look and feel and I appreciate that the brand is giving plus-size shoppers on-trend styles at fairly affordable price points, I do wish they had plus sizes at more physical locations though. Trying these four pairs of jeans was a reminder of how much denim fit can vary based on style, cut, and material. Getting to try them on in-store would help more plus-size shoppers find their perfect Madewell fit and convert them into full-on fans, too.
At Refinery29, we're here to help you navigate this overwhelming world of stuff. All of our market picks are independently selected and curated by us. All product details reflect the price and availability at the time of publication. If you buy or click on something we link to on our site, we may earn a commission.
Like what you see? How about some more R29 goodness, right here?
New Madewell Collab Is Celebrity Stylist-Approved
I Tried On Plus-Size Jeans From 9 Popular Brands