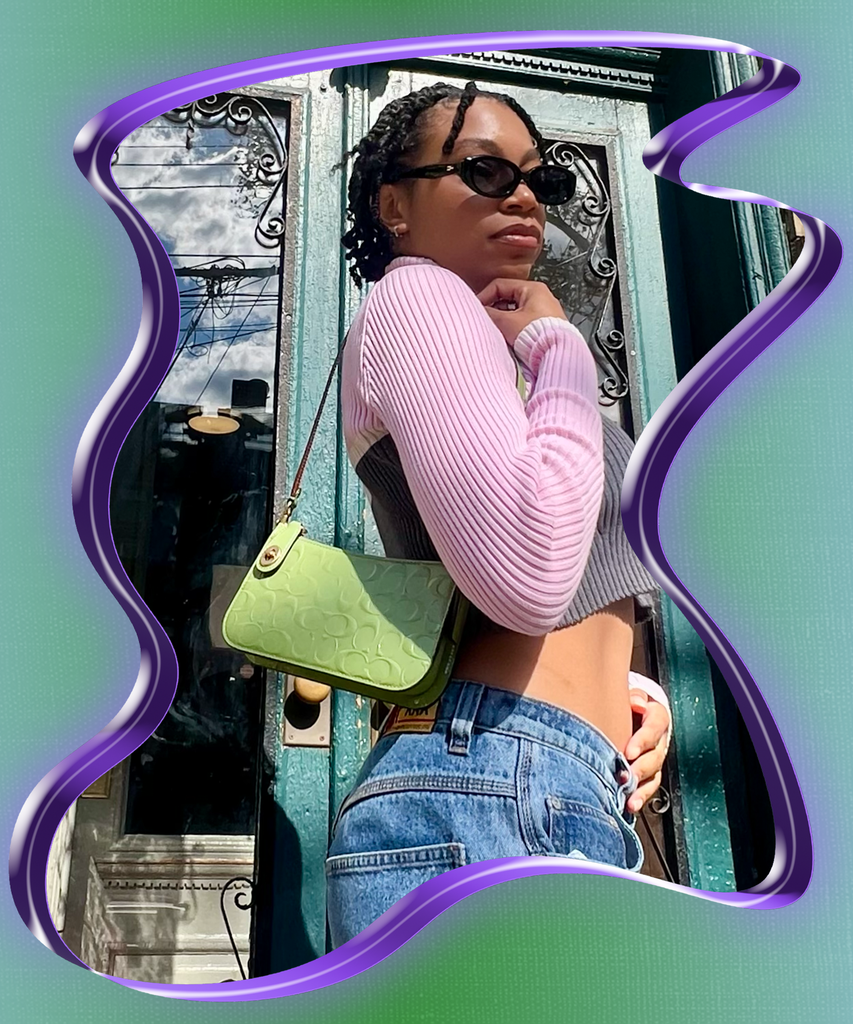 A couple scrolls through TikTok or Instagram (or Refinery29's very own fashion vertical) and you're bound to see a Coach bag adorning a few shoulders. From adorable, pillowy silhouettes to sleek leather styles, the luxury handbag brand knows how to churn out a timeless cult classic. But surprise, surprise — we're not talking about Coach's notorious Tabby. Today, we're focusing on another style from the brand's new Shine Collection, the Penn Shoulder Bag.
The Shine Collection is exactly how it sounds: bright, joyous, and bold. We're talking shoes and bags clad in genuine patent leather and dipped in striking silver metallics. According to a Coach press release, the line's purpose is to "[inspire] audiences to express themselves authentically" as well as "[over come] self doubt to shine brightly in fashion." Intrigued? So were we. Follow along as two of my fellow Shopping Team members and I embellish our own shoulders with Coach's Y2K-perfect Penn Shoulder Bag. And, as always, come for the outfits, stay for the honest reviews.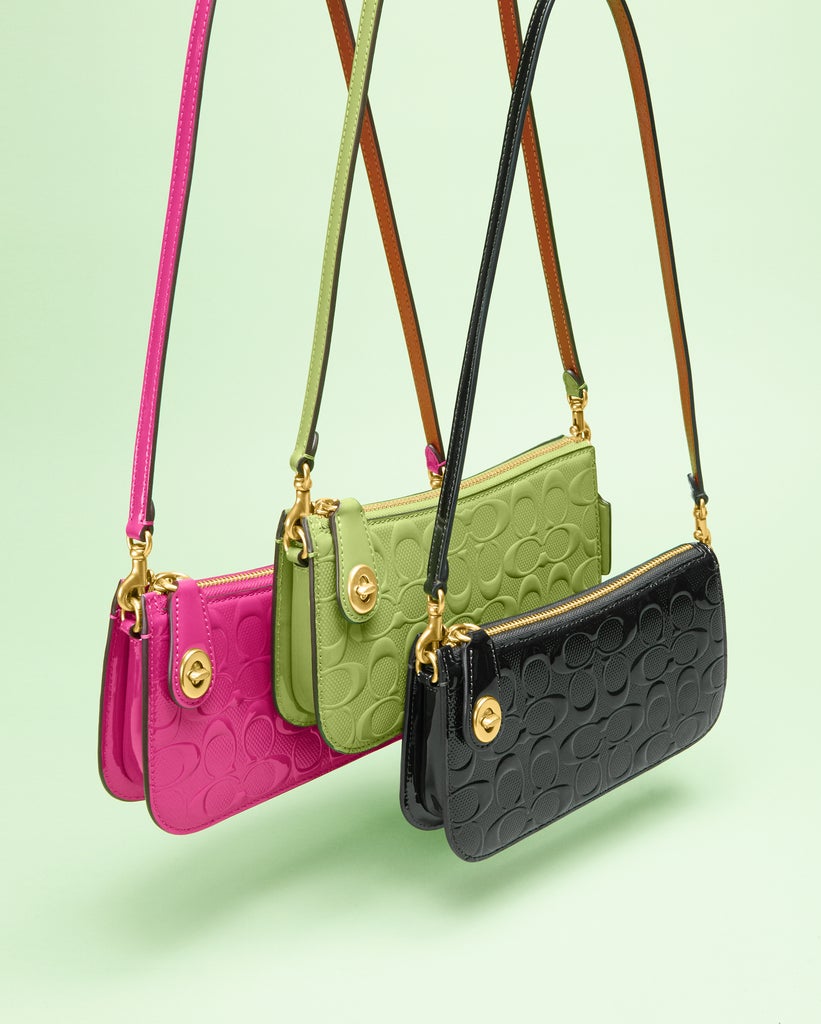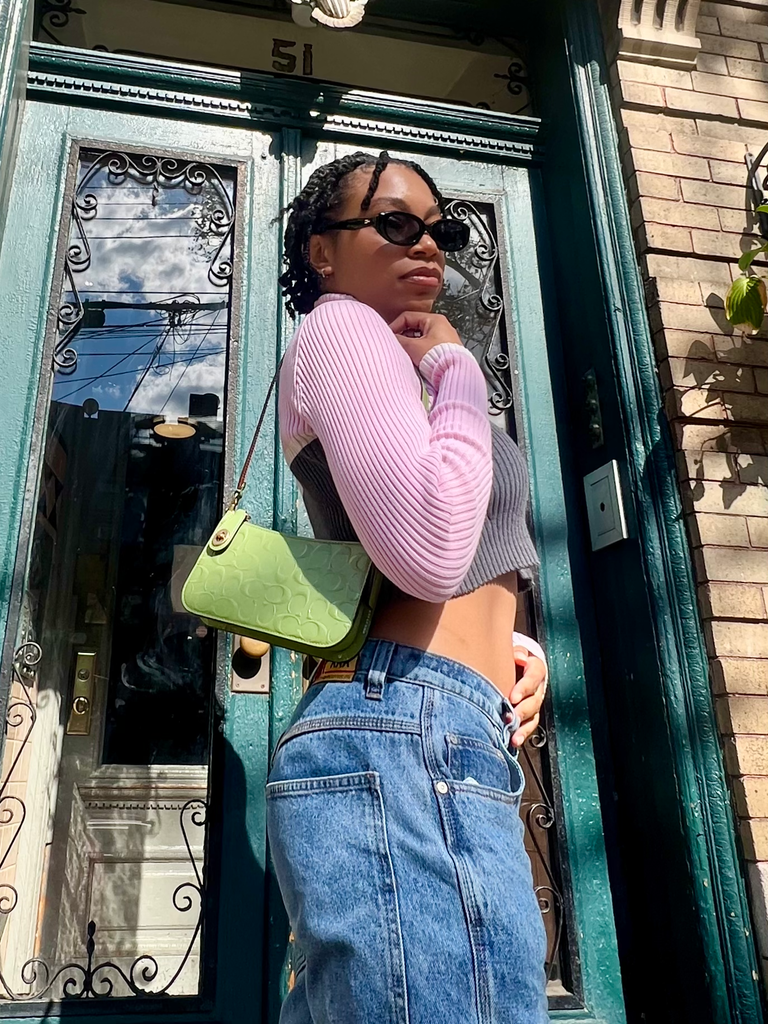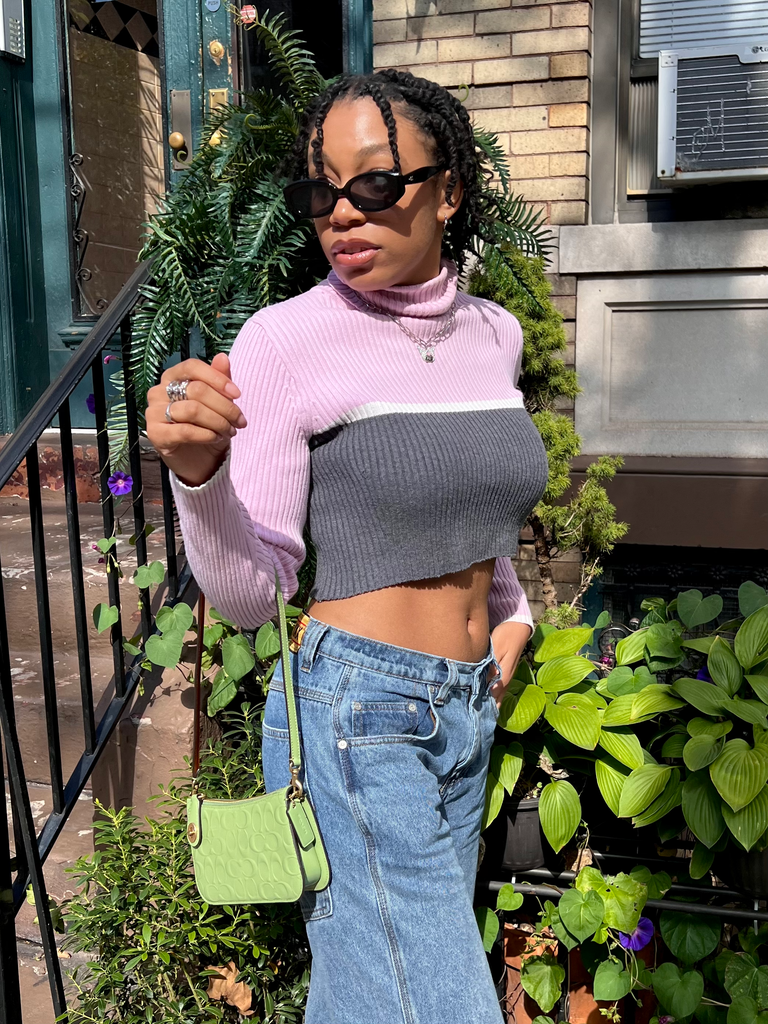 "There's a chance that I like color more than the average person, so I was very excited to test this light green colorway. It looks exactly like it does on-site once you take it out of the classic bow-tied Coach box — the only difference is its sheen. This bag glistens way more in real life than it does online, especially those iconic Coach C's embossed across the bag. Its interior is definitely a bit small and the sturdy patent leather makes it a bit stiff to open. I fit a small wallet, my passport, a lip gloss, and a tampon in there before stashing a few leftover items in my pockets. I was only going to a quick brunch so it wasn't a problem.
Styling it was a breeze. I figured that its light, springy hue would pair well with a softer color story. So I went with my light pink and gray turtleneck, some silver baubles, and light-wash denim. (Not pictured: A pair of brown lug-sole boots.) I will say that I felt quite dashing with such a high-quality purse. No disrespect to my other non-designer bags but I could definitely feel and see a difference. The strap gives an ample amount of shoulder room, the zipper lock detail is super charming, and overall, the Penn just knows how to elevate an outfit." —Alexandra Polk, Affiliate Lifestyle Writer
Shop the Coach Shine Collection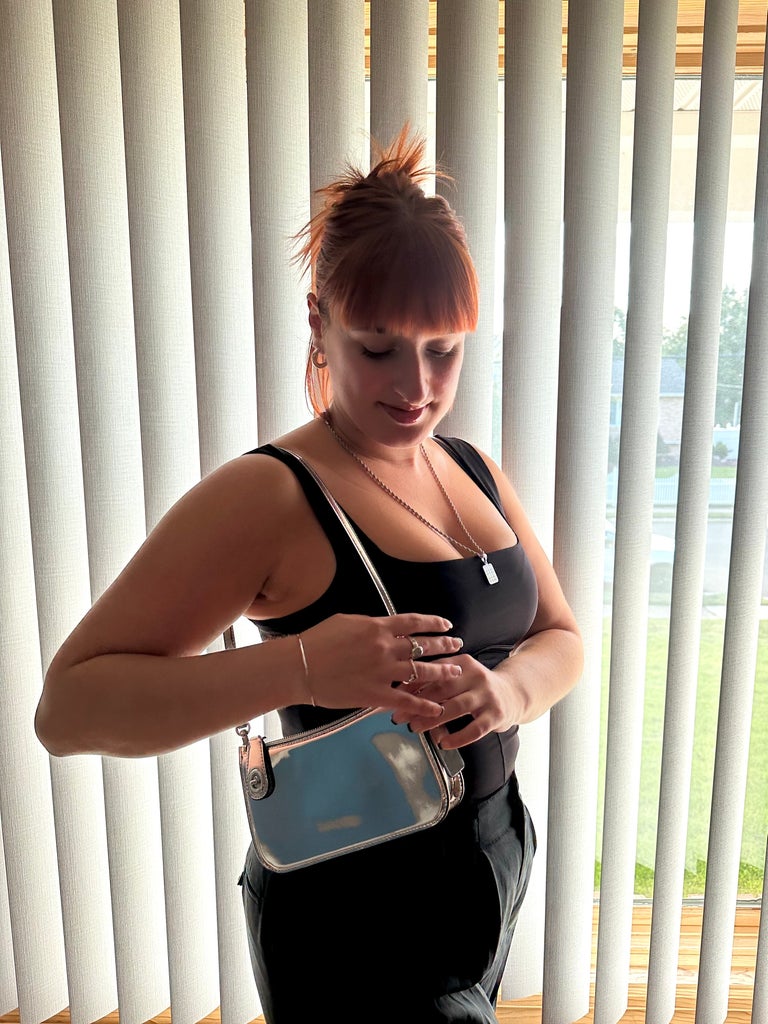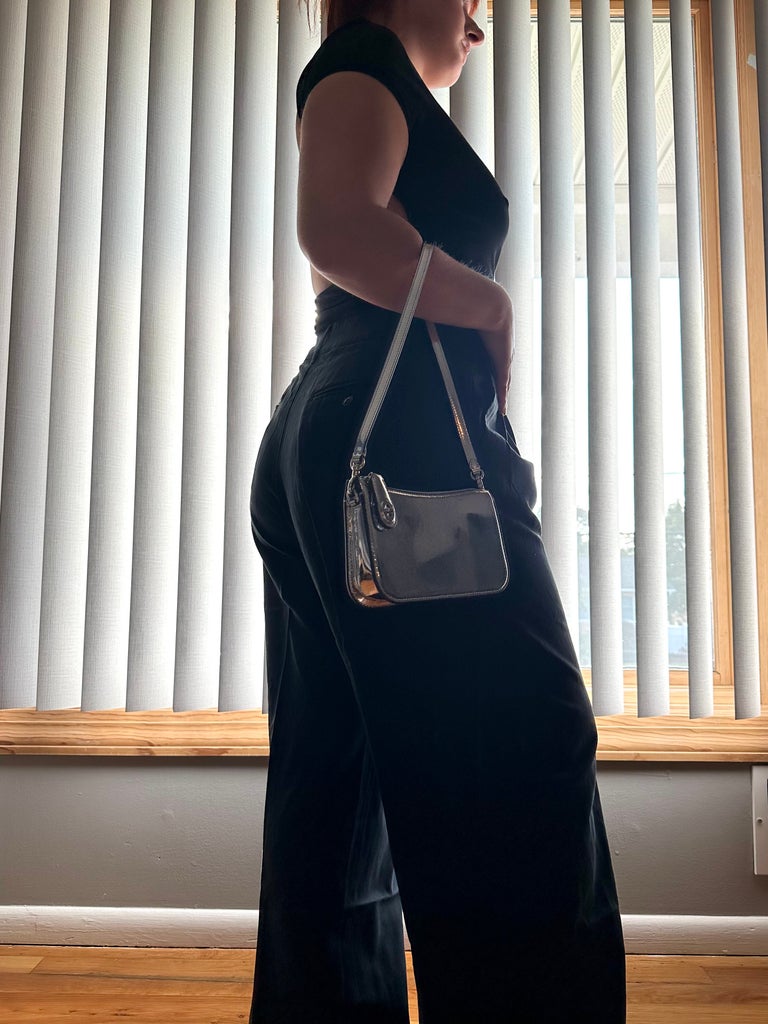 "While my coworkers chose monogrammed patent leather purses, I opted for the metallic Penn Shoulder Bag from Coach's Shine Collection. But I don't think my pictures do justice to just how shiny this bag is. When the silver reflective finish catches the light, it shimmers all over and mimics a mirror. (We love a dual-purpose piece when we don't want to carry a compact mirror with us.) That's not to say you can't fit a mirror inside, though. Despite its slim silhouette, I'm able to fit my phone, credit cards, and lip gloss inside. And I'm particularly obsessed with the turnlock closure on the zipper, which ensures my stuff is super secure (and is one less thing for me to stress out about when I'm out). 
The trendy silver metallic leather clearly speaks for itself, so I've styled it with an all-black outfit. I threw on a classic corseted tank and wide-leg trousers, and my Coach bag easily became the statement piece of my outfit. I'm usually a gold jewelry girly, but I swapped out my pieces for a silver chain, thick hoops, a bangle, and stackable rings for a complimentary look. And it turned out pretty chic, if I do say myself. I'm excited to continue styling this with more going-out outfits and dresses, and maybe even add on a pair of silver heels for a full-on festive look." —Victoria Montalti, Associate Affiliate Writer
Shop the Coach Shine Collection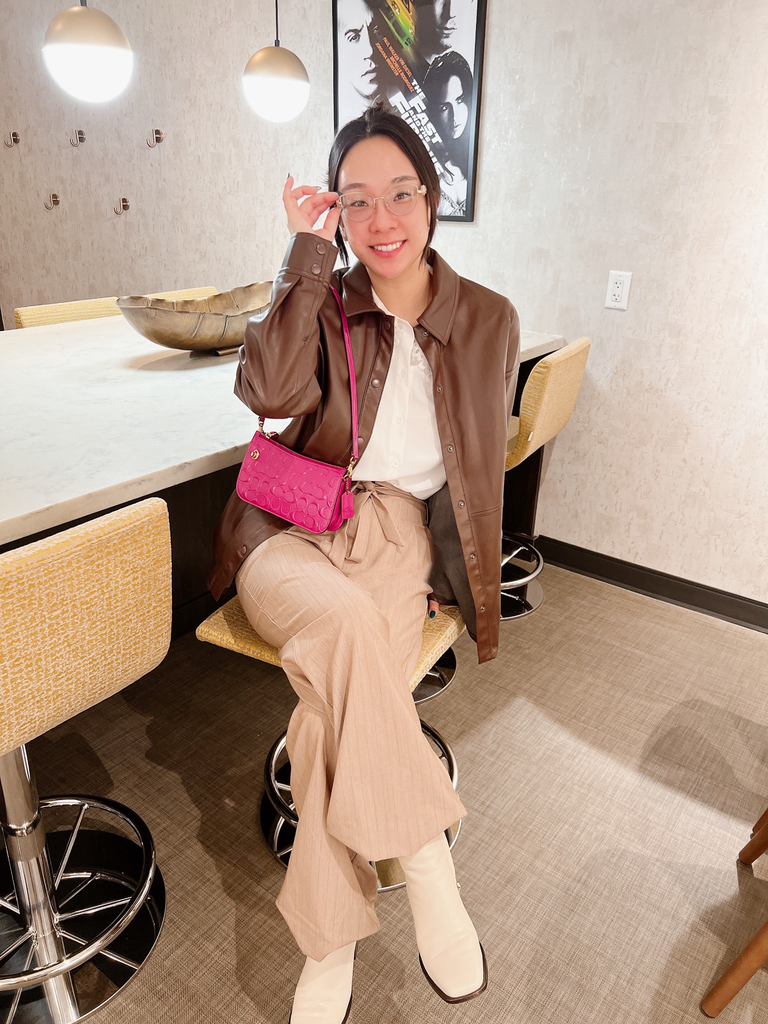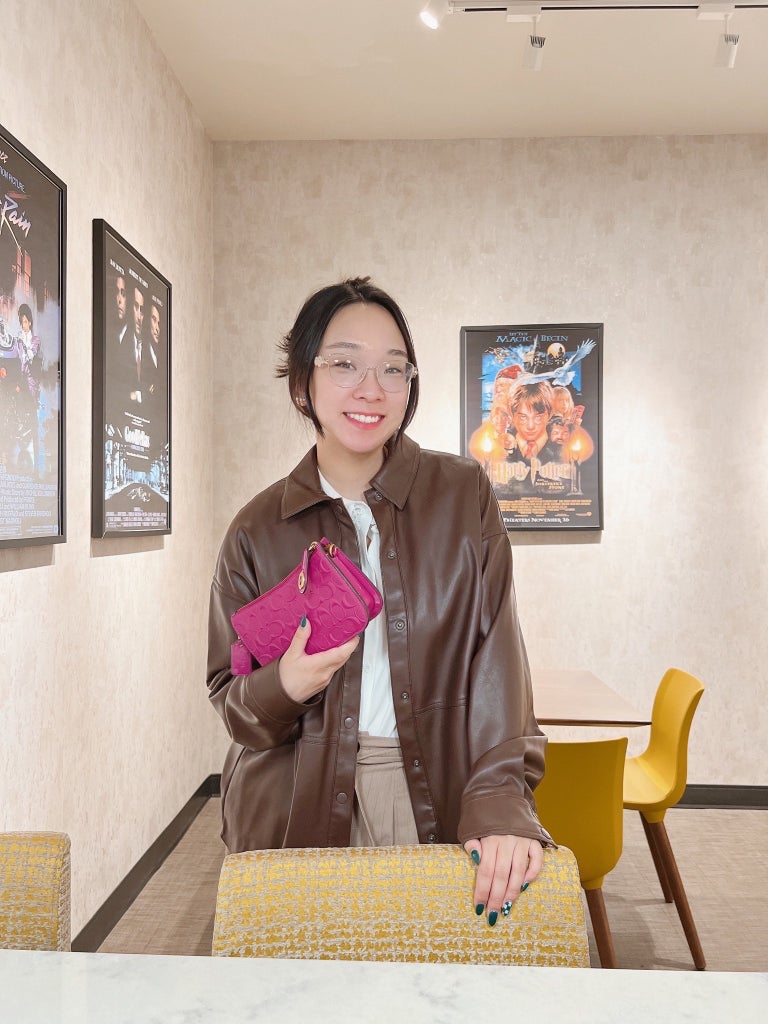 "Where are all my Legally Blonde fans? I am formally calling them up to the front, please. Coach has crafted a magenta-pink shoulder bag that Elle Woods herself would proudly wear to court. At the same time, I would gladly style it for weekend brunches with friends. To make it more weekend-casual, instead of an Elle Wood's all-pink ensemble, I went for a more laid-back, preppy route with a chocolate brown leather jacket over a white frilled collar button-down and trousers.
When it comes to shoulder bags, I'm not a particular fan of the droopy silhouettes. I like ones that sit upright, like a top handle bag, and that have a bit of shape to them. Coach has done just that with its Penn Shoulder Bag. I appreciated how structured the patent leather bag is, as I was able to prop it up on the table without it leaning over, and how it sat right in my hand when I was on the go. It was easy to find what I needed, and my essentials lined up perfectly inside without becoming a black hole. While I prefer to hold this little baby as a clutch, it can seamlessly be transitioned into a shoulder bag with the thin adjustable strap.
The cherry on top was the shiny Coach embossed logo. It was alluring to look at with its glossy shine and the smooth exterior felt luxe and nice to hold onto. If you're looking to add a bit of girly pop to your looks or if you're riding on the last few waves of Barbiecore, this is your gal Penn right here." —Vivien Lee, Affiliate Fashion Writer
Shop the Coach Shine Collection
At Refinery29, we're here to help you navigate this overwhelming world of stuff. All of our market picks are independently selected and curated by the editorial team. If you buy something we link to on our site, Refinery29 may earn commission.
For more can't-miss shopping stories delivered straight to your inbox, sign up for our Most Wanted newsletter.
Like what you see? How about some more R29 goodness, right here?
Coach's New Metallic Bag Is The Shiniest Of All
Coach's New Collection Is Kirsten Dunst-Approved