Mara Hoffman, the brand frequently worn by celebrities and conscious fashion lovers, is inseparable from Mara Hoffman, the eponymous designer from Buffalo whose distinctive style has made her a fashion fixture in New York fashion since the early '00s. With her name on every single piece of clothing she sells, Hoffman considers her brand a reflection of her impact on the world. That comes with responsibility.
Over the last decade, the 46-year-old designer has been lauded for her efforts to make Mara Hoffman ethical, which range from incorporating organic fabrics like cotton and hemp and recycled materials like nylon to providing fair wages and ensuring safe conditions for garment workers. This month, these initiatives culminate in Hoffman being awarded the CFDA 2023 Environmental Sustainability Award.
In addition to championing recycling and circularity programs  — recently, the brand launched its own resale program — Hoffman is also a vocal advocate of legislation like the New York Fashion Act, which aims to reduce the industry's carbon footprint and reliance on fossil fuels, and the FABRIC Act, a national anti-wage theft bill seeking to protect the rights of garment workers. The designer often speaks at and hosts press events on behalf of the bills — and calls on other brands to do the same. But while, in the last 10 years, sustainable fashion has become synonymous with the Mara Hoffman brand, it wasn't always a focus.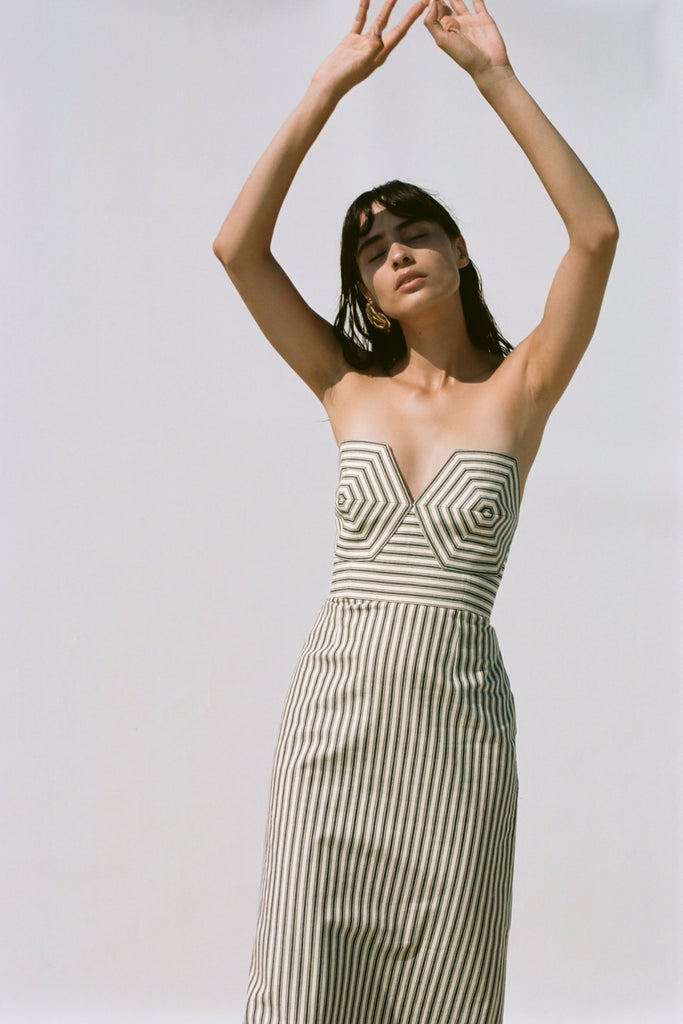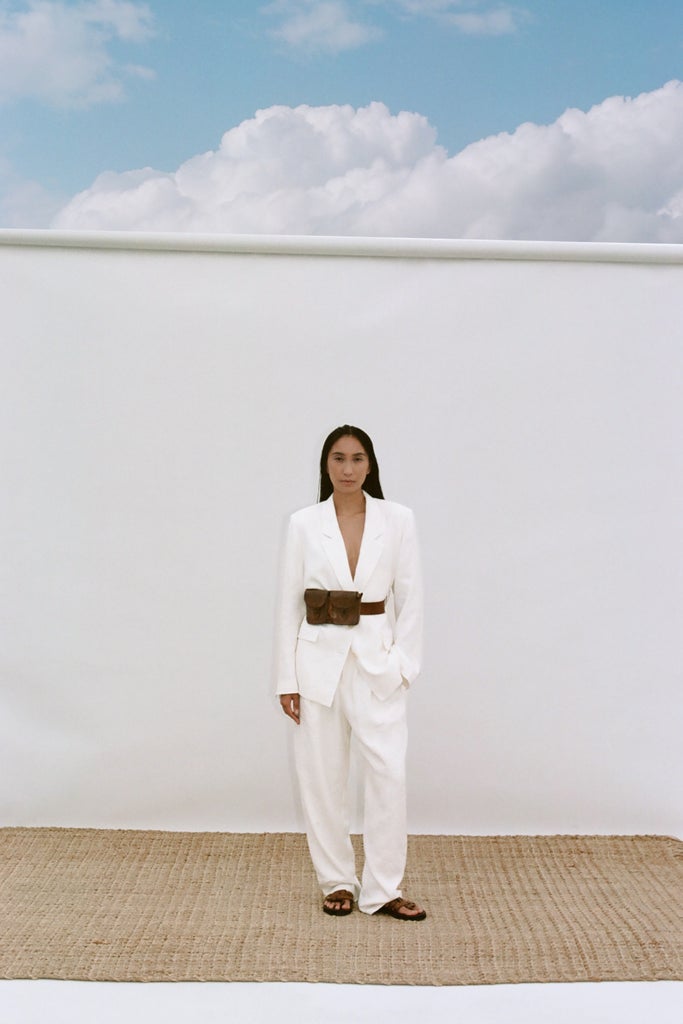 After graduating from Parsons School of Design in 1999, Hoffman started making her own clothes and wearing them around New York. "I had no idea how I was supposed to fit into the [fashion industry] structure," she tells me. After a chance encounter with Sex and the City costume designer Patricia Fields, Hoffman would find out. "She saw me and she loved what I had on," she says. After buying Hoffman's clothing for $250, Fields put used some of her pieces on the show and in her now-closed store in the East Village. "[Fields] carried independent weirdo designers. The drag queens, the outcasts, the eccentrics were all there. It was this '90s kind of club-centric place. And I was obsessed with it," she says. 
As Hoffman tells me this story, we're sitting in her office, a white brick room in a building near the brand's retail store on Lafayette Street in New York City. Before she lights some incense, she checks that the smoke won't be a distraction for me (it isn't). The neighborhood, which sits between Little Italy and SoHo and has been unofficially dubbed "Little Paris," is fitting for the always-poised designer. Her clothing is effortlessly chic, with tailored denim and matching linen sets, but also full of vibrant colors and colorful patterns (many of which she designs herself) that the brand first became known for. 
Hoffman was a dancer in her younger days, something that is evident through her social media, where she often posts videos of herself dancing in her designs. Growing up, she was surrounded by performance art; her father was a cellist in the Buffalo orchestra who "loved to have all these incredible performers over for dinner." It's because of this that she sees fashion as a medium for her to use as an artist. "I've always had a really easy accessibility to my very defined identity. [Design] was always in me. I think some people come in with a strong knowingness of direction," she says.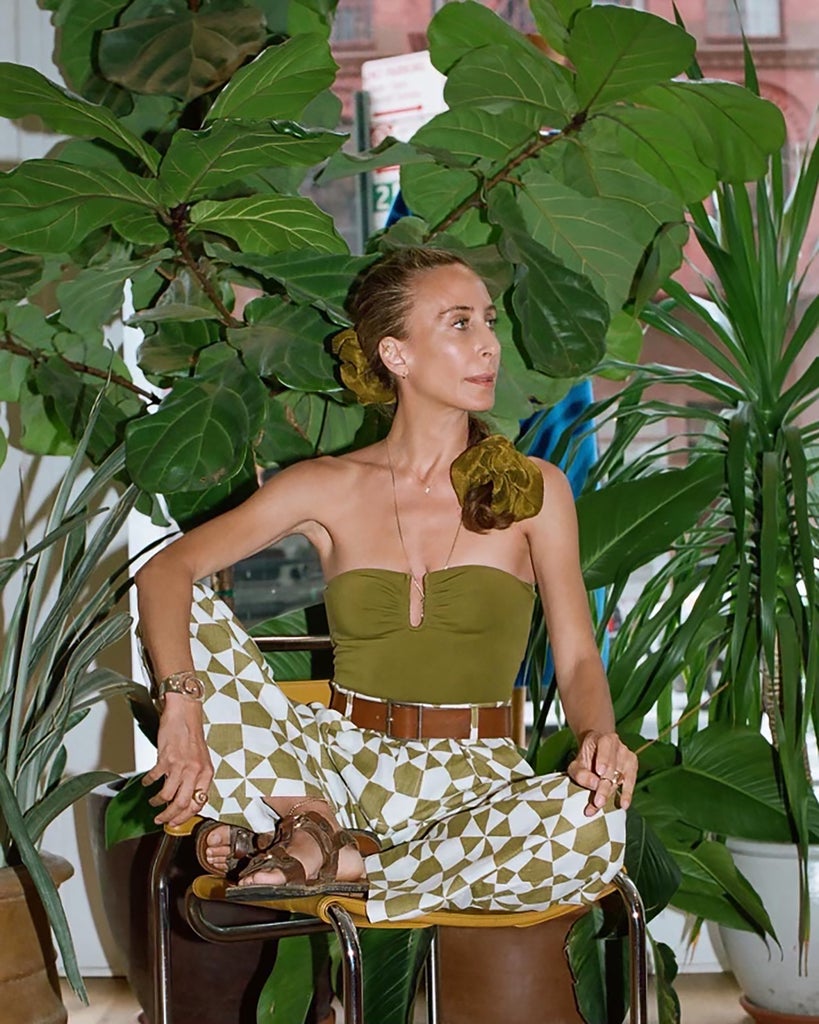 In the early 2000s, Hoffman started her brand with handmade silk pieces she would sell in boutiques. "I'd paint, I'd sit, and I'd paint," she says of the one-of-a-kind prints and patterns she created during the time. By 2005, the designs were getting mass-produced on other fabrics like jersey. "That grew into a much broader ability to sell and to distribute because I wasn't handmaking everything," she says. "Then, I introduced swim [in 2008]." This marked a turning point for the brand, with print-forward swimwear and vacation-ready dresses becoming a signature of the brand for the next decade. Celebrities du jour like Paris Hilton and Nicole Richie wore Hoffman's clothing, the brand's Miami Swim Week fashion show appeared on an episode of MTV's The Hills spin-off The City, and Mara Hoffman pieces were everywhere.
Popularity and trendiness are not things Hoffman holds onto tightly, though. "I know [when] it's time to set the timer," she says. After taking time to reflect on what it meant to make so much new clothing in a world where 100 billion garments are produced each year, millions of which are discarded, Hoffman knew she couldn't continue operating in the same way. "Our collective attention span is shortening. Our hunger has increased so much that we can't get full," she says. That constant need to feed the consumer weighed heavy on her, especially after she gave birth to her son: "That was a big moment of being like, 'I can't do this. I can't do it for him.'"
In 2014, she reassessed her business, everything from how much clothing she made to what materials she used and how the workers who made her clothing were treated. "The greatest thing you're going to ever get [will come from] the things that make you so uncomfortable. They're the things that make you turn right or turn left and change. And so my name was on all these clothes, and I was like, 'This is what I'm doing? This is what I'm going to do is just stamp all this shit here, go and throw it out there,'" she says.
Now, Mara Hoffman releases collections in limited quantities, without following the seasonal fashion calendar or trends. The pieces, which range in price from around $200 to $1,200, are meant to live in your closet forever, rather than only be brought out while on vacation, though her popcorn dresses have become a recent wedding guest favorite and swimwear is still a part of the business.
While her name's attachment catalyzed a major shift in her brand, something she's brought up to me many times over years of interviews, initially she wasn't even sure if she was going to name the brand after herself. "I encouraged her to use her own name because she embodies what she's selling, and that's where you start," fashion publicist Kelly Cutrone, who has known Hoffman since their early careers, tells me on the phone. "She's so authentic. She lives in a world we all aspire to live in the sense of consciousness and love and thoughtfulness and taking time in an industry and a world that is moving too fast for its own good. So yeah…" she says assuredly, "it's all Mara all day long. It's not easy to stick to your guns in this industry. Every turn is a temptation for a better bank account or more fame, and she's really held on to her aesthetics and her ethics while pushing her consciousness and her intention through."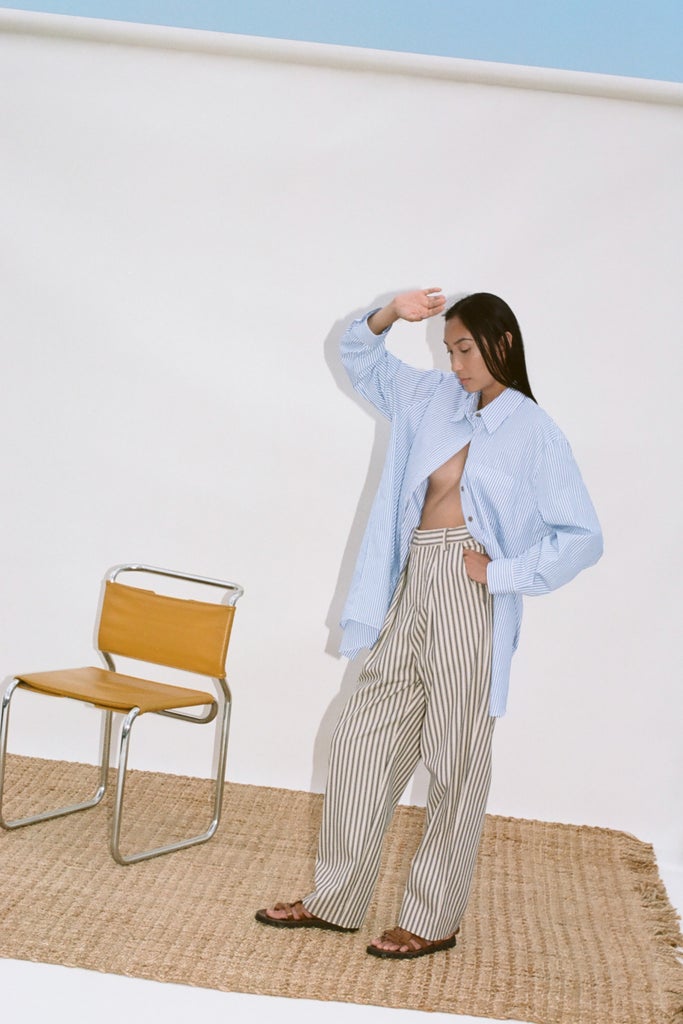 Given the current climate crisis, this type of thinking should drive every fashion brand. But, as Cultrone points out, making clothing that is environmentally conscious, through lower production and better materials, and that prioritizes the safety and security of workers is not easy or cheap, making Hoffman's efforts, as an independent brand, that much more noteworthy. 
Hoffman says that while she appreciates the CFDA recognition, continuing the work for change and a more sustainable fashion future is what matters to her at this stage. "I feel honored to be seen through the same lens as these other large people who have received this award previously and felt a little bit like it was a joke or something. Patagonia got this [award], and so did the United Nations," Hoffman says. "Then I sat with that, and I was like, 'No… to show a version of it happening on a smaller scale, it affirms the importance of it happening everywhere.'" She adds that, while all brands should strive to do better, it's especially crucial for bigger names to reduce their [environmental] impact. "If I can do it, people with the resources, you can do it. I like that they asked us to be the recipients of this because hopefully, it can be seen as 'you have no excuse, get your shit together.'" 
Recently, Hoffman reduced the footprint of her store, putting up a temporary wall in the center and splitting the shop with another brand. While it's a move that certainly helps a small business financially (bonus: it makes her once-large store feel more intimate), it is also indicative of how she's committed to running her brand — constantly evolving and not getting lost in "openness." She sees this change in physical space as reflective of the way she changed her business a decade ago — a decision to pull back to achieve the type of growth that has nothing to do with volume or quantity. 
"Sometimes you really have to contract to make something work. It's the only way to achieve an expansion is through a preliminary contraction," she says. "I tend to see my life works like that. Contractions come before expansions."
At Refinery29, we're here to help you navigate this overwhelming world of stuff. All of our market picks are independently selected and curated by us. All product details reflect the price and availability at the time of publication. If you buy or click on something we link to on our site, we may earn a commission.
Like what you see? How about some more R29 goodness, right here?