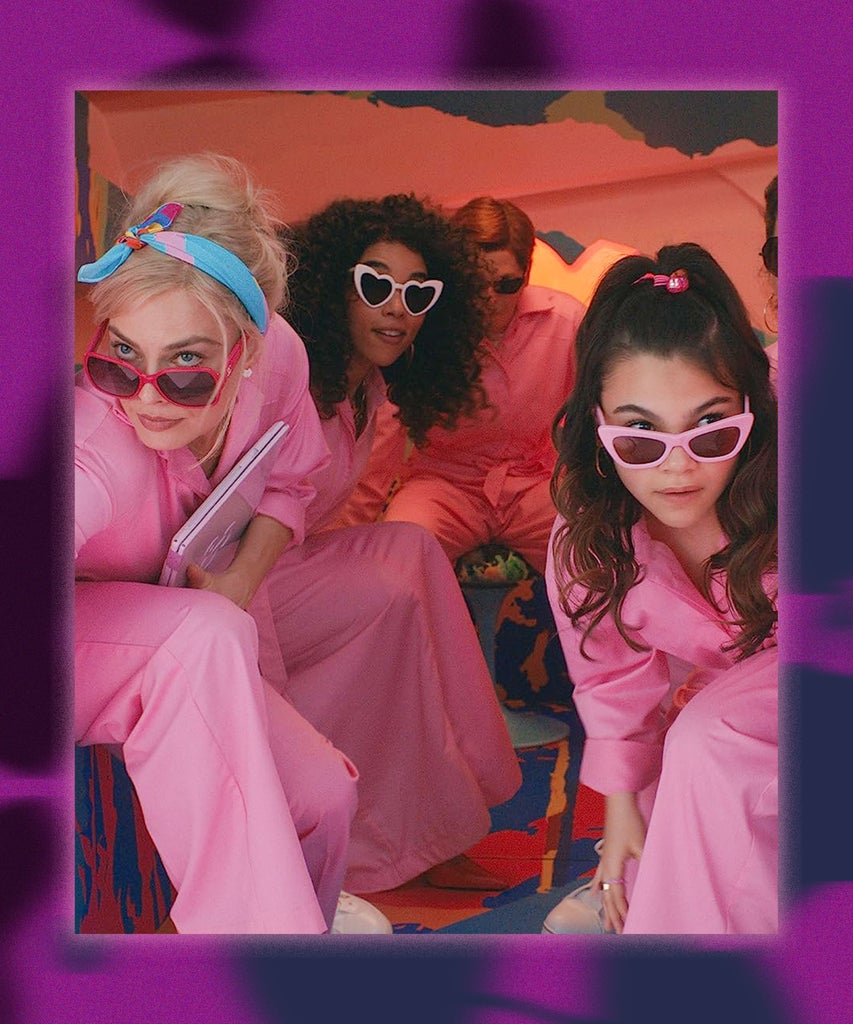 When Greta Gerwig's Barbie movie premiered earlier this year, something magical happened; life as we knew it forever changed, effectively creating a new era in history— a pinker, sparklier chapter where we can all feel free to be our best and most empowered selves. As we continue into AB (the after Barbie era) it's become exceedingly clear: this year belongs to Barbie. The film shattered box office records (surpassing a billion dollars!) and ushered in a new appreciation and admiration for all things Barbie. And yes, that includes your Halloween costume. If you are looking for a list of "unique Halloween costumes," I'm sad to say you've arrived at the wrong place. This article is for all of us who have said, "Hi Barbie!" to a stranger. The fashion-forward ones who showed up to the theater in shades of pink. The motivated ones who signed up to learn the Barbie dance number at our local dance studio. Everyone who spent this summer listening to the soundtrack on repeat, or donning Barbiecore styles and official Barbie collabs with pride. It's Barbie's world, and we finally get to live in it. And this Barbie is pretty excited about that (because pink does go with everything!).
That's why I've combed through the Barbie universe, pulling specifically from the movie, to help you create the Barbie Halloween costumes you'll feel fabulous in. That said, like Barbie, we are all strong and powerful individuals, and this list is just a jumping-off point to help decide what Barbie Halloween costume feels right for you. From the ultimate Barbie and Ken couple's costume to fringed and fabulous stereotypical Barbie looks to ideas for groups that get all the Barbies together for a blowout party with planned choreography, consider this your ultimate Barbie Halloween costume round-up from one Barbie to another. Come on, Barbies, let's go shopping!
How to put together a Stereotypical Barbie costume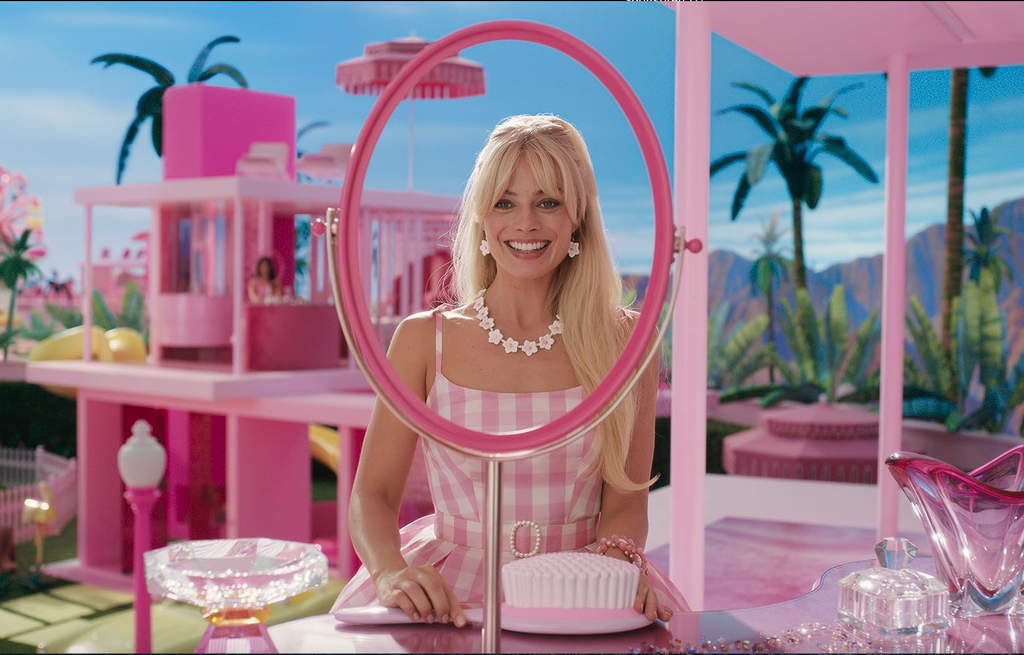 From the second Margot Robbie's Stereotypical Barbie stepped into her fuzzy heels and floated down the slide of her Dream House, we were in love. As the name suggests, this Barbie leans into the stereotypical Barbie styles. Which means pink. All different shades. And a lot of it. From two versions of pink gingham dresses, skirt and sweater sets, as well as bows, berets, and accessories, there's no wrong way to be Stereotypical Barbie, as long as it's pink-forward.
Luckily, pink gingham dresses from this summer are still readily available (and most of them are on sale!) and can easily be transformed into a Stereotypical Barbie costume with flower accessories or a matching beach hat. Another Stereotypical Barbie Halloween costume is the movie's adaptation of Southwestern Cowgirl Barbie. Though many pre-made costumes are already out there, you can also purchase pink flares and a pink vest as separates. Or, if you're feeling spicy, a hot pink jumpsuit paired with a cowboy hat and glitter boots is a great choice. Though Barbie never needs Ken, movie Ken does have a matching cowboy outfit, so this would make an ideal couple's costume. For more inspo, check out our in-depth Stereotypical Barbie style breakdown.
Something to keep in mind as you do your Barbie Halloween costume shopping: wigs are great. As Robbie commented in an interview to Teen Vogue, an unnatural amount of voluminous hair is key to Barbie's look, as they reflect the inacurrate proportions of the doll we know and love. Our Barbie pro tip: wigs are surprisingly high quality (and affordable) on Amazon.
How to put together a President Barbie costume
President Barbie, played by Issa Rae, has already become a collector's doll from Mattel, thanks in no small part to her stunning costume. Her signature look is defined by a blush and gold ballgown, accompanied by a President Barbie sash, and a chunky rhinestone and gold necklace. Grab an official pink folder and pink feather quill pen for extra accessories.
If a ballgown feels too cumbersome to spend the night in, we totally understand. As long as you keep the President sash on, there will be no question as to which Barbie character's costume you're rocking, no matter what you're wearing underneath. We're also partial to President Barbie's "Dance The Night Away" look — a white sequin halter and shorts set — for a highly recognizable costume that's also easy to move around in.
How to put together a Mermaid Barbie costume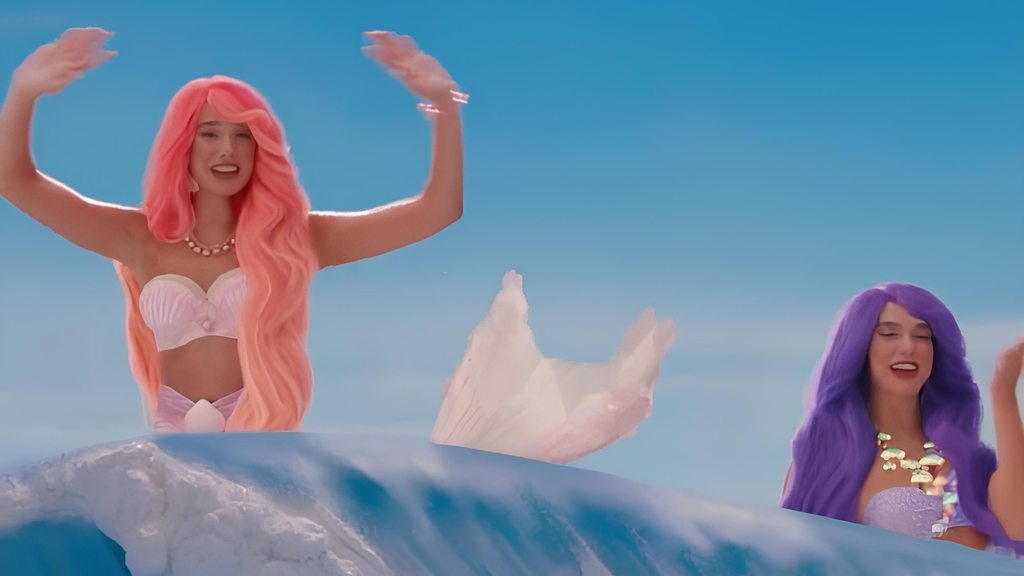 Dua Lipa impressed us by playing three different Mermaid Barbies in the movie. Although The Little Mermaid was also released this year, Mermaid Barbie's costume is easily differentiated by its monochromatic look. Whereas Ariel (with her signature red hair) wears purple on the top and traditional green on the bottom, Mermaid Barbie uses the same color throughout. Just choose a bikini or tube top, maxi skirt, and long wig in one of her signature colors (pink, purple, or blue) for an unforgettable Halloween costume.
Since Mermaid Barbie sticks mostly to the ocean (as most mermaids do), when she does emerge to sun on her rock, she uses shells and other sea creatures as her jewelry and accessories. Barbie tip: Etsy makes some really interesting nautical jewelry that you'll be able to re-wear and not just use as your Halloween costume this season.
How to put together a Weird Barbie costume
For the quirky and queer, we cannot recommend a Weird Barbie costume, played by Kate McKinnon more. Though Weird Barbie looks a little nuts, she's really just well-loved. Weird Barbie is the Barbie you played too hard with — perhaps you got too excited and decided to cut her hair or draw all over her face with markers, and you've dressed her in completely mismatched outfits from different dolls. And for some reason, she's always left out on the floor doing the splits. (Splits abilities are not a requirement for this costume, though).
She's the outcast in Barbieland because she is the most closely associated with the real world, and she is the only one who possesses the knowledge Stereotypical Barbie needs on how to get to the real world. So, though she is Weird, she is also filled with Barbie wisdom.
A Weird Barbie costume is definitely one of the more complicated to put together since it requires a few layers, but we think that just makes her all the more fun to play. The Weird Barbie costume essentials are a pink puffy-sleeved dress, crazy patterned leggings, a petticoat to fluff up the dress, and tall snakeskin boots. She also reappears later in the movie with the same patterned leggings, a pink t-shirt, and a pink bomber coat, but we do think the first look is a more recognizable Barbie movie Halloween costume.
If you want to go the extra mile, we recommend a multipack of colorful gel liners, which make for excellent "markers" on the face. And no Weird Barbie costume is complete without a Birkenstock in one hand and a heel in the other, in order to ask other Barbies at the party if they want to know the truth about the universe.
How to put together a Ken costume
Being Barbie is something anyone and everyone can (and should!) be, but it takes a very special person to bring some Kenergy to the group. Ken appears in a few signature looks through the Barbie movie, but it's easiest to break them down into three larger categories: Good Ken, Real World Ken, and Patriarchy Ken.
Good Ken's job is beach (not to be confused with surf or lifeguard), and he likes to wear pastels (a matching button-down and shorts set is a surefire win). If not in his matching pastels, Good Ken enjoys a cut-off jean vest with a pair of white shorts. His life revolves totally and completely around Barbie, so if you're going to be traveling with a surfboard, just remember to have one hand free to assist in holding her purse or hand when she might need it.
Real World Ken can only exist in a pair with Barbie (as he is accompanying on her journey), so if you're looking for a costume for your partner, this is an excellent choice. We can't wait to see all the pairs of rollerblading and southwestern cowboy Kens with their respective Barbies.
Patriarchy Ken is the only Ken who doesn't need a Barbie (theoretically). If you want all the Kens to come over this Halloween and spend time in your Mojo Dojo Casa House, all you need is a fur coat, horse-centric accessories, and a four-hour-long playlist of Matchbox 20's "Push" on repeat.
How to put together a group Barbie costume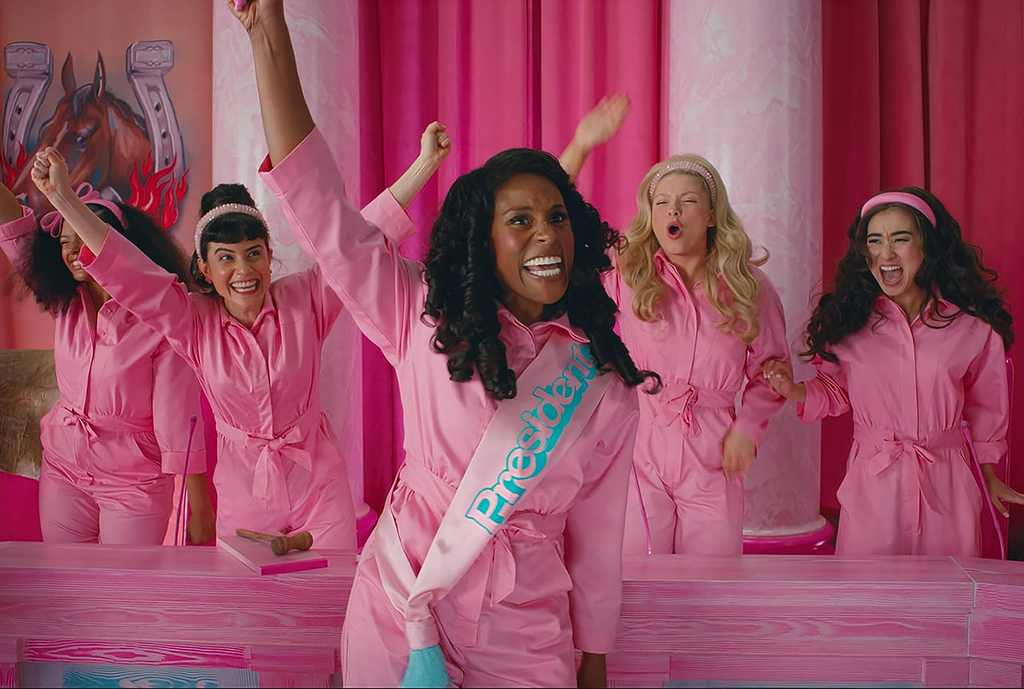 When it comes to Barbie group Halloween costumes, you've got options upon options. But if you and the Barbies are feeling low-key this year, a truly easy group costume is this pink jumpsuit, rocked by all the Barbies as they overthrow the government. That's right: this costume is political! A pair of pink coveralls (as well as a pink headband and pink sunnies) makes an effortless Halloween costume that's totally re-wearable. Plus, who doesn't want to look totally fabulous while taking down the patriarchy?
Our favorite part about this costume, though? It can be a transitional costume. Stripping out of your jumpsuit and revealing another costume beneath is a fab way to fit in more Barbie Halloween costumes to your evening. Because if Barbie knows one thing, it's more is more.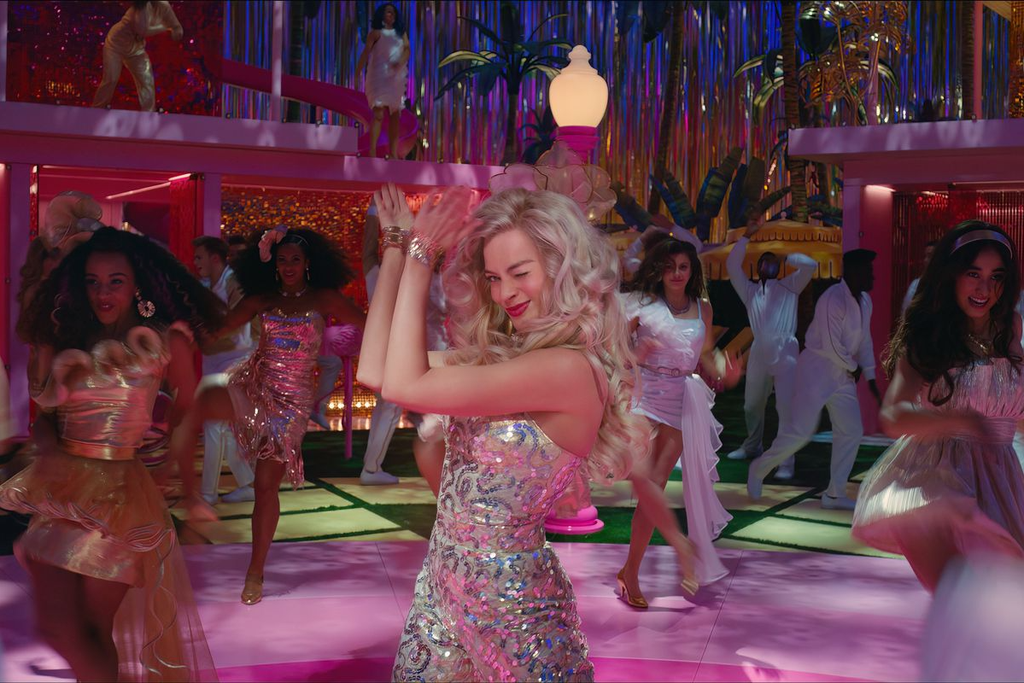 Planning a giant blowout party with all the Barbies this Halloween? So cool. This Barbie group costume is totally doable (and truly memorable!). In order to recreate this dance scene you do have to learn some planned choreography (which does require a little bit of work, okay, we know!), but the costume part is much, much more accomplishable. All you and the Barbies need are disco-styled clothing glittering shades of white, silver, and gold (which should be incredibly easy since metallics are everywhere right now).
We particularly enjoy this costume, not only because it gives each Barbie the autonomy to choose a look that best suits their own unique style (though you really can't beat that strapless jumpsuit for maximum costuming impact), but it also means you can recreate this iconic Barbie party wherever you and your group go. Barbie tip: get one of your dancer Barbie friends to teach you the choreo ahead of time. Any time Dua Lipa comes on the playlist, you'll be able to start an impromptu Barbie flash mob (which sounds like a literal Barbieland dream!).
Still need some help figuring out which Barbie is right for you? Don't stress. The best thing about Barbie is that she can literally be anything you want her to be. You and your friends can choose a different iconic Barbie to be (we like the idea of one from each decade!) or create your own. Luckily, we've pulled some hella iconic Barbies (and how to best achieve their style) to spark your Barbie Halloween costume inspo.
The First Barbie (1959) – striped bathingsuit, white sunglasses
Spotlight Barbie (1961) – sequin strapless black dress, long black gloves
Malibu Barbie (1971) – baby blue bathingsuit, yellow towel
Day To Night Barbie (1984) – pink blazer, pink party dress, white hat
Totally Hair Barbie (1992) – colorful mini dress, long crimped wig
And that's just the beginning! Remember: Barbie has been nearly every profession under the sun. And if you want to be something she hasn't been yet — even better! A DIY Barbie costume that represents your own dreams and ambitions could not be more on-brand for this feminist icon.
At Refinery29, we're here to help you navigate this overwhelming world of stuff. All of our market picks are independently selected and curated by the editorial team. All product details reflect the price and availability at the time of publication. If you buy or click on something we link to on our site, Refinery29 may earn commission.
Like what you see? How about some more R29 goodness, right here?
Where To Shop Margot Robbie's Looks From Barbie
15 Pinkest, Most Stylish Barbie Fashion Brand Col