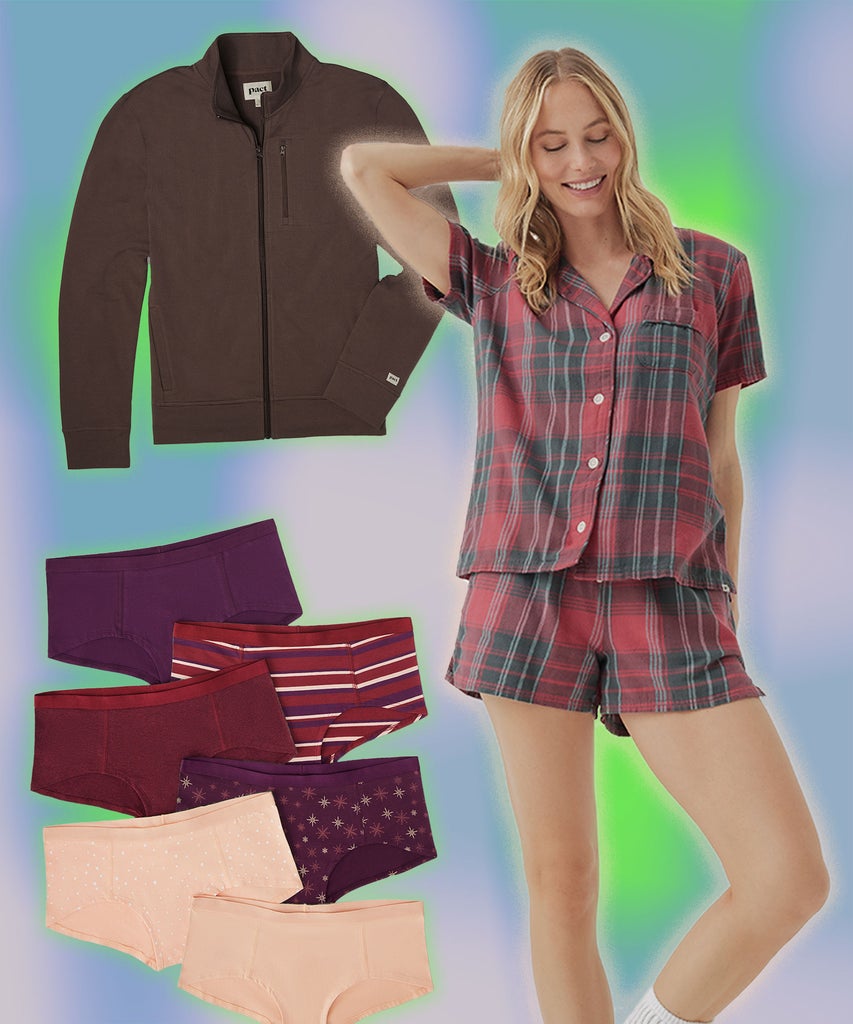 'Tis the season to shower our loved ones with gifts (or at least to start thinking about what to buy them). So if you've fully immersed yourself in cozy season and are eager to start holiday shopping, we're here to help. We created a gift guide for Pact, the R29 reader- and editor-favorite brand full of organic cotton fashion and home goods that keeps on giving. And this guide includes all the items that we're personally buying for the special people on our lists (or are adding to our own). But the best part is that all of our picks are gifts under $100.
The brand that brings us editor-favorite travel pants and cotton underwear has offerings across womenswear, menswear, and home that we're eager to gift out this holiday season. Read on to find out what we're shopping for our friends and family (matching pajama sets, gifts for men, towel sets, etc.) and what we're carting up for ourselves (cotton underwear, pieces to build our holiday outfits, cooling bed sheets, etc.). Then maybe you'll find your own favorites that'll get you and your giftees in the holiday spirit.
Gift for: Friends and family
"I love gifting sleepwear! I especially love gifting sleepwear when it's a PJ shorts set. In my experience, when in doubt, I just sort of assume they're like me: a hot sleeper. I barely use pants for my pajamas, and I opt for shorts or boxers when I go to sleep. Unless I know for sure my giftee's PJ preference, I believe you can't go wrong with shorts. Plus, Pact is well-known for its super-soft fabric, and really, isn't that what we all want when we go to sleep?" —Mercedes Viera, Associate Deals Writer
Gift for: Yourself
"Sleep is the only competitive sport I participate in, and while I do delight in scandalizing my neighbors, I think this is the year I invest in something other than silk robes to doze and/or grab packages from my porch in. I'm gifting myself this adorable sleep set this year because 1. It's got '70s camp counselor vibes, and I'm into that for whatever reason. 2. Indecency arrests seem like a bummer." —Sarah Crow, Affiliate Director
Gift for: Friends or yourself
"I grabbed myself a pair of these leggings earlier this year, and without fail have gotten compliments every time I wear them. As an elderly millennial, all my friends are thrilled at the return of bootcut leggings, but I can tell they're gun-shy about purchasing it for themselves. I personally love the classic black color, since it goes with anything. But for something a little more holiday/winter specific, I am a huge fan of the dark green. In fact, I might even grab another pair for myself." —Charlotte Lewis, Sexual Health & Wellness Writer
Gift for: Friends
"Entering your late 20s is all about seeing the beauty of practicality. Your frontal lobe forms, and suddenly, you want nothing more than a supple, organic cotton bath sheet set — not to mention a supple, organic cotton bath sheet set with a waffle texture. So I'm carting this entire set for my good, most-adult friend Asha. She passed the bar this year, got a fancy lawyer job, and I'm so proud of her! She deserves a luxe set of Pact towels." —Alexandra Polk, Affiliate Lifestyle Writer
Gift for: Dad
"I love a budget-friendly bundle, so I'm into this three-for-$60 T-shirt deal. I'm considering gifting these to my dad to add to his rotation of everyday shirts. This style comes in so many colors and striped prints, so I can pick ones that are tailored to his aesthetic. The French Navy, Mountain View, and Walnut Heather are particularly standing out to me for the holiday season." —Victoria Montalti, Associate Affiliate Writer
Gift for: Yourself
"We all know, Pact's organic cotton underwear game can't be beat, so I'll be gifting myself this six-pack in a subtly-festive array of colors and patterns. I sleep in a cotton boy short and big T-shirt every night, even in the fall and winter, and always love to have some new pairs in rotation." —Kate Spencer, Senior Affiliate Partnerships Manager
Gift for: Yourself
"I can't resist a collared sweater. It adds a polish factor to any knit, and Pact has crafted an everyday silhouette that I would love to wear literally everywhere. I'm a strong believer in treating yourself after any task — ask my friends. They say I'm a bad influence but the best person to tag along when you need a little push. The sweater is a little shy under $100, and I say, why not?" —Vivien Lee, Affiliate Fashion Writer
Gift for: Fiancé
"My fiancé lives in scrubs day in and day out, so he's always in search of some elevated, stylish pieces to wear while off-duty. These comfy yet polished pants are perfect for looking chic at the airport, wearing on casual dates, or just hanging out. Plus, the forest green colorway (my personal favorite) is sure to look so handsome on him." —Karina Hoshikawa, Senior Writer
Gift for: Boyfriend
"These woven twill roll-up pants are so stylish for men's clothing, and I love dressing up my Ken — so I'm gonna get him a pair! I really love these pants in all colors, but I'm going to order him a pair in cappuccino brown so he can be a fashion boy this winter. Plus, it will bring out his dreamy blue eyes." —Becca Sax, Affiliate Coordinator
Gift for: Yourself
"The other day someone on the shopping team wondered aloud, 'How many robes does one person need?' I can understand that logic to a point, but I will go on the record as saying I have six and honestly can always use one more. A good flannel robe is deceptively hard to track down. I don't want it to be fleece, or too long, or lined with anything that will make me overheat. I just want soft flannel against my skin all winter long. This pattern is good for the holidays but also for chilly weather generally." —Marshall Bright, Affiliate Editor
Gift for: Yourself
"Currently in the process of getting a larger mattress, I'm also in need of brand new bedding. I tend to sleep hot, so I've been on the lookout for sheets that won't have me waking up in a sweaty mess. And I'll be honest, I may cart up an entire Pact sheet set in this percale fabric for over $100, but at the very least, I'm excited to try out the fitted sheet." —Victoria
Gift for: Yourself
"I'm a sucker for bed sheets. I just adore having a plethora of options of super-soft fitted sheets to choose from. I don't specifically request them as gifts from other people, but I do gift myself comfy bed sheets whenever I'm having a bad week as a little pick-me-up! I'm really picky when it comes to textures, and cotton percale is one my favorite fabrics to lay in — especially when they're cooling and breathable!" —Mercedes
Gift for: Friends
"I have a friend who lives in corduroy when fall and winter come around. She's already snagged a half-moon-shaped corduroy crossbody, wide-leg jeans, and a jacket, and now she's onto the next. Before she buys everything in sight, I'm considering gifting her this forest green skirt. The model styles it so cutely, which matches my friend's exact aesthetic that I know she'll be thrilled to add another vintage-looking piece to her wardrobe." —Vivien Lee
Gift for: Dad
"My dad loves running and often rides his motorcycle to work, so I've been eyeing the perfect zipped jacket to help him keep the winter chills away. This zipped jacket looks more polished than your average hoodie, but the soft French terry fabric offers sweatshirt-level comfort. I'm sure he will also appreciate the high collar, plus the front chest zip pocket for his keys. It's the kind of practical gift that takes the hassle out of holiday shopping for dads." —Venus Wong, Senior Travel Writer
Gift for: Yourself
"This ribbed long-sleeve top is something I could see myself wearing all season long. I love the scoop neckline and the open-back detail in the back — I can envision myself wearing it with everything from relaxed denim to a silk midi skirt, cocktail in hand. Plus, the ivory Sandshell colorway is so chic." —Karina
Gift for: Mom and sisters
"I don't come from a family who prioritized matching pajamas during the holidays, and I not so secretly always wished I had. This year, I'm taking matters into my own hands and gifting my mom and two little sisters this flannel sleep set (option for full-length bottoms here) that looks cozy and classically plaid." —Kate
Gift for: Sister
"My sister is graduating from college soon, and she's entering the professional world. I love her dearly and want to give her something that she will use often, but I need to take note that she cares more about comfort than anything else. I think these incredibly soft pants with a stretchy waistband might be a great compromise between comfort and professionalism." —Becca
Gift for: Partner
"I have chosen to romantically attach myself to someone who uses towels for what I might use to, say, sand down a piece of furniture before applying a fresh coat of paint. As such, I will be gifting them this lovely set of towels, described by reviewers with terms that feel important to me when it comes to purchasing towels, like 'soft.' And ultimately, that's a gift for me, too." —Sarah
Gift for: Yourself
"Underwear is the one article of clothing I think one can never have enough of. I've heard rave reviews about Pact underwear and love letting the kitty breathe, so I'm planning on gifting myself a few pairs to get rid of all the ratty underwear I've had for way too long." —Becca
Gift for: Yourself
"This ribbed midi skirt is going to the top of my holiday wish list. When I first saw it, I thought it would be a great grab for my stylish sisters, but TBH, I think I want it most for myself! I already know Pact's clothes are comfy AF, but the dark red color and midi length make it elegant enough to wear to a holiday party, Thanksgiving dinner, or just out and about. Paired with my fave cozy turtleneck sweater and a pair of booties? I think it's an unbeatable look." —Charlotte
Gift for: Friends or yourself
"As someone with a fuller chest, I often swap shopping recommendations with friends who are fellow big-boobed girlies. It can be damn near impossible to find a comfortable sleeveless top that is supportive enough for us to go braless, so I can't wait to try out Pact's organic cotton camisole. This layering essential features adjustable straps and a wide scoop neckline (which is so flattering, IMO), but the pièce de résistance comes in the form of a built-in wireless shelf bra. The elastic looks sturdy enough to prop things up without digging into my skin. If I like the fit, I will be getting these in bulk for my friends because, well, who doesn't need an infinitely wearable black cami in their lives?" —Venus
Gift for: Friends
"One of my best friends always puts on her Christmas list, 'Those sweaters that don't actually button up.' Cardigans have been a staple of her closet probably since high school. I think she will love this option, which is specifically designed to be travel-friendly, complete with pockets. It will be like wearing a blanket the next time she gets on a plane to come visit me. (Fingers crossed!)" —Marshall
At Refinery29, we're here to help you navigate this overwhelming world of stuff. All of our market picks are independently selected and curated by the editorial team. If you buy or click on something we link to on our site, Refinery29 may earn commission.
Like what you see? How about some more R29 goodness, right here?
Anthropologie Is A Gift-Giver's Paradise
R29 Editors' 21 Favorite Cozy Season Essentials