In the 2010s, before fashion diplomacy became an everyday tool to signal values and send messages in politics, then-First Lady Michelle Obama understood the impact of clothing. Instead of constantly modeling the latest designs from the runways of Europe, in the years following the recession, Obama promoted independent American designers like Jason Wu, Tracy Reese, and Peter Som. The latter was responsible for some of Obama's best looks of the time: a blue watercolor coat at the groundbreaking ceremony at the Smithsonian National Museum of African American History and Culture, a purple ombré dress on a trip to London, a yellow floral top while on the LIVE with Regis and Kelly show. Today, while Som is still designing clothing — his most recent Collective Rent The Runway collection dropped last month — he has also become known as a food personality, who is currently working on his first cookbook (which will be released in 2024). 
According to Som, there was a "myriad of reasons" that led him to stop his ready-to-wear business — "the landscape has changed a lot," "I was pretty worn out," etc. — following his last runway collection for Spring 2015. Even so, for the first time ever, Som found the future uncertain. "Fashion was something that was my dream from childhood… In fifth grade, I decided I wanted to be a fashion designer," Som explains to Refinery29 over coffee in Manhattan's West Village neighborhood, where he lives. "I had a bit of an identity crisis in terms of what I wanted to really do, where I really wanted to kind of go with my life, my career… Once you're so singularly focused for so long, you really have to be able to open the blinders up a bit and really look at everything you love to do. And for me, it was cooking." 
Som credits his love of food to his grandmother, mother, and sister whom he cooked alongside while growing up in California's Bay Area. He took this practice to New York where he attended Parsons School of Design; worked for names like Bill Blass, Calvin Klein, and Michael Kors; and eventually started his namesake brand in 2001. "I had cooked all through my 'runway collection years.' For me, it was a way to keep my feet on the ground. Fashion can be a little bit of a crazy industry. So this was something where I could go home, make something delicious," he says. "It was therapeutic."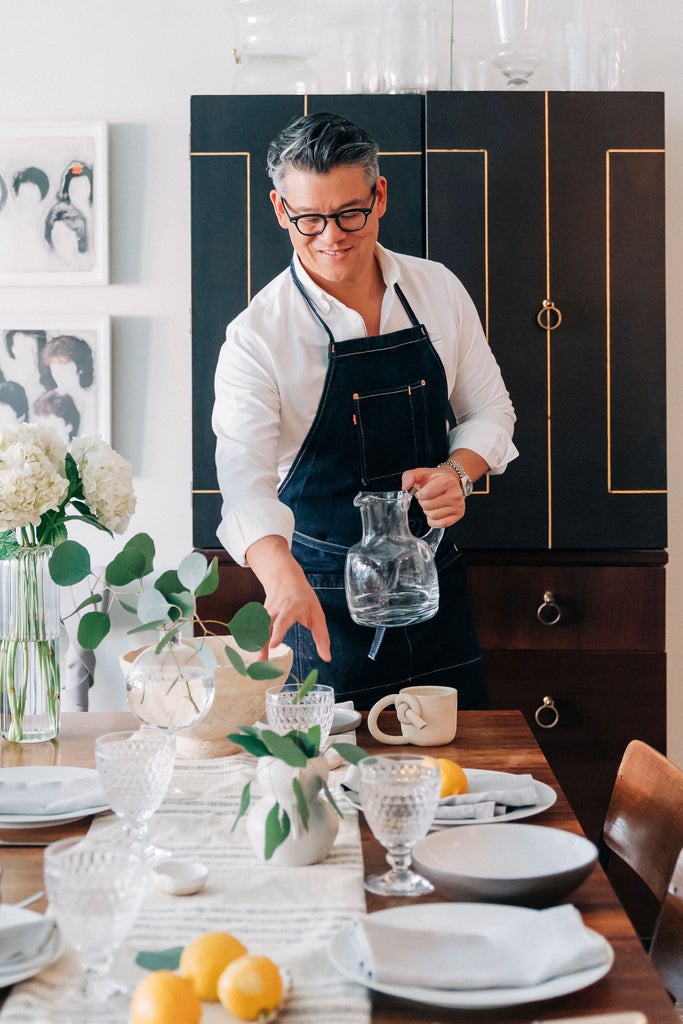 In 2019, he launched The Extra Taste, a food vertical on the Peter Som site that offers recipes ranging from heirloom tomato gazpacho to cherry brown butter skillet cake and creamy kimchi pasta. But if Som was mostly known for behind-the-scenes work on his designs that appeared on A-listers like Beyoncé and Rachel McAdams, in this new chapter of his career, he's very much at the forefront. While scrolling Som's Instagram, you'll find an equal mix of recipe reels (which he films himself) and snapshots of the creative at his favorite New York restaurants, his home, and on travels that take him from Provincetown to Charlestown to  Florence. "It felt right to sort of expose a little bit more [of myself]," says Som. That said, despite giving more access to his life than ever before, he considers himself a "shy" and "private" person: "There's a lot that nobody sees: my messy kitchen, me watching Jeopardy while I'm eating dinner…"
During a time when there is no shortage of online food personalities and viral TikTok recipes, Som stands out from the crowd for his pared-down approach to food. His cooking style is marked by the types of they-only-look-fancy dishes you turn to when having people over last minute for dinner: "I want you to be able to put down a plate in front of your guests, and I want them to be like, 'Oh, that's fabulous.' But you weren't in the kitchen freaking out, sweating, and getting concerned." Or, the recipes you want to whip up after a trip to the farmers' market: "[When cooking, I think:] What ingredients are at their best right now and how to highlight those." I personally confirm this when a few months prior to this interview, I scroll through Som's site to figure out what to do with a box of assorted mushrooms I bought on a whim; I settle on the Rustic Cream of Mushroom Soup with Pecorino Brioche Croutons, which Som says is one of the site's most popular recipes.
"In my design philosophy, I've always wanted my clothing to be the things you reach for again and again. I look at my recipes and I want them to be that way, too," he says. "I want the recipes to be simple — in ingredients and approach — but have a big impact in terms of flavor." He likewise likens the way he gets inspiration for his culinary creations to the way he used to make runway collections. "I call it the Big Bang Theory, where it is maybe five or six kinds of ideas that come together and you kind of have that 'aha' moment." While there's no one thing that inspires him, he points to his Chinese-American heritage, the Cantonese cuisine he grew up with, and the Bay Area's farm-to-table approach to food as a through line. "I think about recipes from my grandmother and my mom and [put] my take on them," he says. "Being able to tell a piece of who you are, whether it's through clothing or food, it's powerful."
While, today, you are more likely to find Som in his kitchen capturing dishes for his website and social media channels, recipe-testing his cookbook, and attending food events, than at a design studio or a fashion show, he says "it took a while to get footing" after stopping his ready-to-wear business. "You become so laser-focused on a goal that, when the universe has other plans for you, it takes you a while to see the whole world out there," he says. Now that he has, he doesn't feel the need to fit in one box: "Sometimes people ask me, 'So what do you do?' And I'm like, 'You know, fashion designer, recipe developer, lifestyle-y person…' What do I call myself? But I think in this world, we're all multihyphenates now."
Central to all his passions is creativity. "Obviously, there are mechanics and practicalities to everything, and fundamentals that you have to learn; designing a dress is technically different than cooking a dish. But if you look at it from the creative approach, what really sparks like that excitement, you can figure out all the levers you have to pull to get there," he says. "Creativity should be whatever you want it to be."  
While Som is currently finding a lot of purpose in his new career — "Food's inherently nurturing. You're feeding yourself, you're feeding your soul, you're feeding your family. That's a pretty big deal," he says — he isn't closing the chapter on his runway days: "Never say never." In the meantime, his partnership with Rent The Runway allows him to continue to flex his design muscles. "It's a similar process [to what I did before], just shrunken down without the show. I still do mood boards and work on prints and design clothing," he says. "I'll always love fashion. I'll always be a fashion designer in some way or another." 
After all, it's his time in fashion that granted him "the relationships and friendships I've had and continue to have." This leaves him with this advice for any creatives considering a career switch: "So much of any industry is the people in it — and that's what makes the experience all the better. Surrounding yourself with like-minded, kind, and talented people is the best thing you can do for yourself, be it fashion or food — or life really." Call it Peter Som's recipe for success.
At Refinery29, we're here to help you navigate this overwhelming world of stuff. All of our market picks are independently selected and curated by us. All product details reflect the price and availability at the time of publication. If you buy or click on something we link to on our site, we may earn a commission.
Like what you see? How about some more R29 goodness, right here?