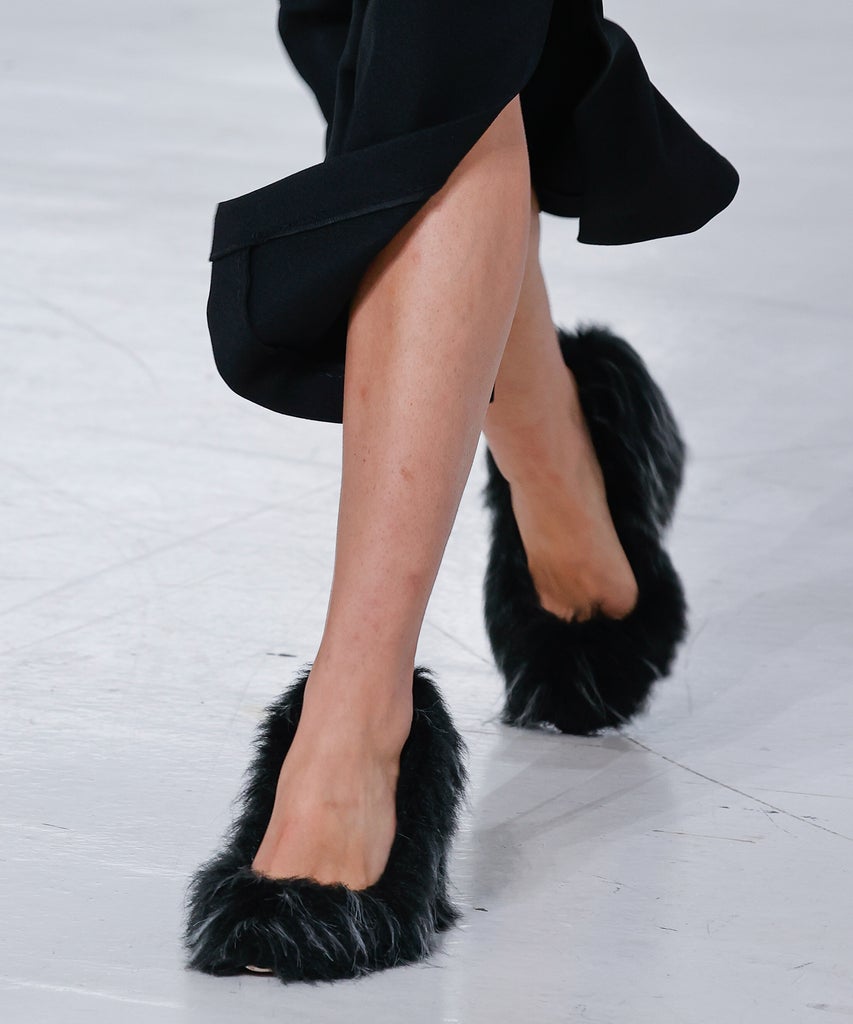 Fashion is no stranger to subversiveness, especially in statement shoe form. See: Y2K sneaker wedges, wooden clogs, the split-toe Tabis (that made headlines last month after a date gone wrong), and just about any "ugly shoe" trend of the last few years. Runways for Fall 2023 were no exception to this high-art bent; only this time around, the boldest shoe of the season might just be borrowed from Bigfoot's closet: furry footwear. 
Kicking off a month of shaggy shoes was cool girl-brand Khaite, in New York with its fall lineup of fluffy faux fur pumps, flats, and strappy sandals. Next, during London Fashion Week, Daniel Lee's debut Burberry collection showcased models trotting down the catwalk in shearling-lined stilettos and mules — some styles even featuring tails at the heel. Continuing on in Milan and Paris, hairy hooves dug their heels into the collections of designers such as A.W.A.K.E. Mode, Gucci, MSGM, Stella McCartney, and more.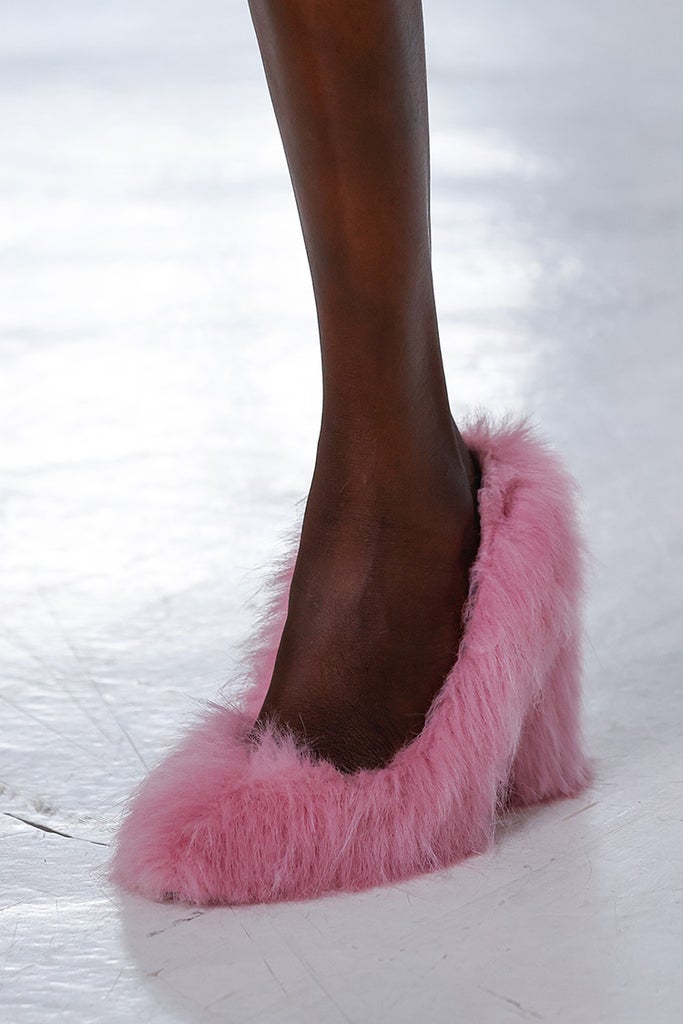 Aside from just raising eyebrows in the name of art, it seems designers today are also hoping to make buzzy headlines with their own version of the next Ugly Shoe™. Last year, i-D called the fashion industry's shift to bold designs the "weird shoe era," putting forward that fashion brands are "experimenting with performative pieces with the intention of going viral," before going on to say that "our need for exuberance, escapism, and irony in an increasingly bleak world" may just be the impetus behind the likes of unconventional styles like furry footwear.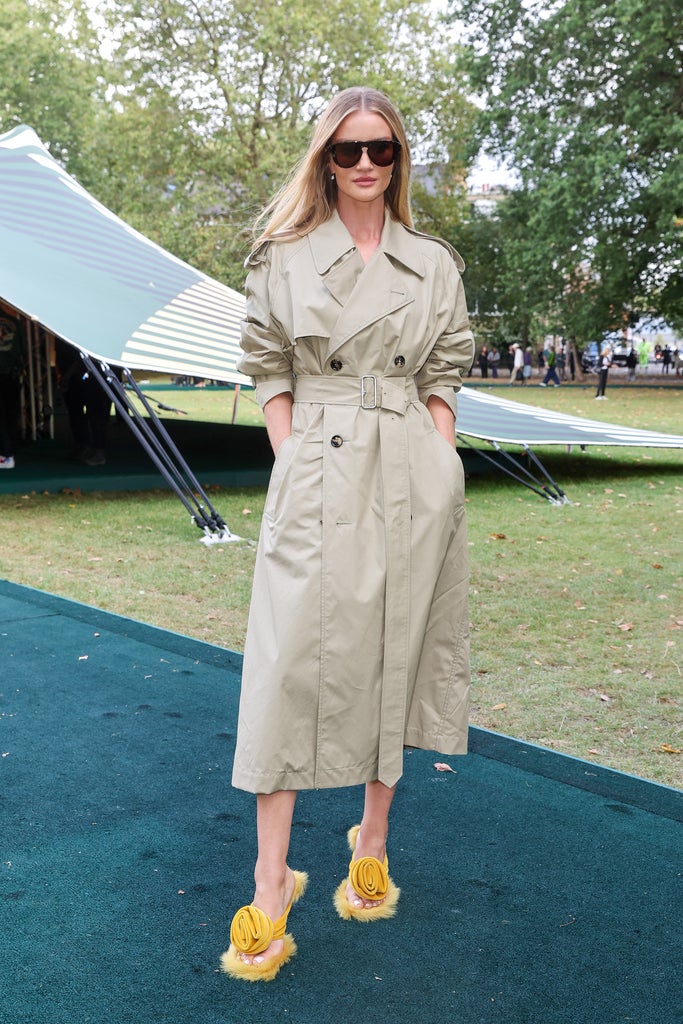 Already, shaggy shoes have made their appearance this season on the well-heeled. In September, model Rosie Huntington-Whiteley was photographed at Burberry's Spring 2024 show in the house's thong rosebud sandals. Elsewhere during fashion month, showgoers in New York and Paris integrated the trend seamlessly into street style, showing up and out in furry flip-flops, mules, and kitten heels worn with tailored trousers or paired effortlessly with swishy slip skirts.
From poofy pumps to plush boots and all that's fuzzy in between, here are the styles you'll need to put your best furry foot forward this fall.
Furry Pumps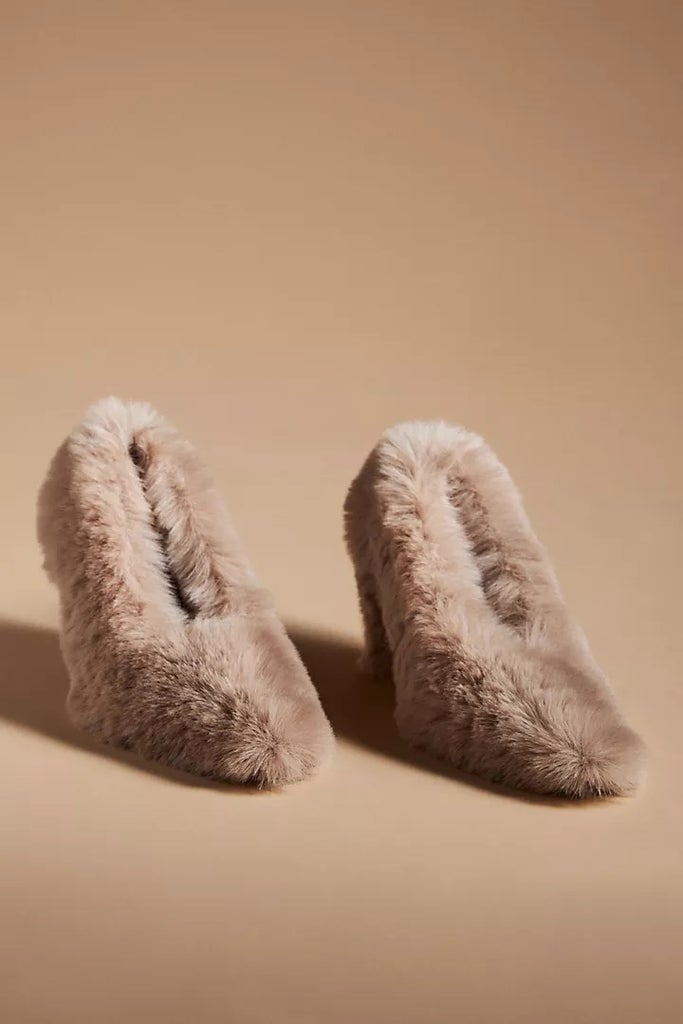 Calling all maximalists to embrace pumps with panache. Seen in the F/W '23 collections of Stella McCartney and MGSM, the shoe of striking contrasts — a classic ladylike silhouette with a comically furry exterior — beckons the boldest of the bold. 
Opt for the traditional heel with hints of tactile texture to style with a solid knit dress or a shin-grazing skirt for a subtle statement. Or, coordinate a full fuzzy look with a teddy coat and bag to match. Either way, the result will score major fashion points.
Furry Clogs & Mules  
These aren't your ordinary Dansko clogs or your mother's mules. In fact, they might just be the easiest gateway to the furry footwear trend — and the most versatile style. A playful juxtaposition of comfort meets catwalk, these hybrids, which range from slipper-like options to heeled styles, capture the whimsy of an ugly shoe while remaining wearable.
On the Fall 2023 runway at Wales Bonner, shearling mules were paired with a pantsuit — furry shoes to the office, anyone? But for a more off-duty outfit, try pairing the look with a cashmere sweater and cuffed jeans.
Furry Flip-Flops & Slides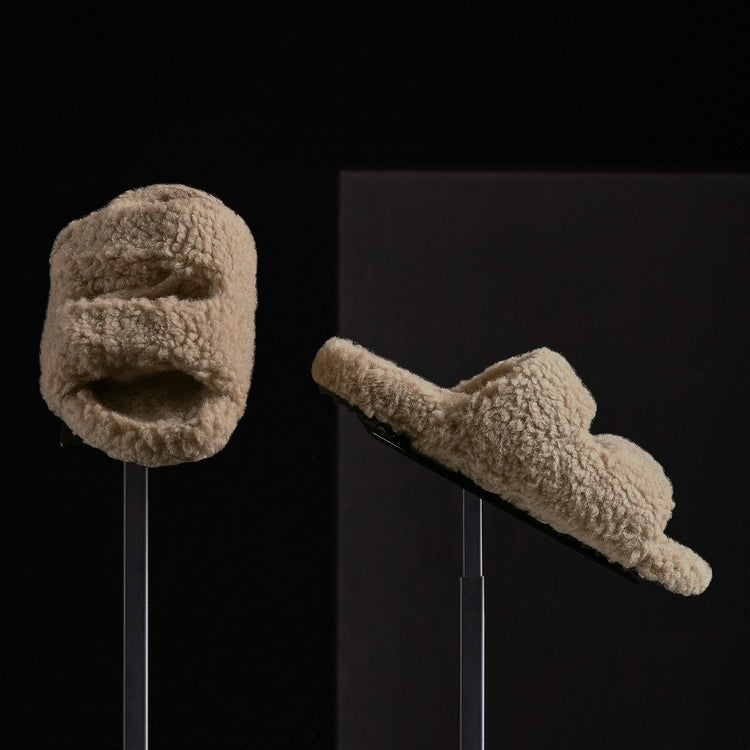 For those in the comfort camp who don't want to skimp on style, try out the fuzzy flip-flop or slide. There's a reason variations were seen on the style set last September during Fashion Month. On a demanding day, sinking our feet into a cushiony slide is infinitely preferable to taking another step in a stiletto. Tip: buy one pair to wear outside, and another to use as slippers/house hooves.
Furry Boots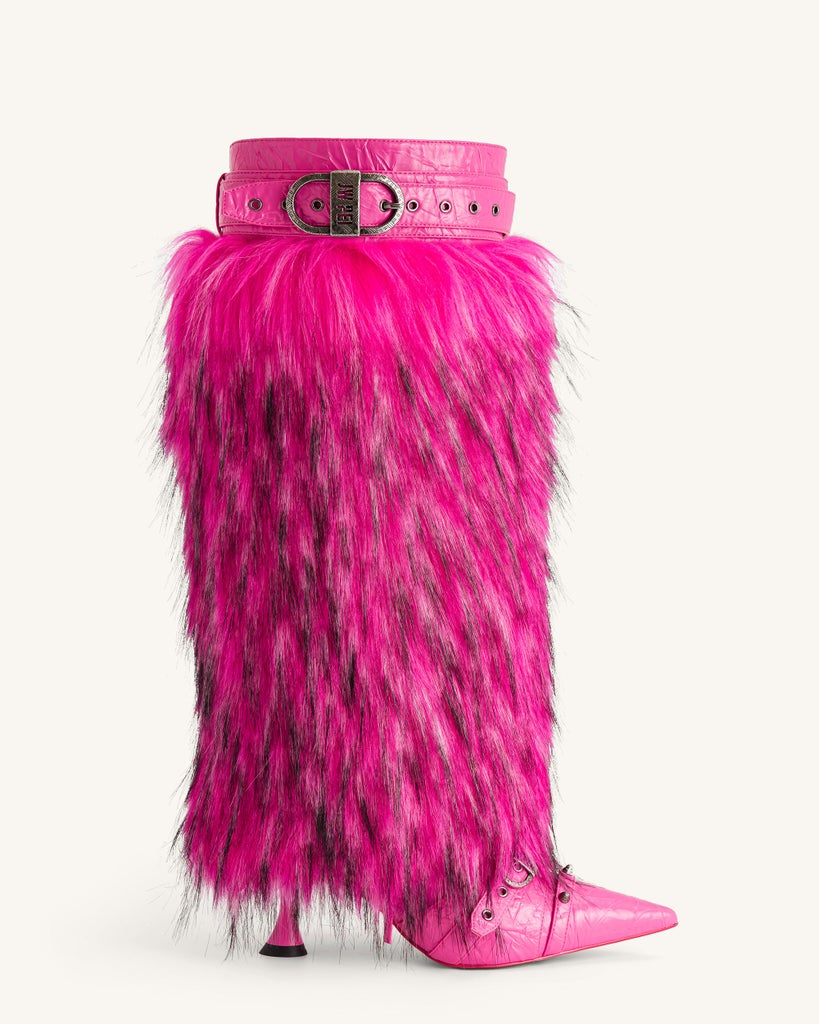 Perhaps the most fun choice of furry footwear is also the most pragmatic for fall's unpredictable weather. For F/W '23, Duran Lantink styled boots with the fur with metallic hot pants, while Gucci showed their version with a leather pencil skirt and Kim Shui contrasted an oversized plush pair with a thin-strapped slip dress. 
Other ways to wear faux fur boots: après-ski with a matching trapper hat. Or: with Apple Bottom jeans for a true Y2K throwback.
At Refinery29, we're here to help you navigate this overwhelming world of stuff. All of our market picks are independently selected and curated by us. All product details reflect the price and availability at the time of publication. If you buy or click on something we link to on our site, we may earn a commission.
Like what you see? How about some more R29 goodness, right here?
Shop The Biggest Fall 2023 Shoe Trends Now
The Fall Boots You'll Want To Walk Everywhere In