In the truly unbearably hot last days of summer, the only glimmer of hope through the fog of humidity is the excitement for fall fashion. We're daydreaming of airy blouses paired with denim maxi skirts, cozy layer-able outfits in mid-50 to 60-degree weather — we want it all. Even autumn's signature oversized sweater and crisp jeans combo has never sounded more glorious. Thankfully, the beloved minimalistic brand Frame has released a new collection that is the epitome of fall, getting us in the leaf-peeping spirit. Get ready to indulge yourself in Frame's new arrivals. The collection is filled with classic silhouettes in monochromatic hues of light camel, espresso, black, khaki, and blues in luxe fabrics such as cashmere and leather.
If you're not already a fan of the brand, just know that the Fall 2023 collection, just like Frame's other offerings, is full of splurge-worthy pieces. The prices reflect the quality, but these are fall classics you'll reach for year after year. You'll find timeless cozy cashmere sweaters, rich buttery soft leather blazers, and comfy tailored jeans that will be a forever piece. (Some of my most beloved fall staples are the Le High Straight and a now discontinued '70s Houndstooth Wool Blend Blazer from Frame.) Consider the styles as an investment item you can fashion into countless looks throughout the years — no matter the trends. 
Elevated Tops & Delicate Blouses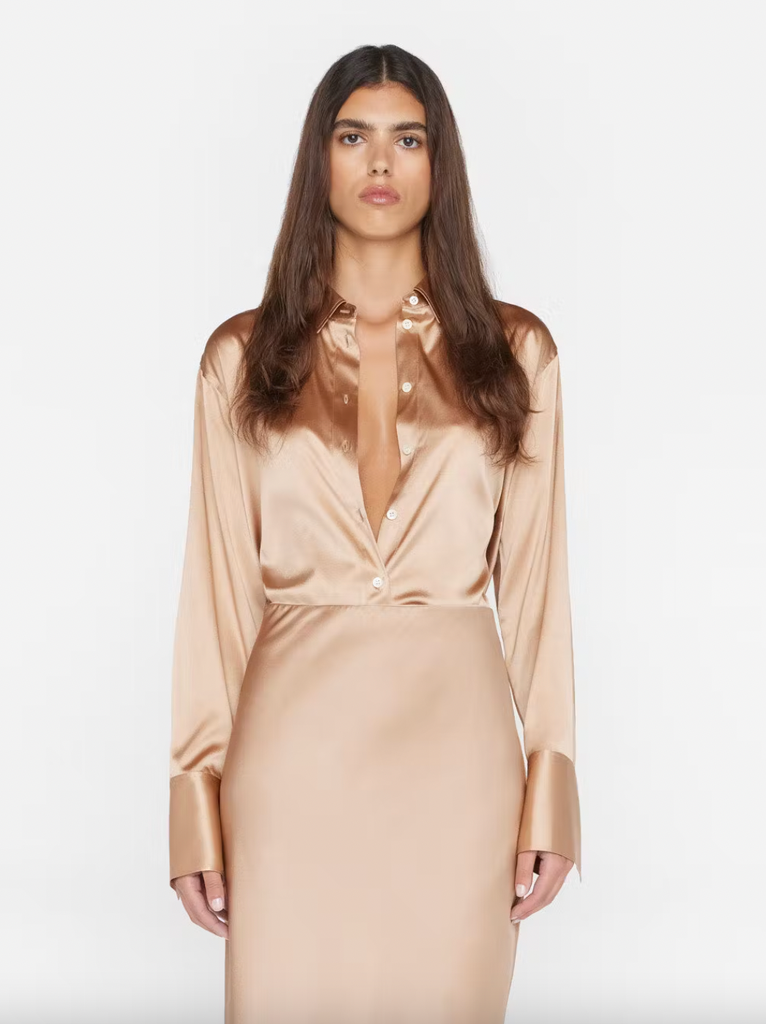 Frame checks all the boxes when it comes to dainty, feminine tops that are both elegant and chic. The current collection offers upgraded basics in smooth stretch silk and 100% organic linen. The brand has also brought the trending mesh and sheer top from spring/summer 2023 firmly into fall with a piece that keeps the striking aesthetic yet is layer-able and works with a variety of structured silhouettes like blazers and shirt jackets. 
All Things Denim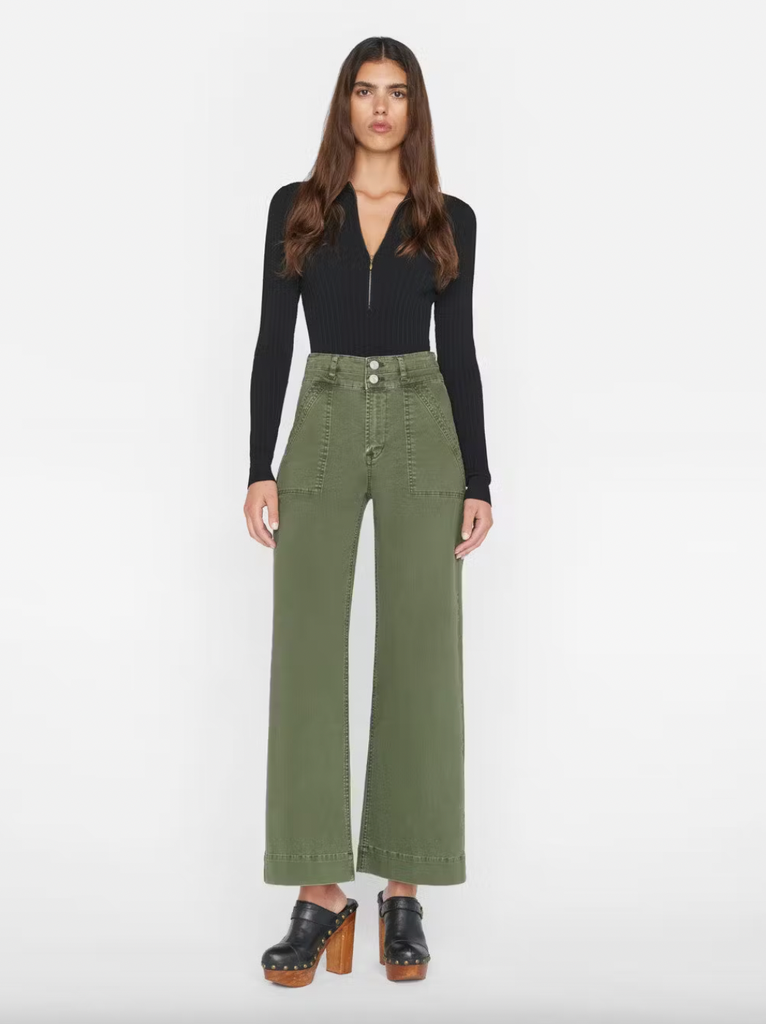 As we begin to shy away from shopping for linen pants and shorts, your gaze might be looking toward jeans for this fall. If this is your first time shopping at Frame, the brand's jeans are your best introduction to the label. Frame is well-known for its vast collection of collectible soft, stretchy denim. There's plenty of styles to choose from whether you like a straight high-rise look or flare jeans is your go-to. The brand has recently released its best-selling wide-leg Le Palazzo silhouette in a slimmer version along with various other denim styles like an in-between midi and maxi denim skirt and a shirt dress.
Transitional Layers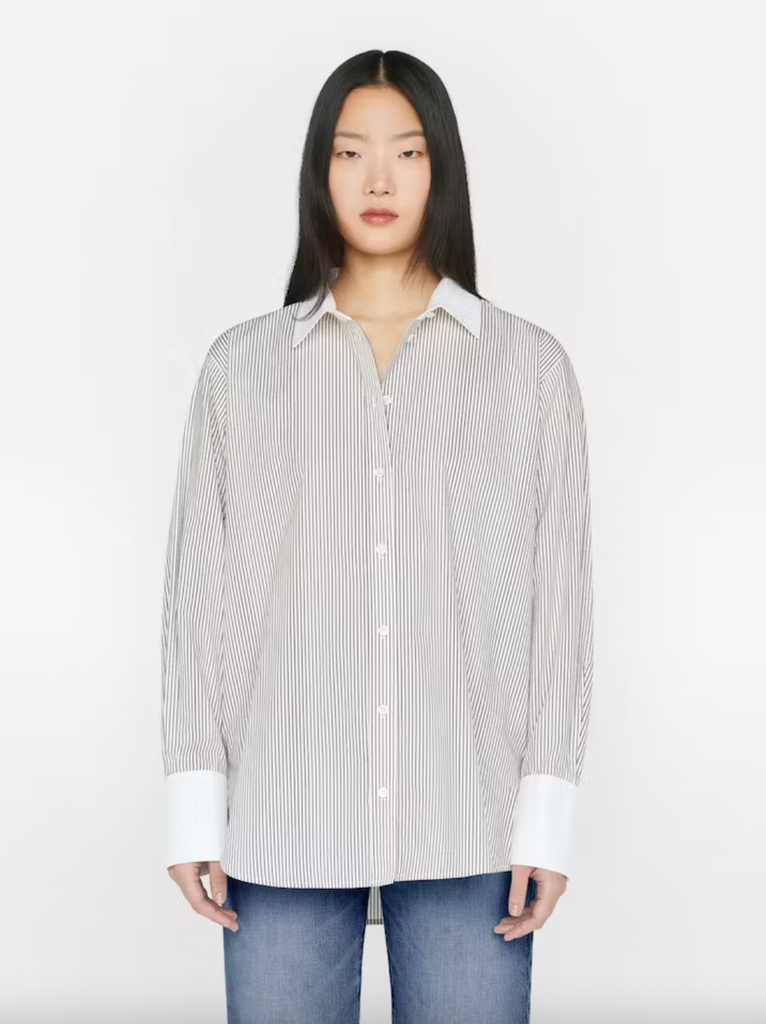 Once the weather begins to dip in a month or so, consider Frame's transitional layers to help you get through the season. There are elevated basics like a ribbed zipped bodysuit, as well as more detailed picks like a cashmere elbow-length ruched pointelle sweater and smocked mockneck option. Don't get caught off guard this fall when you realize a loose hanger has snagged your favorite sweater or is nowhere to be seen.
Luxurious Outerwear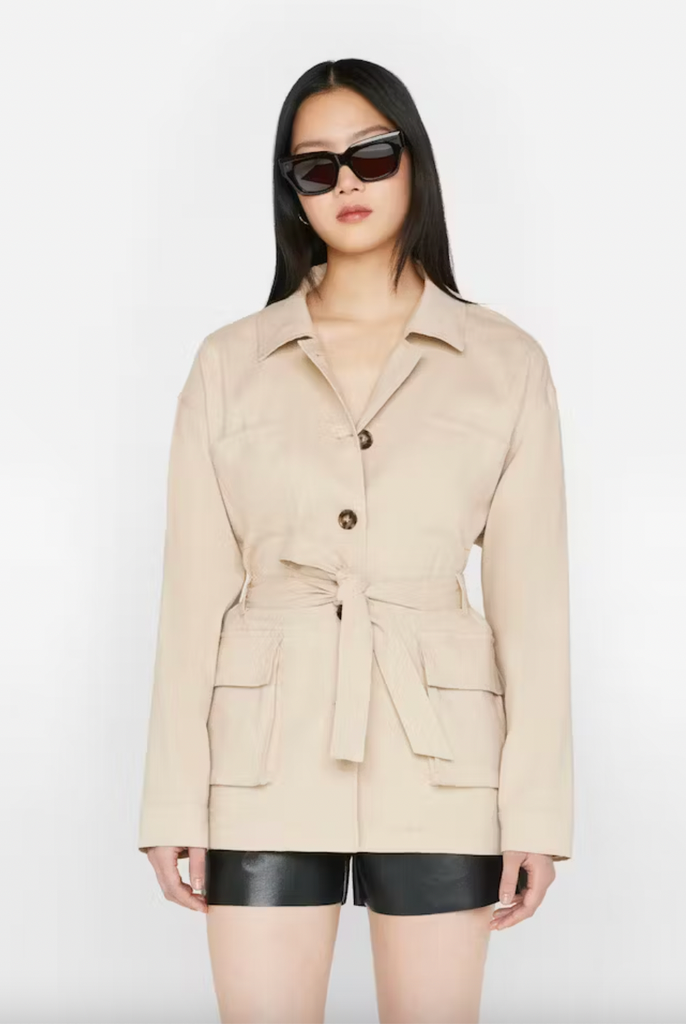 Feast your eyes on some of the line's most rich and treasured pieces — the classy outerwear options range from more fitted and tailored silhouettes to cozy and oversized designs. The styles touch upon modern trends like the utility trend and fall 2023's business-core basics but with an elevated aesthetic. Now the outerwear is crafted in luxurious fabrics like 100% lamb leather and ultra-lightweight linen.
At Refinery29, we're here to help you navigate this overwhelming world of stuff. All of our market picks are independently selected and curated by the editorial team. If you buy something we link to on our site, Refinery29 may earn commission.
Like what you see? How about some more R29 goodness, right here?
How To Style Jorts Like An R29 Editor
These Are Fall's Biggest Fashion Trends