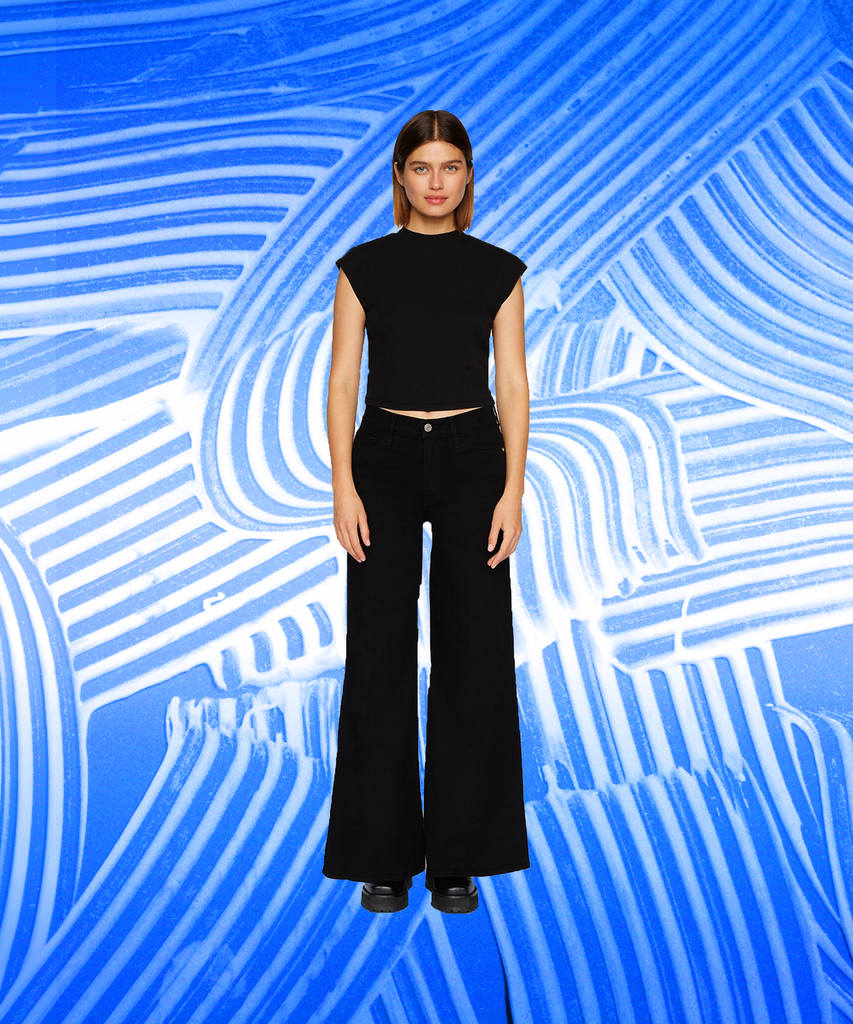 As a person who stands at 5'3″, I understand firsthand the struggle of finding a solid pair of jeans that doesn't need further alteration besides the usual cuff. While I've personally become very comfortable with buying regular-length denim and slicing the bottoms with a pair of fabric shears, I get that not everyone is into the frayed hem look. Additionally, not everyone has the budget or time to take their pants to a tailor who can preserve the original hem on their jeans.
You'll always meet fashion people who swear by a certain style of jeans or only wear ones from a particular brand, but even when you compare and contrast denim with other short-legged folks, the search for the best petite jeans feels like a never-ending game of trial and error — after all, what works for one body type won't necessarily work for another. (Though we always love fantasizing about a Sisterhood of the Traveling Pants moment.)
So, ahead — at the recommendation of fellow short fashion colleagues, friends, and shop reviewers — we present a list of our current favorite petite denim styles. This isn't a perfect or complete list by any means, but we did aim to cover brands that offer denim styles in an array of washes, fits, stretch levels, and silhouettes that are specifically suited for those who are 5'4″ and under. These jeans are also designed to be worn straight off the racks with no tailoring needed.
But, before you embark on your denim search, I highly suggest you first find your inseam and keep it handy in your Notes app — this number will be immensely helpful when looking at the size and fit details of a product. To determine your inseam, grab your favorite pair of (non-drop crotch) pants and measure the distance between the crotch and bottom hem. For a true petite style, this likely won't be any longer than 27 inches, although some brands like to think that 30 inches is a petite cut — which, ahem, it's not. (Most short folks I know have inseams in the 23–26-inch range.) With this inseam measurement, you'll have the power to find jeans that'll actually fit your bottom half; add an inch for a longer length or remove an inch for a high-water look. And be sure to flex the classic trick of searching for "Cropped" or "Ankle" length jeans at any retailer that offers those filters — y'know, the jeans that are cropped on taller folks but full-length on petites. Consider this an easy hack to quickly sort the short stuff.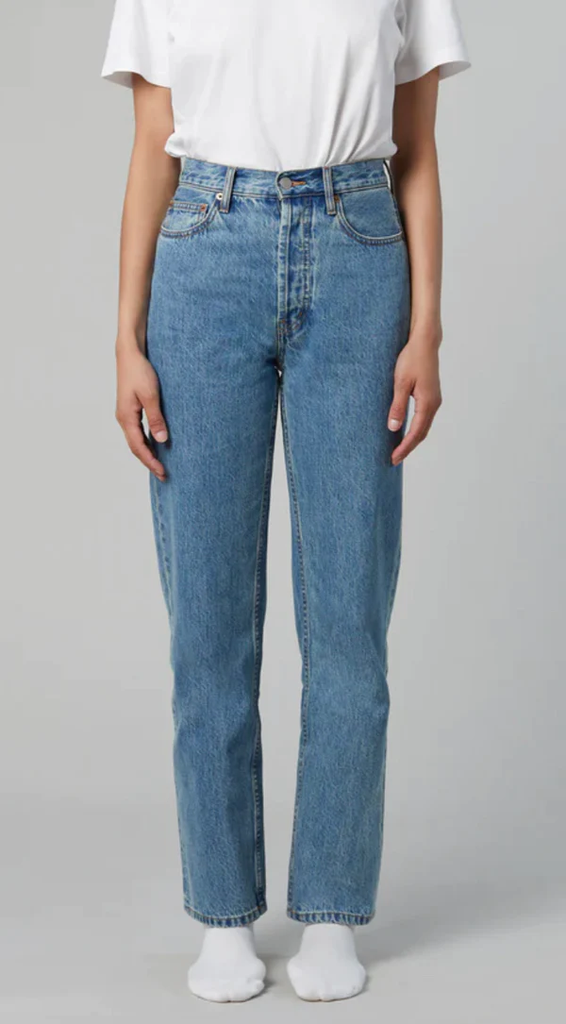 Still Here Childhood Jeans, $235
Still Here jeans have an endorsement from our very own senior partnership manager, Kate Spencer, who stands at a petite but mighty 5'1″. She loves how "the co-founder/creative director, Sonia Mosseri, is quite petite and produces most of the brands' styles down to a size 22, which is pretty rare in the denim landscape and wildly amazing for smaller-framed people." If that isn't a great endorsement for petite-friendly jeans, I don't know what is. Kate also recommended the Tate as another petite-friendly option as it's one of the brand's more cropped cuts.
Shop Still Here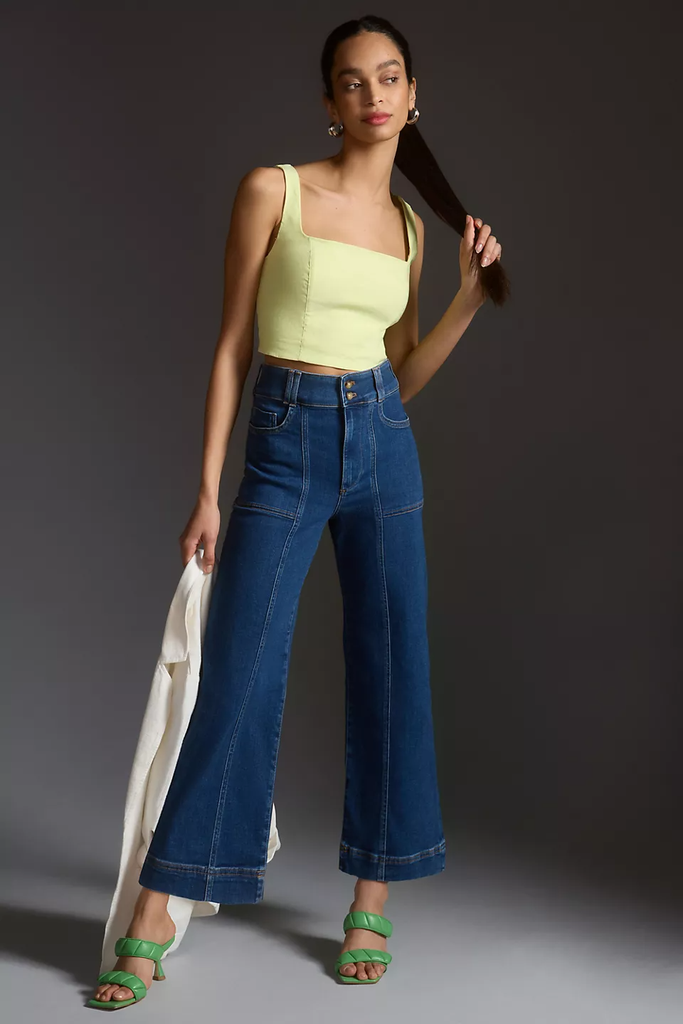 Pilcro The Skipper Seamed High-Rise Cropped Wide-Leg Jeans, $140
If you are looking for non-traditional, petite-friendly jeans, Anthropologie has quite a selection. The brand stocks plenty of fashion-forward styles like wide-leg paper-bag denim, dramatic bootcuts, and colorful cropped jeans. You can find plenty of standard options as well from house brands like Pilcro and beloved denim labels like Joe's Jeans and Good American.
Shop Anthropologie
Abercrombie & Fitch High Rise Skinny Jeans, $89
A&F specializes in size-inclusive denim, with styles available in sizes 23–37 in extra-short, short, regular, long, and extra-long lengths. No kidding! (You can read more about the brand's much-adored denim rebrand in our review here.) For petites, this is great news. For instance, this TikTok fave comes in both "Short" (25.5 inches) and "Extra Short" (23.5 inches). Writes one 5'1″ reviewer, "The material is durable and thick but has a little bit of stretch to it which is my perfect combo. It's enough to make you feel sucked in but stretchy enough to not have that rigid, stiff feel. Extra short is my perfect length and shows the perfect amount of my ankle so it works great with booties and boots that go a little higher up on the leg."
Shop Abercrombie & Fitch
J.Crew Curvy Vintage Slim-Straight Jean, $128 $94.50
Naturally, we asked our friends at the aptly named Small Girls PR to tell us about the denim they swear by. Mary Whitlock, the VP of the fashion and lifestyle firm, dishes this J.Crew style is the one for her: "I am 4'11" and curvy, so I have a very hard time finding petite jeans and these are the only jeans that have fit me without needing to be tailored in all of my years on this planet." Plus, the brand has an impressive filtering system where under the "Size & Fit" category, you can select "Petite" or you can search by "Length" and select "Cropped" or "Ankle."
Shop J.Crew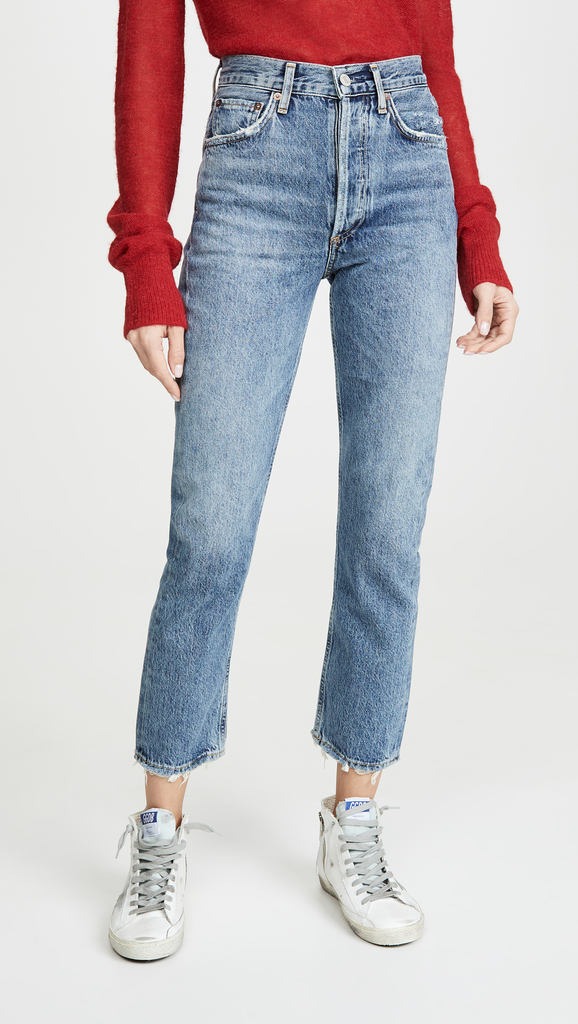 AGOLDE Riley High Rise Straight Crop Jeans, $188
While Shopbop is a clothing retailer and not a denim brand, it still makes this list because of its detailed sizing measurements and easy-to-use denim filter: Under the "Clothing" category, you can sort its massive denim collection by "Cropped Jeans" or "Ankle Jeans." One of Shopbop's most popular denim brands is AGOLDE, and this cropped jean has a very specific 25.25-inch inseam that petites love. "I'm 5'1″, 34B, 123 lbs. (hips/butt) and a true size 27 in all the other denim I own," writes one reviewer. "I think people need to realize, that Rise and Inseam will re-adjust your waist sizing[,] so I'm thankful Shopbop lists both of those because they matter for petite girls like me […] Also, being 5'1″ the inseam of 25.25 fits me like an actual pant (not cropped). Love the quality of this style and wash, you won't be disappointed if you get your sizing right. Trust me!"
Shop Shopbop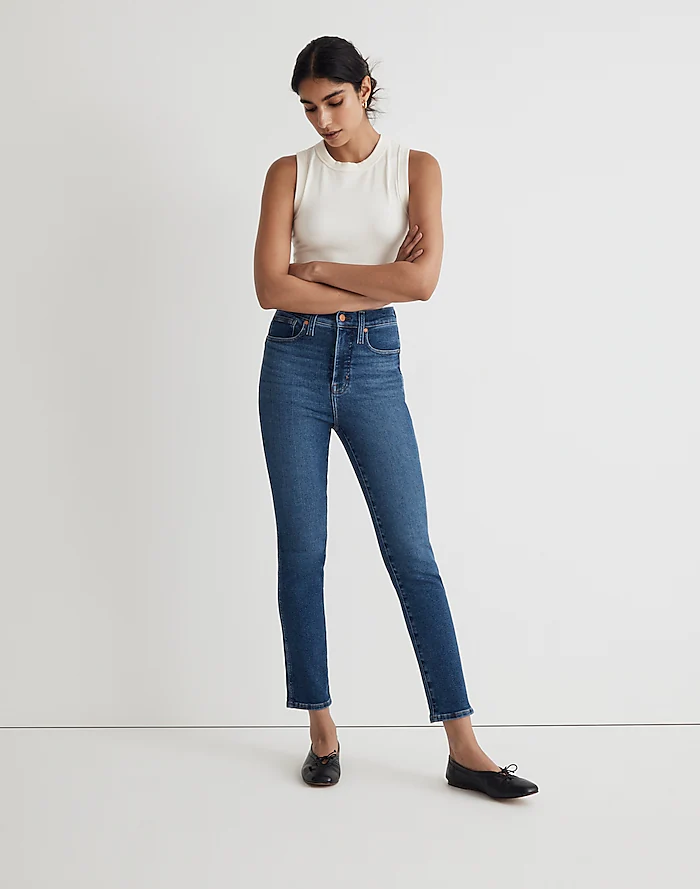 Madewell Petite High-Rise Stovepipe Jeans, $138
If you didn't know that Madewell has a whole Petite Perfect Vintage Jean collection (offering every kind of wash color imaginable), you do now. These best-selling petite-fit jeans come highly recommended by Refinery29's beauty and wellness writer, Karina Hoshikawa, who raves about the 25-inch inseams and lived-in vintage feel.
Shop Madewell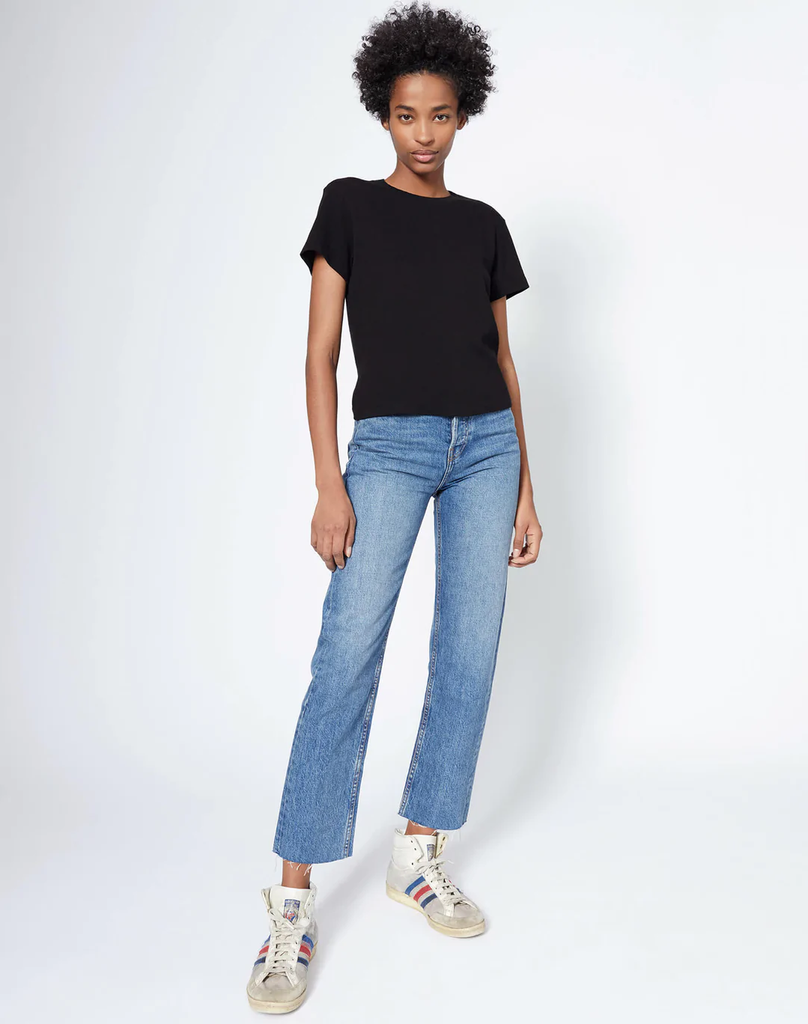 RE/DONE High Rise Stove Pipe, $265
RE/DONE is a denim brand that reworks and refurbishes vintage Levi's into silhouettes that are better suited for modern body types. It means you can expect lots of '70s-inspired rigid denim jeans on the site. This pair, with a 27-inch inseam, comes recommended by R29 Affiliate Strategist Kate Spencer who has a particular affinity for high rises, a looser leg, and zero stretch.
Shop RE/DONE
Everlane The Way-High Jean, $118
Everlane takes its jeans selection seriously — it even boasts a whole denim guide. While you can't conduct a general, one-filter search for petite jeans on the Everlane site, click around and you'll see that many of the brand's best-selling pairs are offered in a variety of lengths, like The Way-High Jean, which has an inseam option of 25.5 inches. Absolute chef's kiss.
Shop Everlane
AYR The Pop, $225
It's quite rare for a denim brand to offer two petite lengths (let alone one), but AYR is all about providing options. Customers have their pick of a 25- or 27-inch inseam, which may contribute to this jean's sell-out power. Currently ranking a 4.7 out of 5 stars from 1,350 reviews, the jeans have petite denim lovers saying things like, "These are the most comfortable jeans I've ever tried on, and I have tried soooo many designer brands. […] I am 5'2" and 112 lbs. and I got a size 26 with the shorter inseam which is perfect. I am usually wearing leggings on the weekend but so happy that I have a pair of jeans that is just as comfortable!"
Shop AYR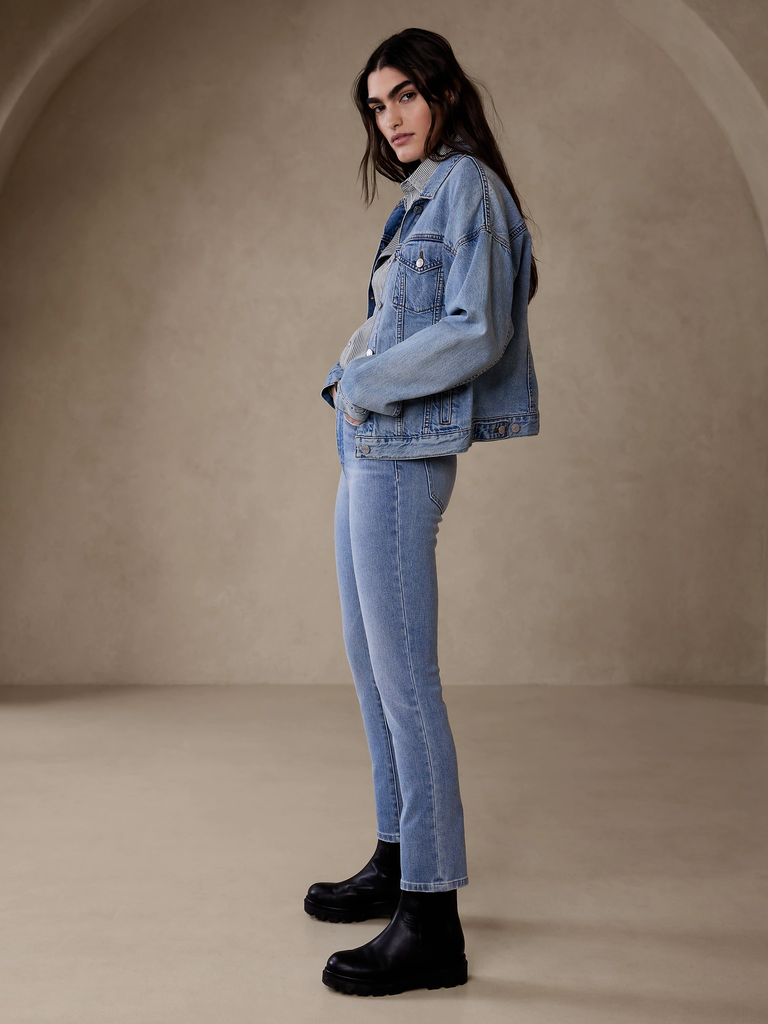 Banana Republic The Slim Jean, $110 $48.97
It's easy to get lost in Banana Republic's Denim Shop because there are tons of styles available in all washes and shapes, from skinnies to flares. (For the petite goods, head over to the Size category, and you have either the option of searching by "Petite" or by "Short.") Once you start poking around, you'll plenty of sleek styles such as these cropped jeans with a 26-inch inseam.
Shop Banana Republic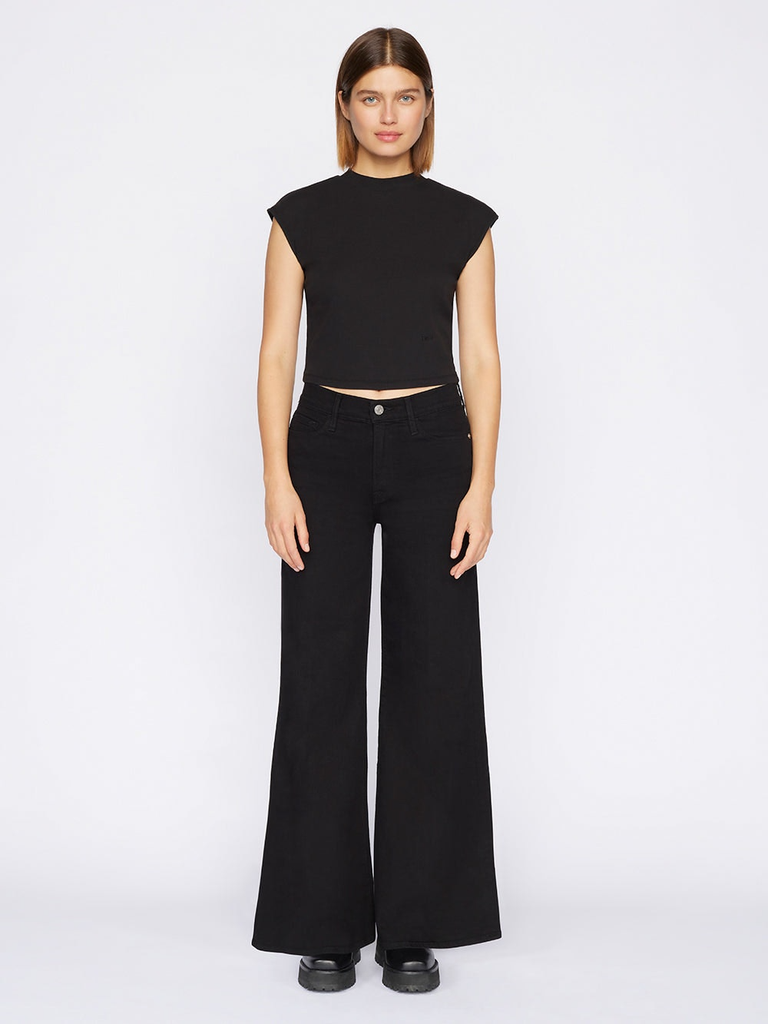 Frame Le Pixie Palazzo, $245
Unlike Rag & Bone, which tends to favor rigid denim, Frame is a premium brand that doesn't shy from super-stretchy denim. (This one's for fans of jeans that truly give.) For those who are on the shorter side, Frame even has a collection called Le Pixie, denim styles made for those 5'3″ and under. It's a revelation, considering that petite folks rarely are able to find silhouettes like palazzo or super wide-leg — and Frame offers flares that can actually accommodate anything from sneakers to cowboy boots.
Shop Frame
Gap Sky High Rise Cheeky Straight Jeans, $79.95 $19.97
Don't sleep on Gap jeans — they're better than ever. Plus, you can filter your search by "Length" (select "Ankle") for easy browsing. You also have your choice of selecting Regular, Petite, or Tall on individual product pages. This slightly destroyed jean comes in a gloriously petite inseam of 24.5 inches. Writes one reviewer, "Perfect length. Hits above the ankle which is so hard to find."
Shop Gap
Lee Relaxed Fit Straight Leg Jean, $48
Lee, the heritage denim brand, also offers petite inseams — but you'll find that these petite lengths are slightly longer at 28 inches, which is ideal for those with longer legs or for people who want to wear full-length jeans with, say, heeled booties. Plus, as a few reviewers have pointed out, it's difficult finding rigid denim jeans in plus sizes, and this classic style had a celebrated comeback. Writes one reviewer: "The 100% cotton construction is excellent! They are very comfortable. It is difficult to find plus-sized jeans that are 100% cotton that also fit very well. I am so happy I was able to find them. Lee, thank you for bringing back these 100% cotton jeans."
Shop Lee
Levi's Wedgie Straight Women's Jeans, $98 $69.98
Bianca Caampued, the five-feet-tall co-founder of Small Girls PR, tells us, "Before owning the agency, I was someone raised by and working at fashion magazines — in which Levi's was always the editor-approved gold star of denim. Luckily for me, the brand adjusts by leg length and not just waist width, so I can browse by 26-inch inseams specifically." Caampued has two immediate go-tos: the Wedgie Straight and the 501, both of which she assures no hemming or is cuffing needed.
Shop Levi's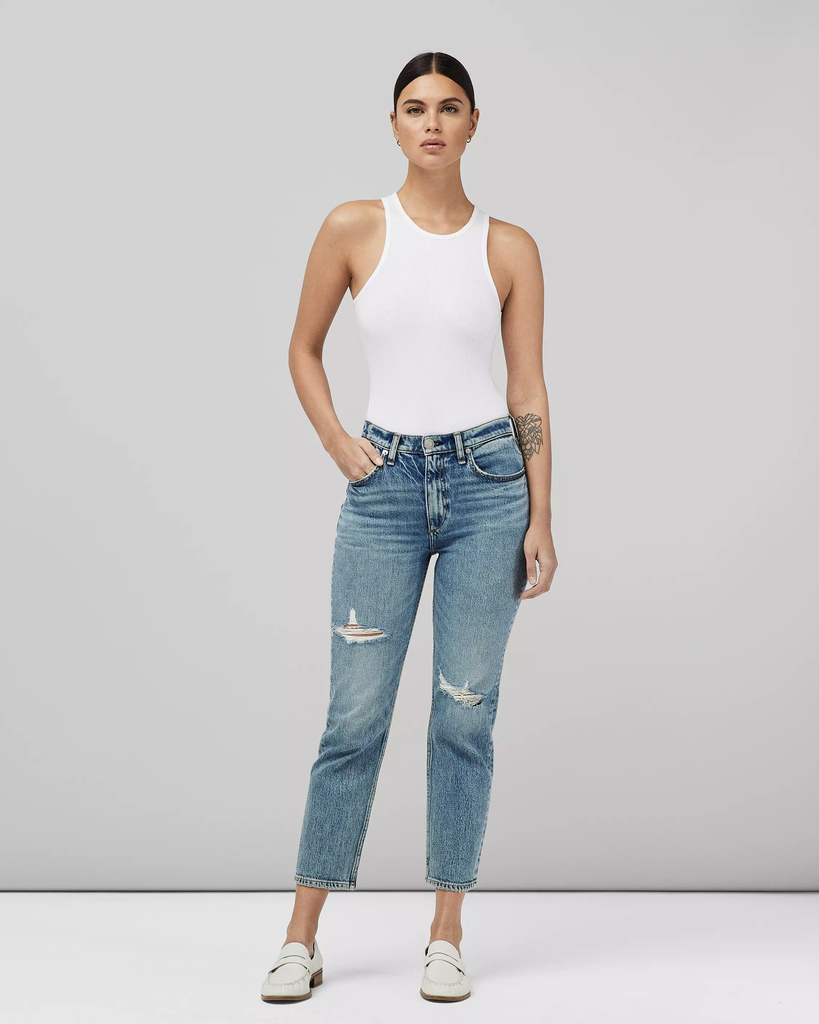 Rag & Bone Wren High-Rise Straight, $255 $126
One solid maker of premium American denim is Rag & Bone, which mostly releases skinny-to-baggy jeans with straight-ish legs in varying rises. There are plenty of Ankle and Cropped styles to be found in the brand's jeans department, with a petite-friendly length of a 27-inch inseam.
Shop Rag & Bone
Reformation Cynthia High Rise Straight Cropped Jeans, $148
Reformation isn't known for denim, but the brand's Petites section is definitely worth a browse if you're into trend-forward, going-out styles — without fail, there's always at least one or two pairs of jeans waiting to be scooped up by those looking for a 27-inch inseam.
Shop Reformation
Old Navy High-Waisted Slouchy Straight Cropped Ripped Jeans, $49.99 $19.97
Just like its "older sister" brand, Gap, Old Navy offers a similarly easy-to-use sorting system, which you can do so by "Length" (select "Ankle" and "Cropped"). This petite style has a 24-inch inseam, which allows even the most petite of gals to experience some level of cropped-ness. Says one pint-sized customer, "I love these jeans because they are the perfect length for my short legs. I'm 4'11", so finding jeans that end right at my ankle is such a challenge."
Shop Old Navy
At Refinery29, we're here to help you navigate this overwhelming world of stuff. All of our market picks are independently selected and curated by the editorial team. All product details reflect the price and availability at the time of publication. If you buy something we link to on our site, Refinery29 may earn commission.
Like what you see? How about some more R29 goodness, right here?
Are Skinny Jeans Actually Over?
I Tried On Plus-Size Jeans From 9 Popular Brands