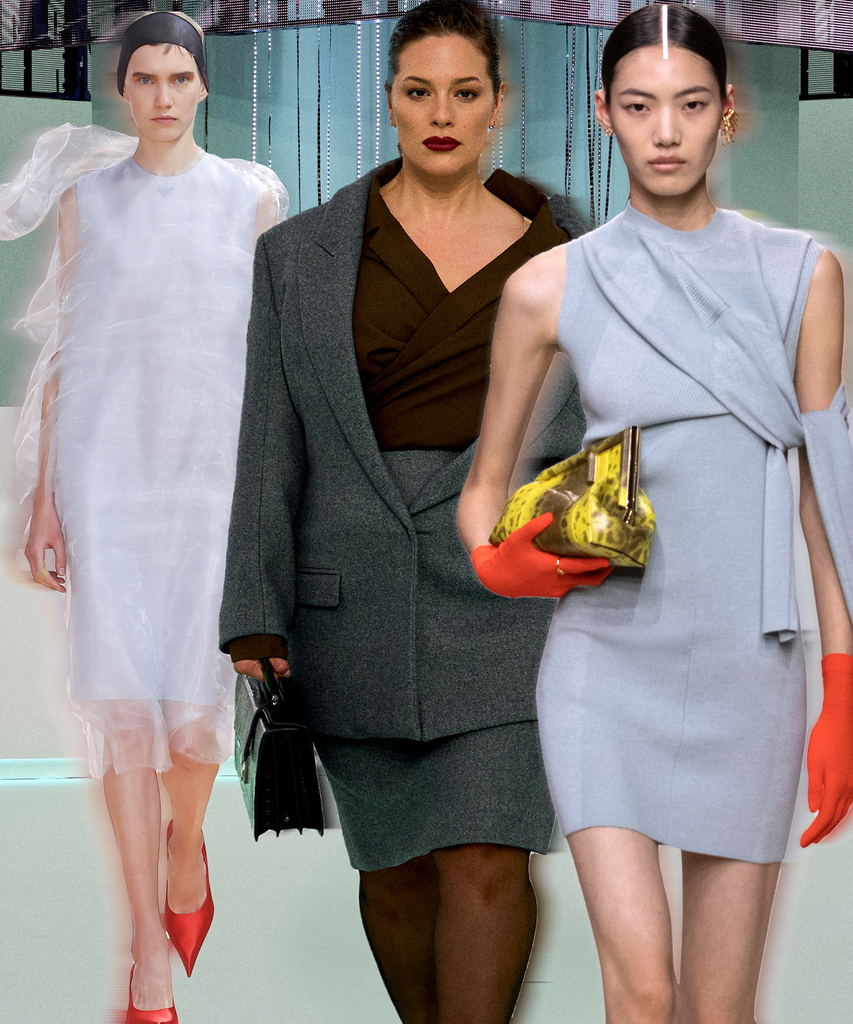 From New York to London, one of the biggest Fashion Week trends so far has been wearability and tailoring, with wardrobe staples like oversized blazers, boxy shirting, and skirts and pants with asymmetrical waistlines and hemlines making as many waves on the red carpet as the more show-stopping pieces. This was made even more evident in Milan last week. From Sabato De Sarno's beautifully austere Gucci debut to Prada's pared-back runway collection that you can see living in your closet for years to come, designers went back to basics for Spring 2024 collections, albeit in the most sophisticated way possible. 
This doesn't mean that the collections presented were boring. If we are to believe the Italian runways, workwear will get a subversive twist in the next six months, making getting ready for a day at the office as an exciting endeavor as for a night out. In time for warmer weather, sheer fabrics and as little clothing as possible will emerge in response to the coat-filled months that came prior. And Y2K styles that have dominated the last few seasons will (likely) get their last chance at the spotlight before the fashion industry moves on to throwback trends of the 2010s.
Ahead, these and more must-haves from Milan Fashion Week S/S '24 runways to get started on your 2024 spring wardrobe now.
Corporatecore Come Undone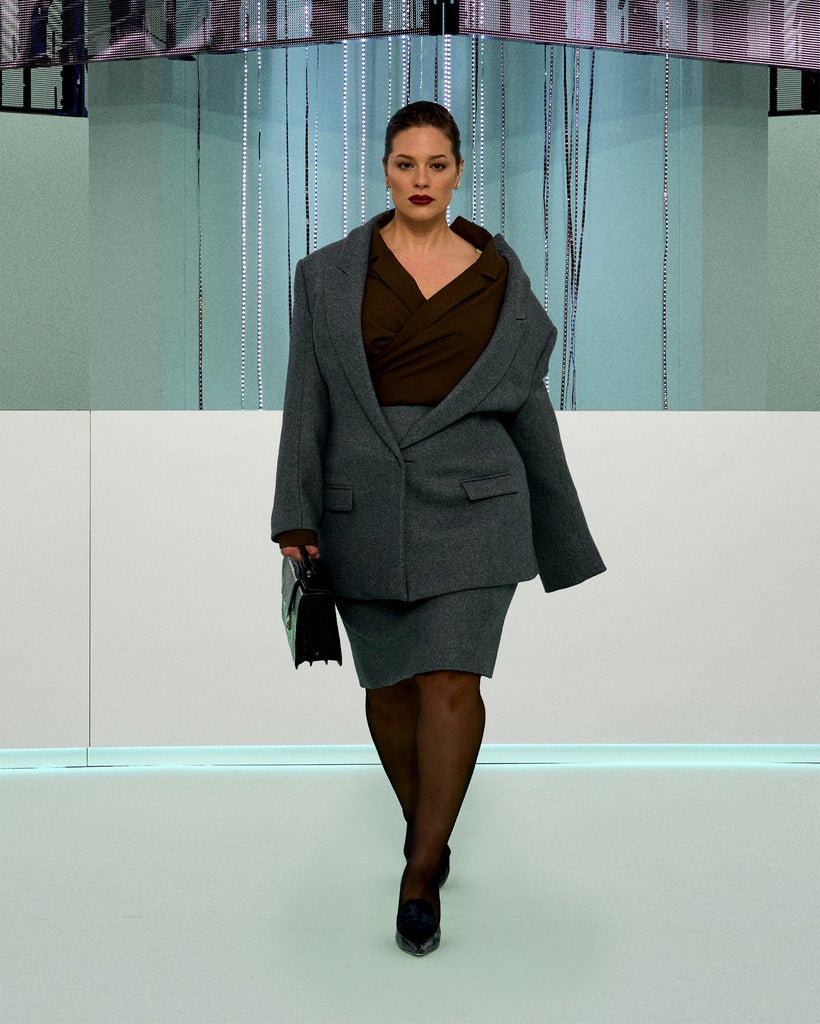 It was all business this season in Milan. But rather than literal office wares, designers showed a more undone side of workwear. Think: apparel that could take you from a late evening at the office to an all-night rave and back to the office in the morning, with no change of clothes in between.
Ashley Graham walked in an asymmetrical blazer that appeared torn in the back at Boss, a "CorpCore" show that looked at the intersection of humanity and technology and was opened by Gigi Hadid in an equally oversized blazer and a strewn-open pussybow shirt that revealed her bra. Elsewhere, Bottega Veneta and Fendi sent out models in tailored pants that seemingly were coming undone at the waistline and SportMax and Bally showed lopsided pencil skirts that looked like they got caught in the copy machine.
The Color Blue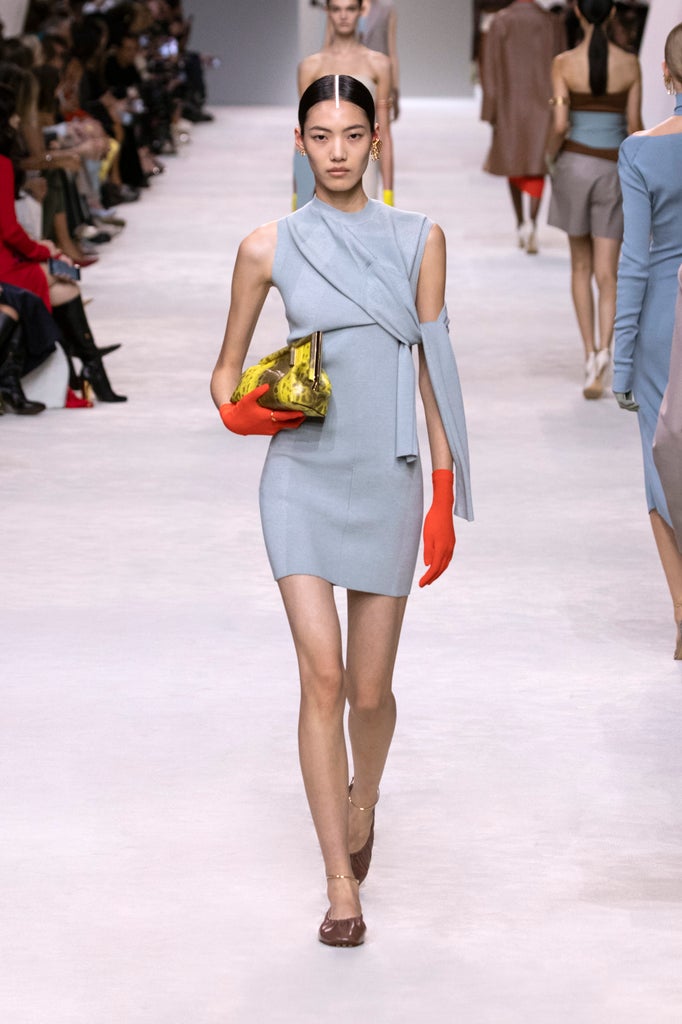 Not quite gray, not quite sky, a subdued shade of dusty blue marked Milan's runways starting with Fendi, one of the first shows of the week, before making its way to Prada, Tod's, No.21, and more. While the color could double as a neutral for spring, especially when paired with similarly soft shades like sage (another popular hue this season!), gray, and pastel yellow, the color's rich style potential was brought out when mixed in with richer colors like a fiery orange-red and chocolate brown, as seen at Fendi.
Underwear As Outerwear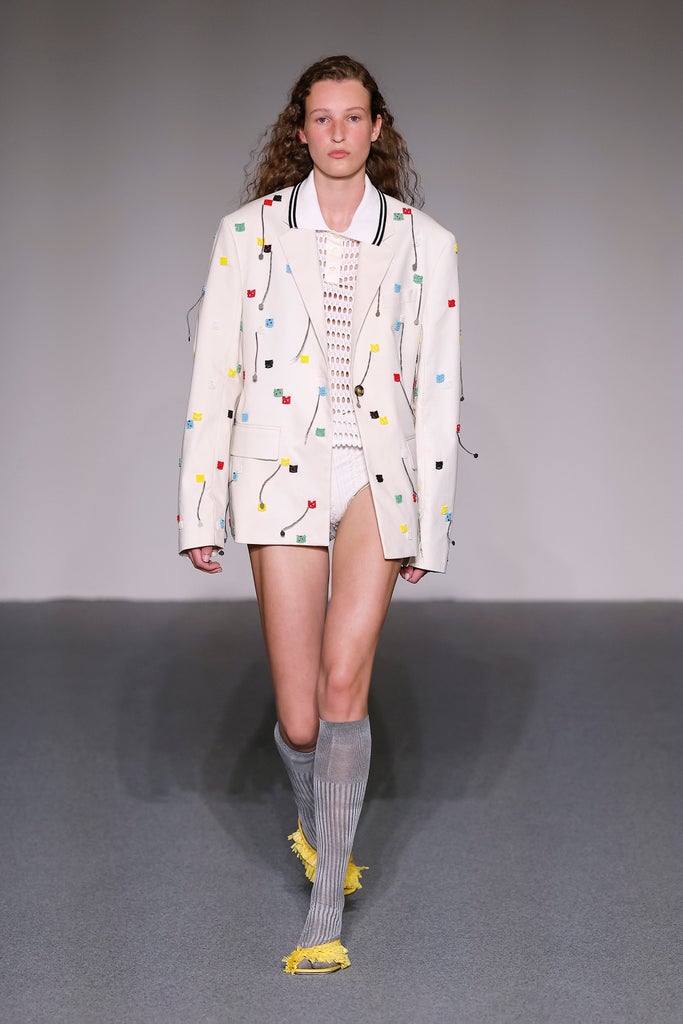 The no-pants trend will continue well into next year, according to designers like Ferragamo, Versace, and MSGM who showed underwear paired with coats, jackets, and blazers. Taking the trend even further, Blumarine — the brand known for its butterfly tops — showed a pair of equally risque butterfly underwear, while Diesel sent out trompe l'oeil-esque clothing that had undergarments printed on them. Above the waist, bras will replace tops and be worn underneath blazers and coats, a styling technique used at Philosophy Di Lorenzo Serafini, Etro, and Alberta Ferretti.
Fancy Cargos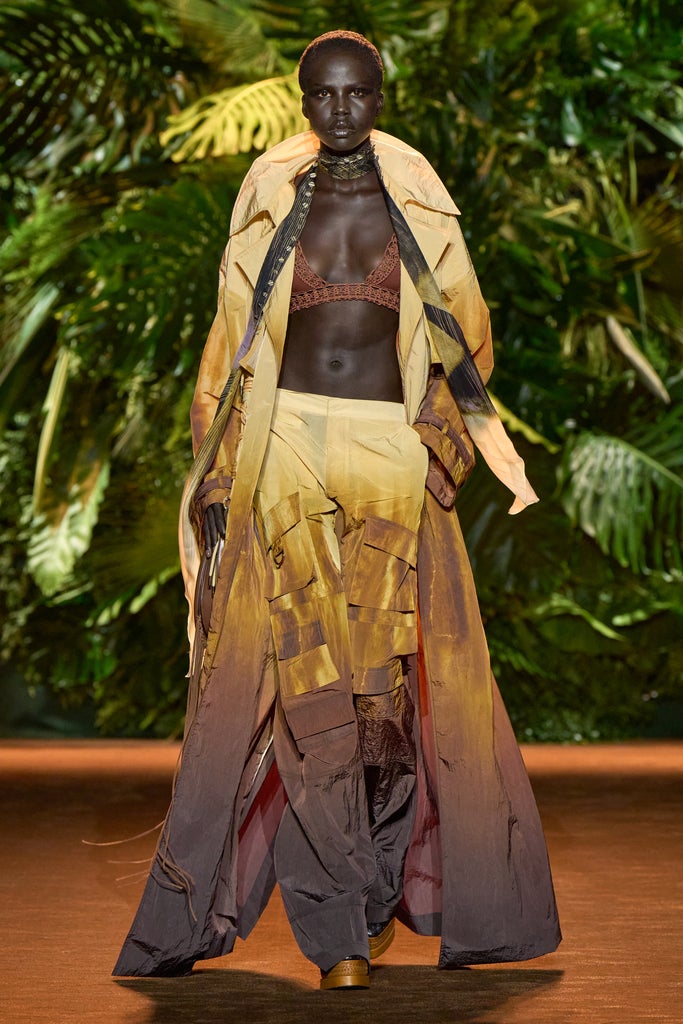 Looks like the cargo pants aren't going anywhere either. But while Diesel, which hosted a 7,000-person rave in lieu of a traditional fashion, showed a pair of utilitarian denim cargos with pockets running down the front and MSGM sent out a dip-dyed version, other brands like Iceberg, Roberto Cavalli, Andreadamo presented leather and silky, tailored versions of the Y2K favorite that, in its new sleek iterations, wouldn't look out of place at a party or even work.
Sheer Perfection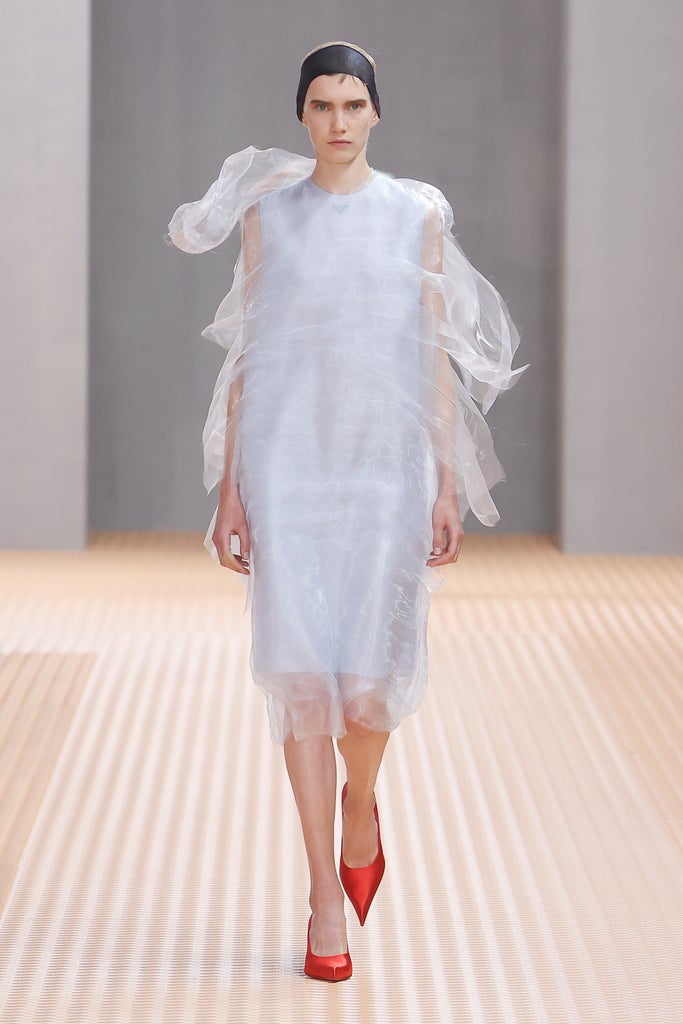 No look was as ubiquitous on the runways of Milan as the sheer trend. Prada wowed with dresses that featured gravity-defying gauzy fabric that drifted behind models — a favorite look of the style set present at the shows — while Blumarine presented entirely see-through dresses and Ferrari showed a delicate Lurex-ish pencil skirt worn over a pair of branded briefs. While sheer fabrics dominated the category, other variations of the naked trend included crochet (Tom Ford, Emporio Armani, Genny), paillettes (No. 21, Attico), and chainmail (Philosophy Di Lorenzo, Moschino).
Not-So-Basic Basic Tops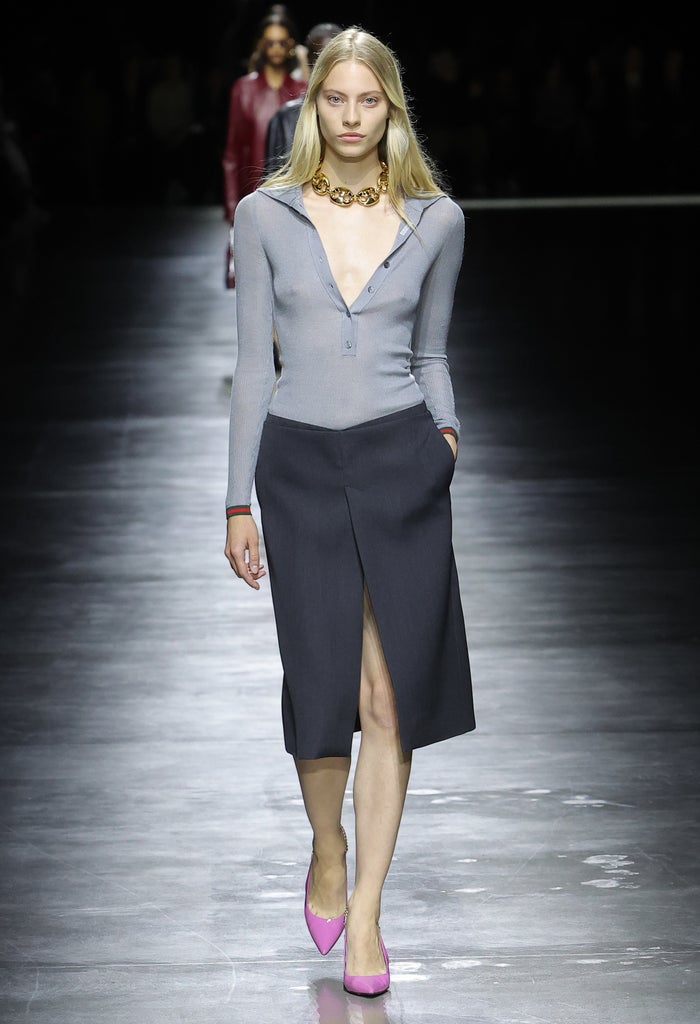 One of the biggest highlights of Milan Fashion Week was De Sarno's debut collection for Gucci, a showcase of minimalist craftsmanship in its purest form. That doesn't mean it lacked stunning details — far from it. For proof, see the exquisitely tailored pencil skirt with waistline details that was paired with… the simplest of henleys.
Henley bodysuits also appeared at Tom Ford, where the minimal look was dressed up with an architectural belt and chain necklace, and Andreadamo. Other only-on-first-glance-basic tops — polo shirts, short-sleeve button-downs, and tanks — also appearanced at MSGM, GCDS, Bally, Tod's, and Philosophy Di Lorenzo, made more special when paired with statement-making skirts and structured blazers.
Mixed Metal(lic)s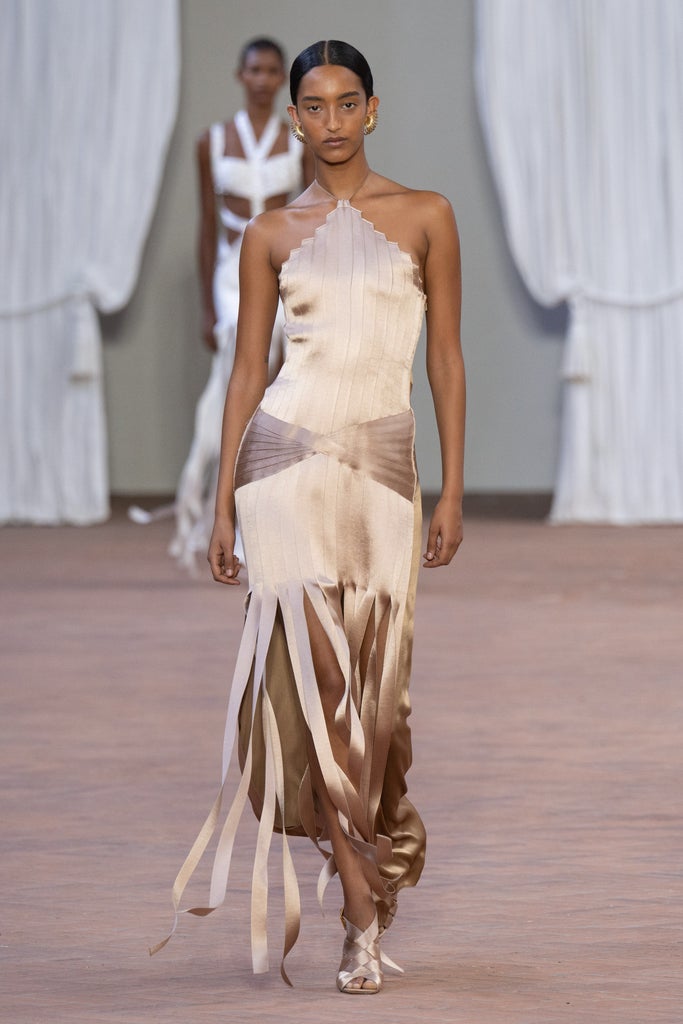 No need to pick between gold, silver, and bronze next spring. The runways provided an option for every Olympic medal enthusiast with liquid metal-like clothing that sparkled with every step. While we're partial to the metallic-on-metallic look a la suits at Tom Ford and Brunello Cucinelli, matching separates at Blumarine and Genny, and dresses at Alberta Ferretti, more subtle styling suggestions were made at brands like Giorgio Armani in the form of silver pants paired with a knit top and a bronze peplum top worn with slacks.
At Refinery29, we're here to help you navigate this overwhelming world of stuff. All of our market picks are independently selected and curated by us. All product details reflect the price and availability at the time of publication. If you buy or click on something we link to on our site, we may earn a commission.
Like what you see? How about some more R29 goodness, right here?
The Best 2024 New York Fashion Week Street Style
Shop The Most Wearable London Fashion Week Trends