Somewhere in the midst of after-work park hangouts and sunny trips abroad, the forecast has started to dip into fall territory (how dare it?!). While this may require us to remember additional layers in the morning (and, depending on where you live, regret them by the afternoon), fall's arrival doesn't mean that winter hibernation is here just yet.
Often hailed as the season of fashion, fall is the perfect time for outside activities *without* the massive sweat stains or the animosity towards every fabric that is thicker than cotton or linen. It's the season for a (literal) breath of fresh air. Whether you'll be embracing the cooler season with your take on Fashion Week trends or sticking to your comforting favorites this season, the one thing that everyone is going to need is a good, solid coat. While it's definitely not necessary to buy a brand-new piece as soon as the weather changes, it's always helpful to know which styles will be thriving and/or making a comeback for the upcoming season. 
If you're on the market for a new coat, we've curated our favorite pieces available now. And if you're not, feel free to use this list as a reminder of what you might already have in your wardrobe, or what to look out for on your next secondhand shopping spree. 
Fall Outerwear Trend 2023: Full-Length Tailored Coats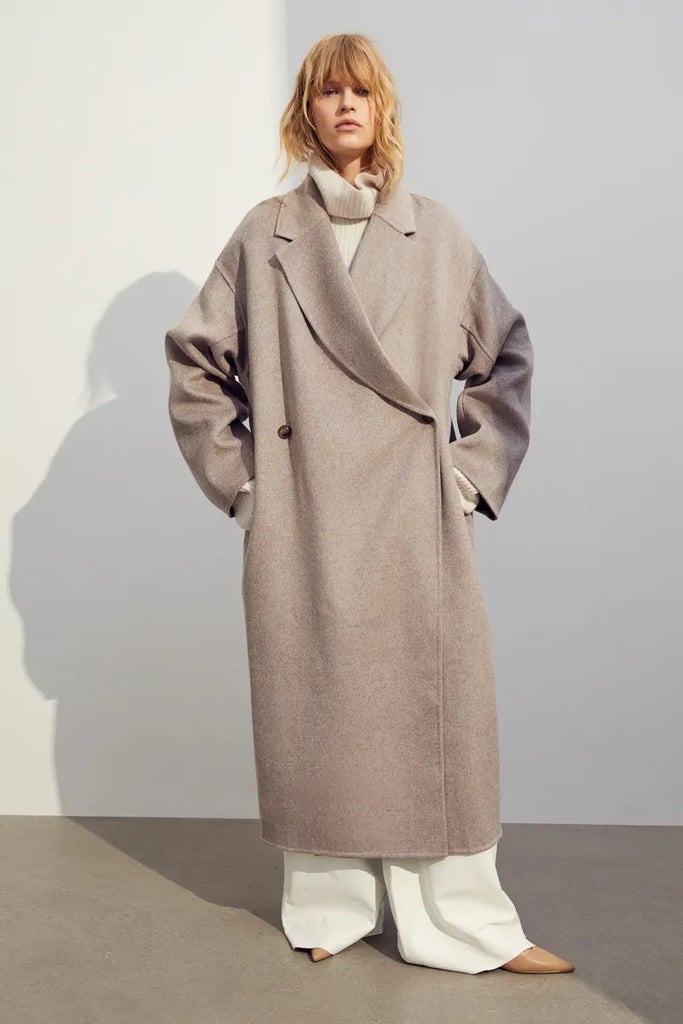 In line with the maxi skirt trend that has persisted all year long, the maxi coat is fall's counterpart for adept, easy styling. Popping out from the flat to the shop on your lunch break? A floor-length coat will hide your coffee-stained sweats and give the illusion of effort. Struggling to find a coat for all your going-out 'fits? This extra-long layer will do the trick. It's giving style queen Sofia Richie Grainge. It's giving, "Is she or isn't she a fashion influencer?" P.S., for the tall and petite girlies, look for coats in your respective ranges to ensure the perfect ankle-grazing length.
Fall Outerwear Trend 2023: Leather Shackets
If you can cast your mind back to the year 2020, shirt jackets (i.e., shackets) were at their peak popularity; just in time for our lockdown walks, the shacket became an outerwear go-to. Fast-forward to 2023 and the shacket trend is still going strong; now with a strong pull towards leather (or faux leather) and vintage-inspired aesthetics, particularly of the '90s and Y2K variety. Dress this one up or down. Bonus: you can find plenty of secondhand of this throwback trend.
Fall Outerwear Trend 2023: Quilted Coats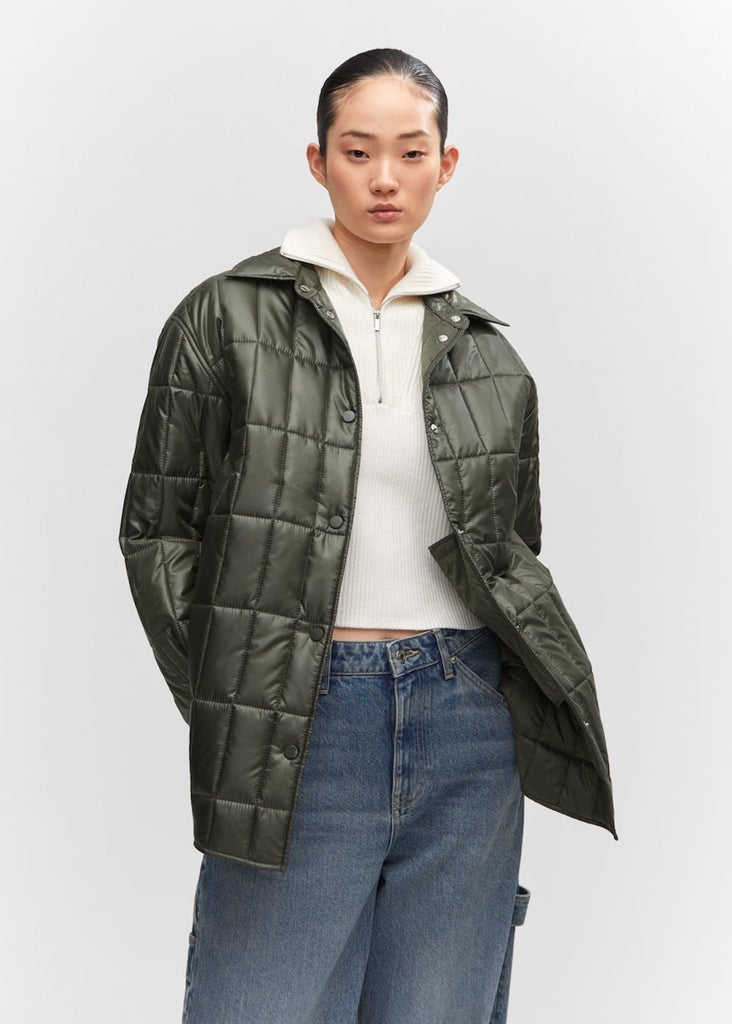 It may not be puffer season yet, but the desire to be wrapped up in a duvet is very much a year-round mood, especially on those wet and rainy fall days. Bridging the gap between coverage and style, we present to you the quilted coat: a layer that is comfy, cushiony, and still light enough for the fall months. The best part is, you can find a style to suit any kind of aesthetic, from packable liners to boxy patchwork jackets and bright-colored statement pieces.
Fall Outerwear Trend 2023: '70s-Style Fur-Trim Coats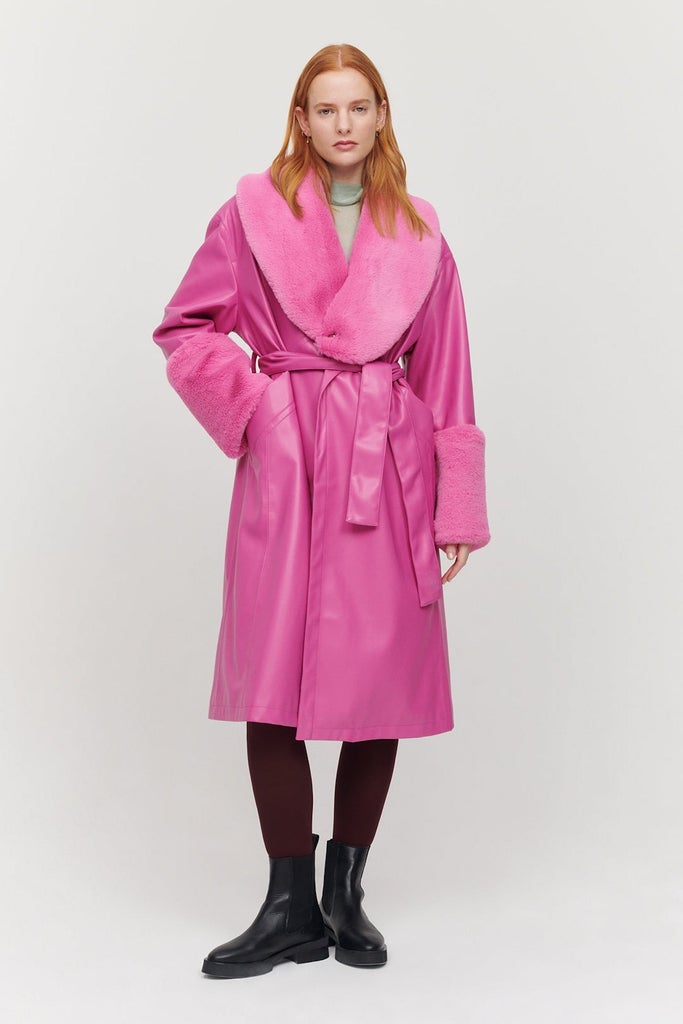 If we're talking about statement coats, there's nothing quite like a '70s-inspired (faux) fur-trim coat — oh yes, we're doing drama. What feels like an update on last season's Penny Lane coat obsession that dominated fashion TikTok, this trend will really gain momentum later this year. Whether it's trendsetters like Adwoa Aboah — who sported this bright pink (vintage Dior!) number earlier this year — or the Daisy Jones & The Six fandom who are inspiring this trend, we can guarantee this one will turn heads and keep you warm at the same time. Plus, many of the styles come with removable trim for that extra bit of versatility.
Fall Outerwear Trend 2023: Racer Jackets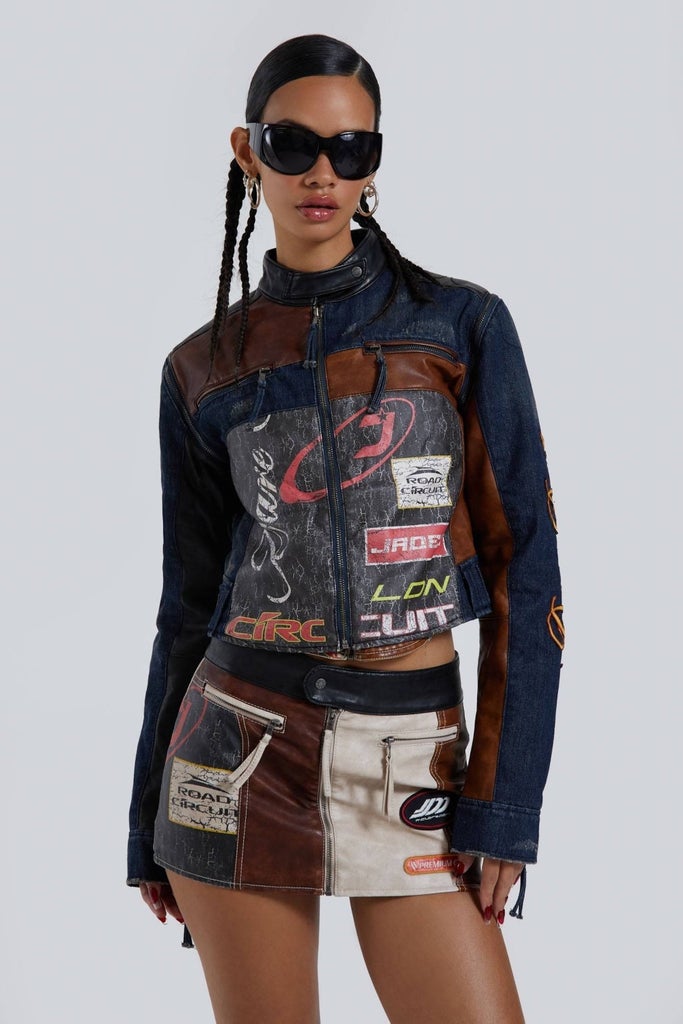 Another trend that started cropping up last year and is now entering its prime is the racer jacket, equipped with motocross-inspired detailing like patchwork logos and color-blocked panels. While you can find a unique, authentic racing jacket from thrift and vintage stores (which, by the way, are likely to be thicker and more durable), there are now plenty of reimagined silhouettes now available out there, too. Just like your staple leather jacket, the racer jacket can be styled over a dress or skirt for a delightfully contrasting aesthetic, or with jeans and a trucker hat to really bring this one home. 
At Refinery29, we're here to help you navigate this overwhelming world of stuff. All of our market picks are independently selected and curated by the editorial team. All product details reflect the price and availability at the time of publication. If you buy or click on something we link to on our site, Refinery29 may earn commission.
Like what you see? How about some more R29 goodness, right here?
The Best 2024 London Fashion Week Street Style
22 Outfits To Inspire Your Fall Look