The process of getting dressed is usually as follows: Pick out whichever articles of clothing we're gravitating toward that day, follow with a handbag and some jewelry, and then, finally, choose a pair of shoes before running out the door.
But New York-based fashion stylist Angelica Renee suggests beginning with footwear instead, which she considers the pièce de résistance that ties everything together. "Shoes have the ability to set the tone and determine the overall vibe of your look," she says. "I think it's important to build your outfit around them, especially when we're not only choosing our footwear based on style but also practicality this time of year."
And this "almost-but-not-quite-winter," in-between season can feel nearly impossible to dress for, but Renee insists that it doesn't have to feel so hopeless — she believes it's the perfect opportunity to experiment with your personal style. "We're already layering to keep ourselves warm, so why not have fun with it?" she says. For this reason, she recommends embracing color rather than opting for black and subdued earth tones that are more popular this time of year. "Don't be afraid to mix them either; every color can go together if you want them to."
To provide you with some sartorial inspiration, we partnered with Clarks to create three different cold-weather-appropriate looks that you'll *actually* be excited to wear, all based around the brand's iconic Torhill styles. Ahead, Renee breaks down each outfit, starting from the ground up.
The Unexpected White Boot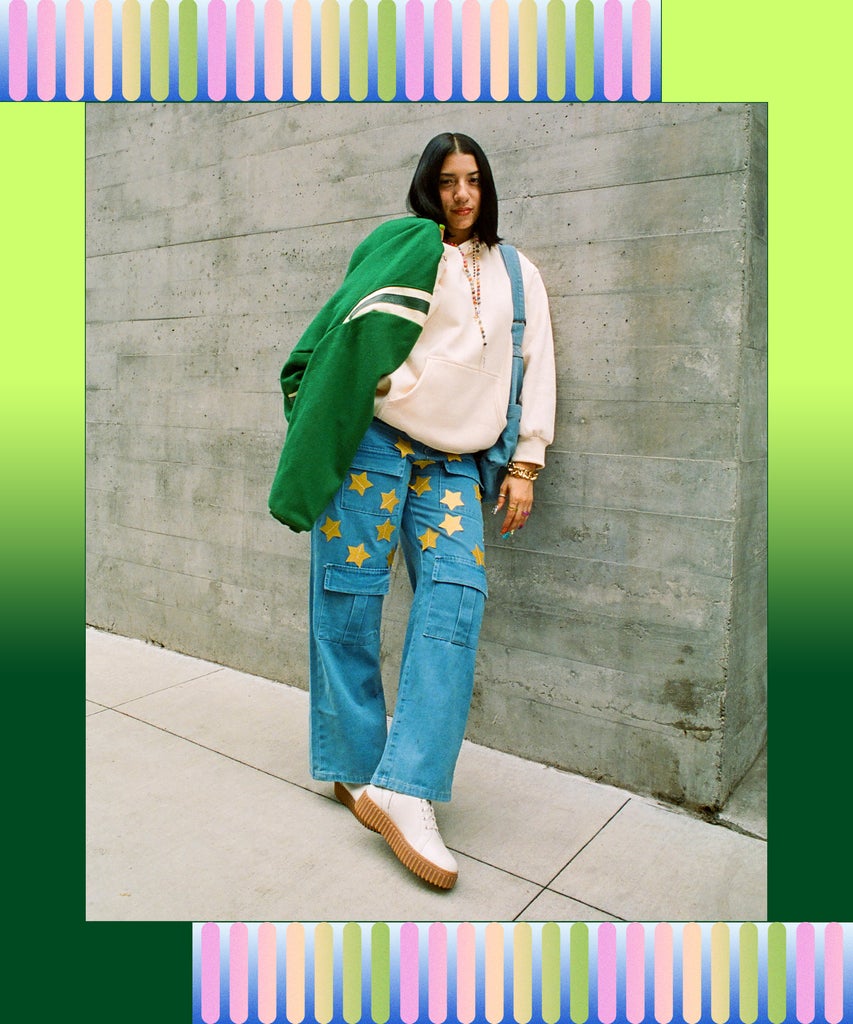 The second temperatures drop below 50, comfort becomes a priority when dressing for every day, but there's a way to achieve that without taking the most obvious route. Rather than reaching for a basic white sneaker, opt for a chunky, flat white boot to instantly feel more polished and put-together. The creamy off-white hue of the Torhill Rise is subtle yet unexpected, "Plus, the chunkiness of the sole lends a little attitude without being too in-your-face," she adds.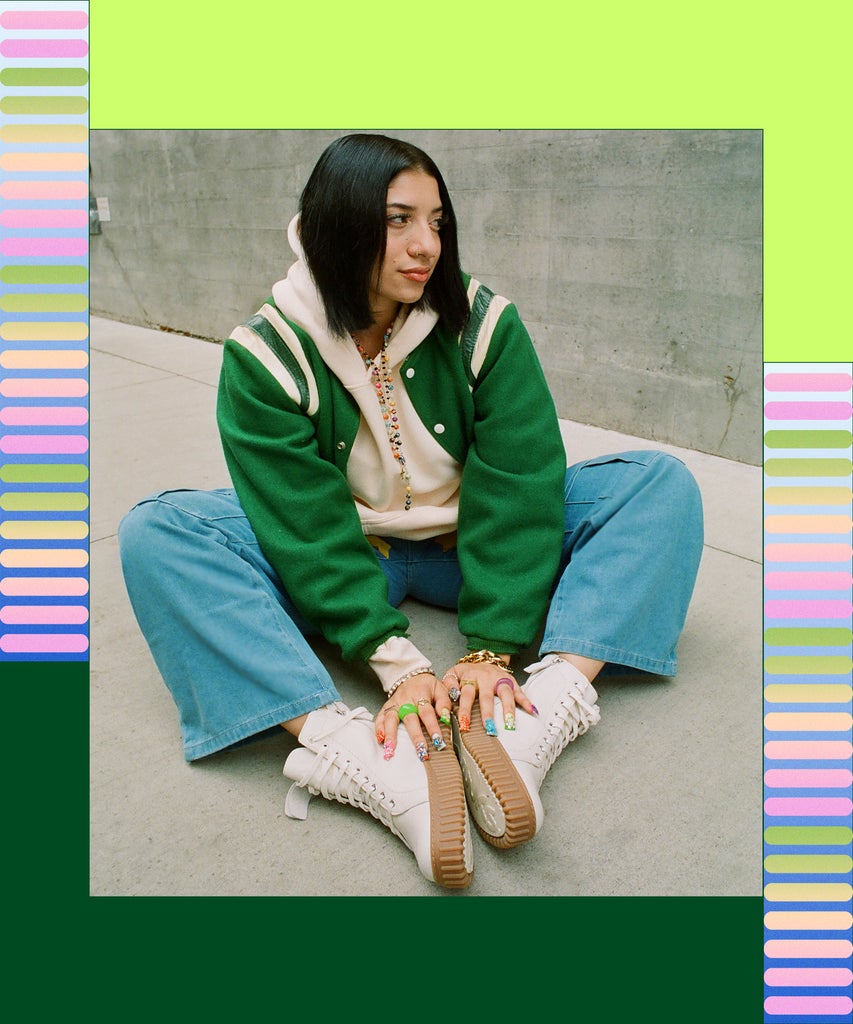 She finished off her fit with a bold letterman jacket and even bolder accessories. "It's really all about the layering," she says. "Overall, it may feel simple — jeans, a hoodie, a jacket — but styling with polished boots and pieces with special details, like my custom jeans, really changes the overall feel." 
For the rest of this streetwear-leaning look, Renee paired a cozy hoodie with her comfy pant of choice: the cargo jean. "The oversized fit and softer denim means they won't feel restricting, and they can elevate a hoodie more so than pairing it with matching sweats," says Renee, who customized this pair by adding the star details, something she does often to add more interest to plainer pieces in her closet, whether through sewing on fabric patches or using paint. "If you can't find something you're envisioning in a store, there's probably a way to DIY it yourself." 
The Loud Animal Print Shoe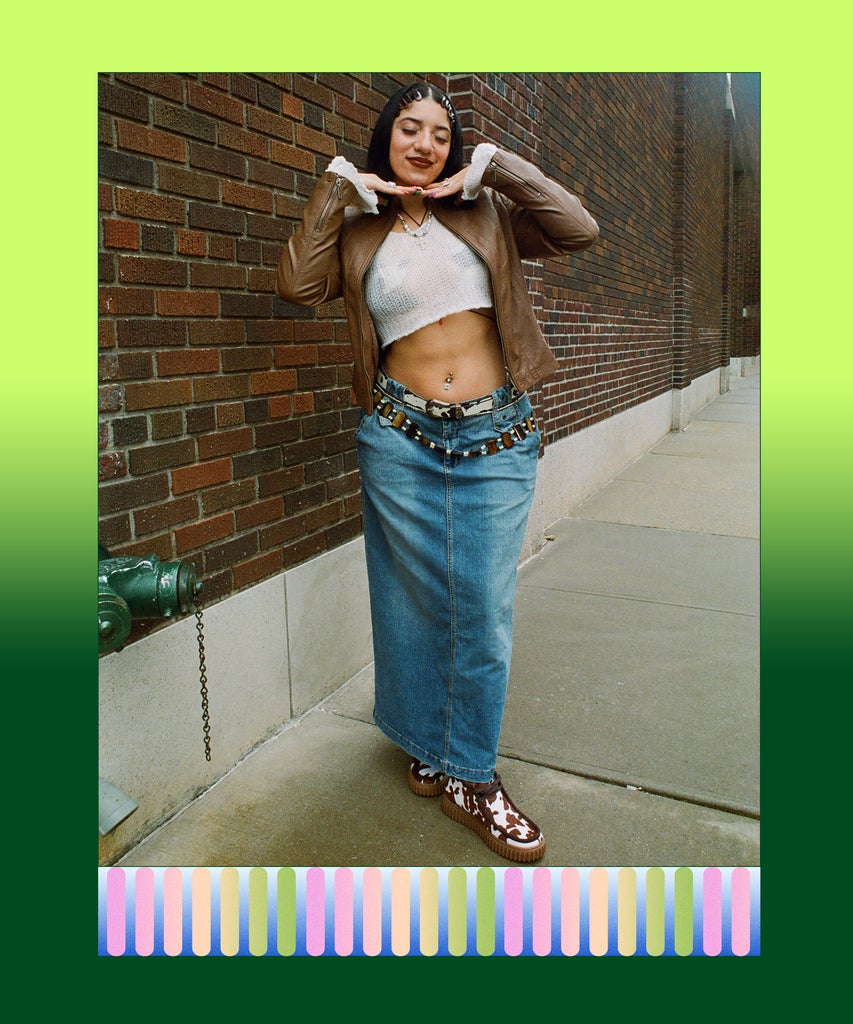 For this Y2K-meets-cowgirl ensemble, Renee started with an animal-print shoe, matching smaller details along the way for an outfit that is, as she describes, "very 'look at me.'" The Torhill Hi in cow print is not only a fun alternative to classic leopard, but it also infuses a little Midwest inspiration into any look. "It's a much more comfortable alternative to the cowboy boot, given the relaxed silhouette," says Renee. What's more, the chunky sole also provides you with more grip on slippery pavement than the stacked leather or wooden heel of traditional cowboy boots.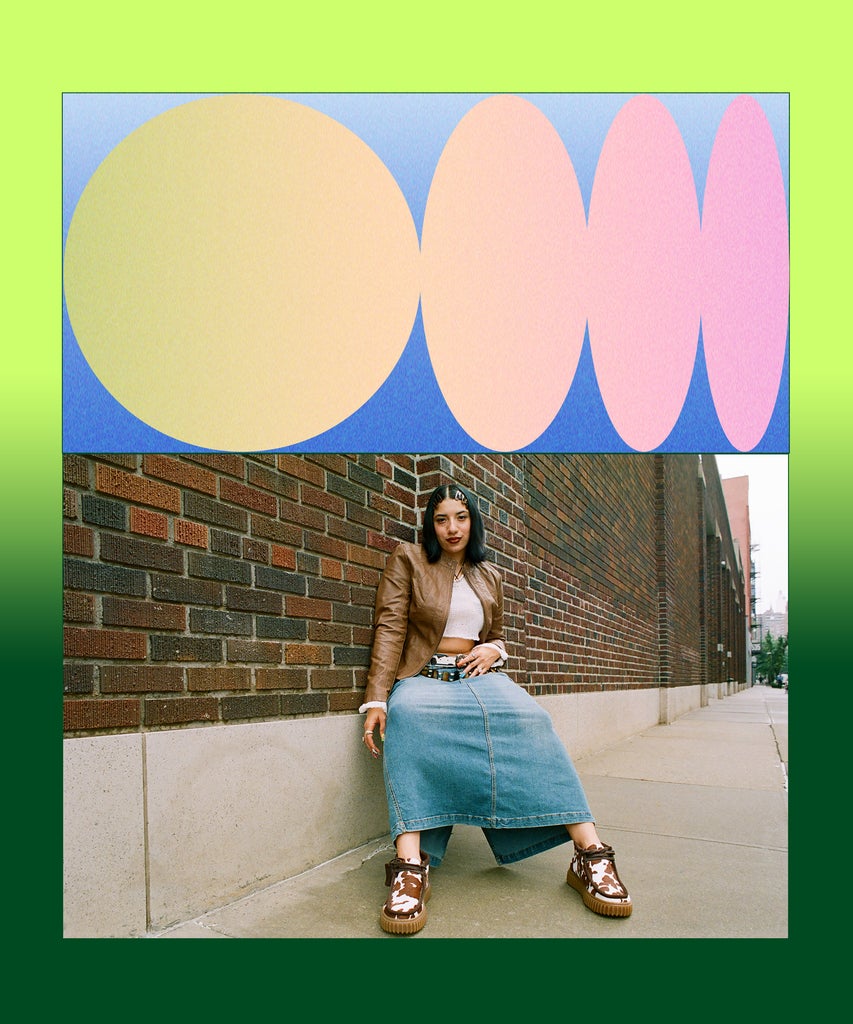 When styling an animal-print shoe — or any printed shoe for that matter — Renee recommends tying the look together with equally flashy accessories, as she did here with a double belt and printed bra top. "The shoe is loud in itself, so you don't want to overdo the rest of the outfit to the point that you're taking away from it," she says. "You want the shoe to be the main focus." 
With that in mind, she kept the majority of the pieces solid, toning down (and warming up) the bra top by layering a sheer cropped sweater and leather jacket over it and pairing it with a denim maxi skirt. "Overall, it feels very nighttime, but since the skirt is denim, it can work just as well for day — plus, the length adds a touch of modesty to an otherwise skin-baring look," she says. 
The Chunky Loafer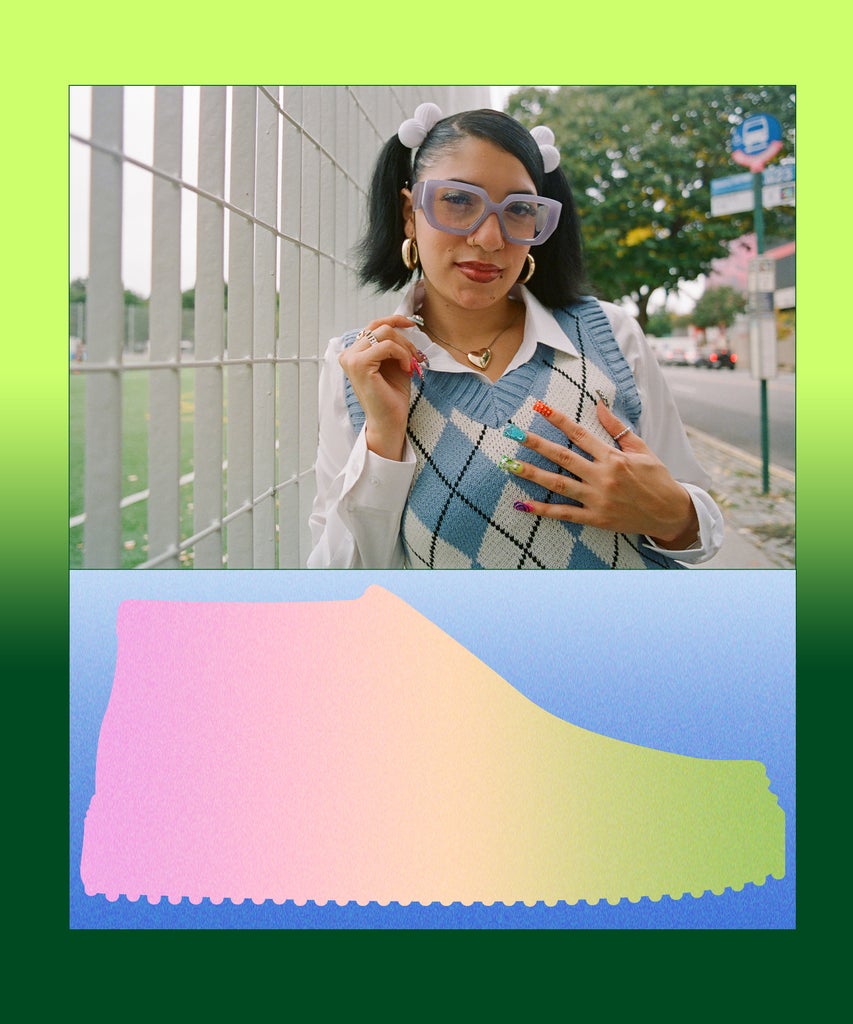 Loafers have been having a moment in recent seasons, particularly this past summer when sensible flat shoes reigned supreme. But despite their ankle-baring silhouette, you don't need to pack them away until the early days of spring. "Loafers expose your ankles to the elements, which isn't ideal in cold weather, but there's a lot of opportunity for layering to stay warm (and cute) — think leggings, socks, leg warmers, or a combination of the three," says Renee.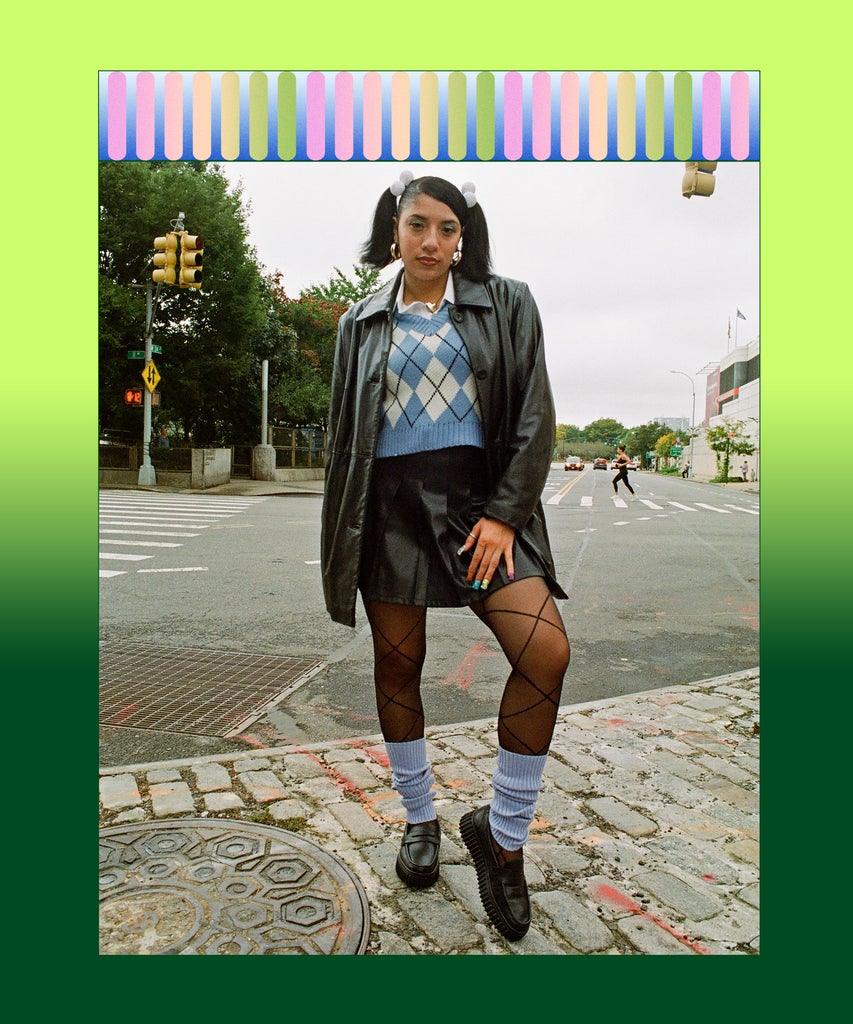 When styling the Torhill Penny, a chunky take on the classic penny loafer, Renee chose to go for a dark-academia-meets-'90s grunge-inspired ensemble, layering printed tights underneath a pair of leg warmers for added warmth. "Pairing a sweater vest, button down, and pleated mini skirt with loafers is giving preppy, yet the grungier elements — the clunkiness of the sole, the oversized vintage leather jacket — make it feel a little less sweet," she says.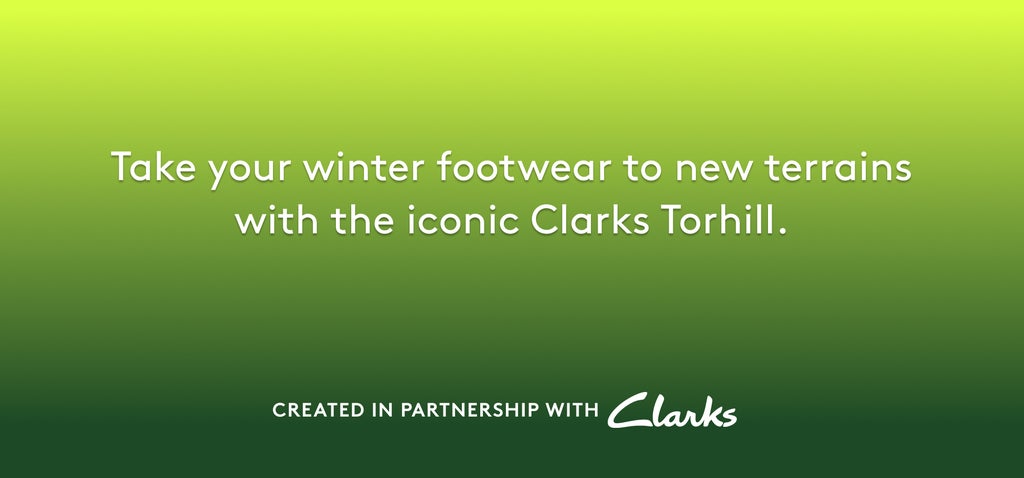 Like what you see? How about some more R29 goodness, right here?