The Princess of Wales was in a familiar design for today's visit to the Anna Freud Centre in London.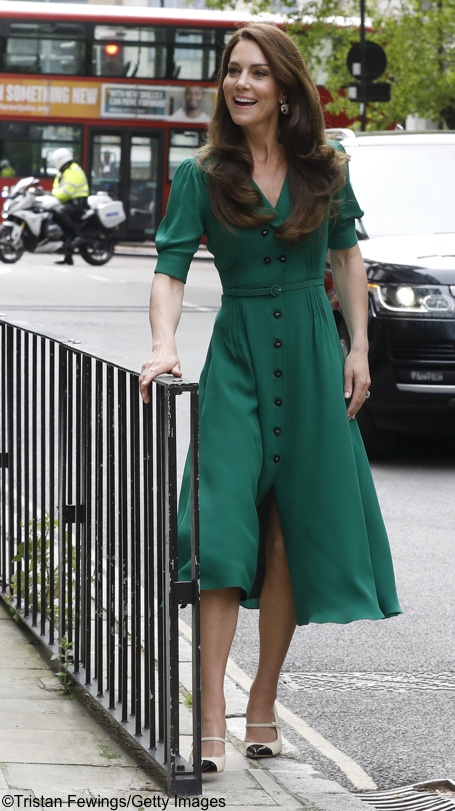 It was the Princess's second engagement this week marking Mental Health Awareness Week.
We learn more from Victoria Ward's piece in The Telegraph. 
She was met on arrival by Michael Samuel, chairman of the trustees, and Ros Bidmead, chief operating officer. "It's really nice to be back, actually," she said.

Recalling her last visit, when she opened the building in 2019, she said she remembered that "the building has the right vibe, the right feel – not clinical but still inviting".
A photo from that 2019 visit. 
More from Simon Perry's People story. 
Princess Kate, 41, is the patron of Anna Freud and has been a cheerleader for the organization — where neuroscientists and practitioners in mental health, social care and education work together with children and families to transform mental health — since early in her royal life.
She began her visit on Thursday by taking part in round table discussions alongside experts, Anna Freud staff and those with lived experience of mental health challenges to discuss support for the mental well-being of current and future generations.
We learn more from the Freud Centre's post about the visit.
The discussions drew on recent innovations in this field, including the work being carried out by the Royal Foundation's new Centre for Early Childhood, and its expert advisory group which includes Professor Fonagy, and Director of Postgraduate Studies Professor Eamon McCrory. 
We return to The Telegraph's piece. 
Also on the table was barber Tom Chapman, who runs the Lions Barber Collective, which trains barbers to speak to clients about mental health wellbeing.

"Do you meet on a regular basis?" the Princess asked, before asking about how a "sense of connection" and feeling "part of a community" was so important. "It's knowing how to talk about it," she added. "The regulation of emotions and feelings.. and normalising it."

She asked those present: "How have you found good ways to talk about mental health within your environment?"
The Princess spoke with students about the Centre's "let's talk about anxiety" toolkit—more from The Evening Standard's article covering the engagement. 
The princess then sat down with pupils from St Richard's Catholic College, Bexhill on Sea, and was shown a range of activity cards that provide practical advice to youngsters who may be affected by issues like anxiety.
The children helped to develop Anna Freud's "let's talk about anxiety" new animation and teacher toolkit, which typifies the charity's vision to empower young people with the knowledge, confidence and skills to manage their mental wellbeing.

When one of the pupils mentioned her interest in sport, Kate replied: "So much in sport is mental as well as the physical skills and abilities, to have these sort of skills and these sorts of things in your toolbox will really help you, probably not just in school but home life and school life and other things as well."
The Telegraph
also reports the Princess took a copy of the anxiety toolkit with her, quoting Professor Peter Fonagy, the center's CEO:" 'She took a copy away with her because she's in the same position as every other parent of needing to have the skills and the competencies to cope with an anxious child, a child before an exam,' he said."
And from The Daily Mail's story. 
After the one-hour visit, the princess said she was feeling 'inspired and excited.'

She added: 'I've learnt a lot today. I've got all these fireworks going off in my head.'
Below, the Princess as she was leaving the center. 
She stopped to speak with well-wishers
Another view. 
In another sign of the stepped-up Kensington Palace social media presence, we have a video of the Princess talking about today's engagement. 
It was an inspiring morning at @AFNCCF this #MentalHealthAwarenessWeek

Learn more about their brilliant new 'Let's Talk About Anxiety' toolkit: https://t.co/JY6YvOOjRw pic.twitter.com/p8Hpa46EPF

— The Prince and Princess of Wales (@KensingtonRoyal) May 18, 2023
Now for our look at what Kate wore today.
Many immediately recognized the Suzannah London dress, the Flippy Wiggle Dress in Emerald ($3260). Crafted in silk crepe, the shirtdress-style design is based "on "a late 1940s Wiggle Dress, which we have re-cut to have it skim over the bodice with a fluid gentle soft movement throughout the skirt, from the hips to the hemline." It features pintucks at the waist and yoke, navy silk-covered buttons, and it comes with a thin self-belt.
The color is likely a nod to the green the Mental Health Foundation uses. 
The Princess has worn the white version of the dress on several occasions. 
She accessorized with her Alessandra Rich Fab 85 Two-Tone Pumps in Beige Black (sold out), a slingback style with a Mary Jane strap done in beige leather with a black patent leather toe.
The shoes were first worn in June 2022 for a Grenfell Tower memorial service, paired with the white version of the Flippy Wiggle Dress. 
With thanks to UFO No More for the ID, it looks like the Princess was in a new pair of Accessorize earrings, the brand's Textured Drop Earrings with Stones (£11, no longer available). (I added a couple of possibilities on the RepliKate Earrings page.)
LINKAGE: 
VIDEO: 
The Royal Family Channel offers more than 2:30 of coverage from today's visit in this video.